Randolph County, Indiana
Biographies

Edward H. Harlan


Company F, 69th Infantry Regiment Ind.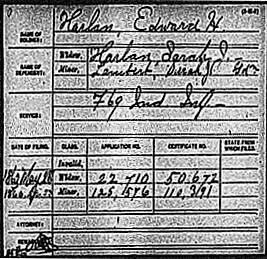 Edward H. Harlan
Born January 22, 1837
Died March 27, 1863 in Memphis TN.
Son of James Harlan & Susannah Wiley Harlan
His widow was Sarah Jane Smith Harlan who later married Isaac Lambert.
Edward & Sarah Harlan had only one living child, a daughter Lillie Viola Harlan Mangas.
Buried in Memphis TN, National Cemetery in Shelby County Plot # 2593
Contributed By: Lindsey Finken Edward H. Harlan - Company F 69th Infantry

Name: Edward H. Harlan
Residence: Union City, Indiana
Enlistment Date: August 19, 1862
Distinguished Service: DISTINGUISHED SERVICE
Side Served: Union
State Served: Indiana
Unit Numbers: 621 621
Service Record:
Enlisted as a Private on 19 August 1862
Enlisted in Company F, 69th Regiment Indiana on 19 August 1862.
Died Company F, 69th Regiment Indiana on 27 March 1863.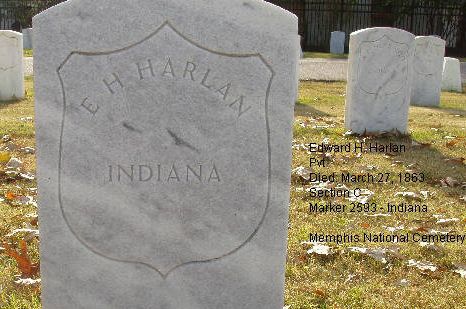 Edward H. Harlan Tombstone
Photo Contributed By Lindsey Finken
Photo Taken by RAOGK for TN.
The Randolph County, Indiana INGenWeb family history site is maintained by Phyllis Fleming. Copying is permitted for noncommercial, educational use by individual scholars and libraries. You may link to this page with prior permission, provided no fee is required to access the link, but no commercial use of this material is permitted. This message must appear on all copied material.