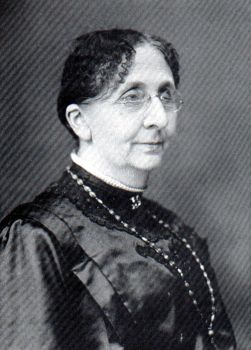 county for six years, filling the office in a manner entirely creditable to himself and to all concerned. He is president of the Orphans' Home Board, and has done much for the promotion of this commendable work. Fraternally he is a member of the Knights of Pythias and the Independent Order of Odd Fellows. He belongs to and liberally supports the Christian church. He is a member of the Grand Army of the Republic.
Mr. Clark has been three times married, first, to Barbara Hobbick, in 1866. She was a native of Pennsylvania, but came with her family to Randolph county, locating in Ward township, when but a child. Her death occurred March 25, 1873, leaving two children, Ida A., born August 15, 1867, married Edward Mickey, who died July, 1913, at Saratoga, and to them two children were born, Ivan and Paul; Elmer E., born October 12, 1872, married Gertrude Thomas, and is a farmer of Randolph county; to them seven children have been born. Mr. Clark's second marriage occurred in 1875, when he espoused Mrs. Jane Reitenour, daughter of James Hale of Randolph county, and to this union two children were born, Clarissa S., who married Ora Collins, a farmer of Ward township, and to them seven children have been born; and James T., who married Estey Michael, is farming in Ward township. The second wife of our subject died in 1898. By her previous marriage she had one child, William H. Reitenour. On December 24, 1898, our subject married his last wife, Emma Keener, daughter of a farmer of White River township. Her parents were both deceased at the time of her marriage.
Mr. Clark is a gentleman in whom the utmost confidence is reposed by all who know him owing to his long life of honest dealings with the people of Randolph county, and he is liked by all classes.