Success is only achieved by the exercise of certain distinguishing qualities and it cannot be retained without effort. Those by whom great epoch changes have been made in the political and industrial world began early in life to prepare themselves for their peculiar duties and responsibilities, and it was only by the most persevering and continuous efforts that they succeeded in rising superior to the obstacles in their way and reaching the goal of their ambition. Such lives are an inspiration to others who are less courageous. Judging from the record of Squire Columbus Bowen, of Randolph county, he carefully laid the foundation in the beginning of his career for large future success, much of which he has achieved, as a glance at his life history will indicate.
Mr. Bowen was born in 1848 in Randolph county, Indiana. and is the youngest son of Ephraim L. and Ruth (Dwiggins) Bowen. The father was born in Greensfork township, this county, March 20, 1819. His parents were Ephraim and Hannah (Hale) Bowen. Ephraim, Sr., was born in Lancaster county, Pennsylvania, in August, 1759, and his wife was born in Maryland in 1777; they each came to Ohio when young and were married there. They were the first white couple to settle in Randolph county, Indiana, having come here on October 22,1814. They founded a vast stretch of woods where the axe had done but little execution and wild game of all kinds was plentiful. To the senior Ephraim Bowen and wife the following children were born, namely: Catherine, John, Nancy, James C., Squire, Rebecca, Hannah, Rachael and Ephraim L. Thus for an entire century the Bowens have been well-known citizens of this locality which they have helped develop.
Ephraim L. Bowen grew up on the home farm where he remained until nineteen years of age, when he married Ruth Dwiggins, who was born in Wayne county, Indiana, in 1818, and was the youngest of a family of seven children, namely: Jane, Lydia, Ann, Sarah, Mary, Elizabeth and Ruth, all girls. Mr. Bowen and wife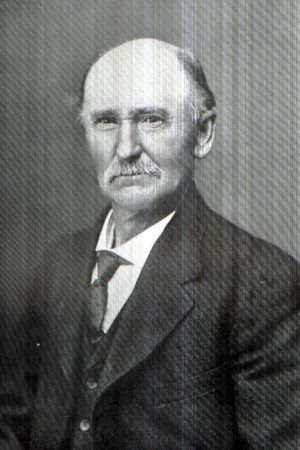 settled on a farm of one hundred and sixty acres that his father had given him. Here he prospered as a general farmer and added to his original farm until he had three hundred and eighty-five acres. About 1890 be bought a ten-acre tract on which stood a fine residence in which he spent the rest of his life, retiring from active farming in 1895, and dying June 20, 1901. He was twice married, and to his first union eight children were born, named as follows:
Squire C. Brown grew to manhood on the home farm in Greensfork township and received a common school education. He has devoted his active life to general farming and stock raising and has been exceptionally successful. He is now owner of two valuable and well improved farms of two hundred and seventy-five acres and desirable property in Spartanburg. He is a stockholder in the Greensfork Township Bank and the Lynn Banking Company. He has been very successful in his life work and is one of the substantial and progressive citizens of his locality.
Politically, Mr. Bowen is a Republican, but has never been especially active in public affairs. Religiously, he belongs to the Christian church.
Mr. Bowen was married on March 7, 1885, to Philena Ross, who was born in Greensfork township, this county, March 18, 1854. She is a daughter of Timothy and Susannah Ross. The father was born in 1819 in Virginia where he spent his early years, finally coming to Indiana and locating in Randolph county where his death occurred in 1865. His wife was born in Greensfork township, this county, February 12, 1826, and died September 9, 1895. Mrs. Bowen grew to womanhood in her native community and received a common school education.
To our subject and wife three children were born, named as follows: Florence Ruth, born January 14, 1886, and married Lester Taylor. They are the parents of two children, Mervyn Bowen Taylor and Squire Lesley Taylor; Harry E., was born December 21, 1889 and died November 9, 1907, age 17 years, 10 months, 18 days, and Wanda E., was born April 26, 1892 and died January 28, 1893, age 9 months, 2 days.