2011 Queries
I am searching for a death record for Noble Craig supposed to have died in Mt. Vernon, IN, about 1895. Thanks for any help you can provide.
Robert Craig
2010 Queries
None
2009 Queries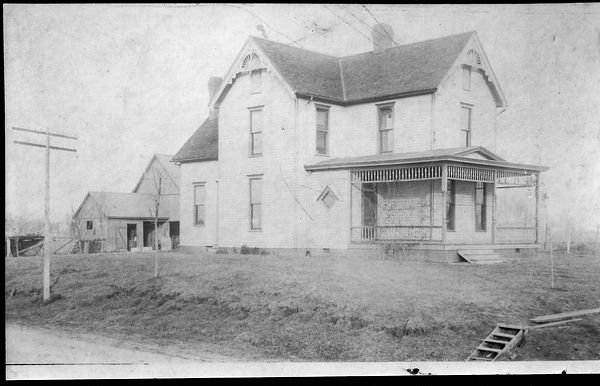 Submitted by
Peggy Gordon Moore
. This photograph is of the John H. Gerton home in 1905. I do not know where the house was actually located. My father was born as Gerton but later changed his name, I found a Gerton but he has died in the last few years. On the back of the picture which is too dark to read, it says the following:
John H. Gerton Residence
Mt. Vernon
Taken in Dec.1905
A utility pole is visible at the left hand corner of the photograph. Another power line is visible at the upstairs corner of the house and in the porch area and also along the sitting room window. The other power line one goes into kitchen.
---
I am searching for parents' names and birth information about Mary Alexander who was born in Indiana in July 1833, and married Achille Fretageot in Posey County on 9 September, 1855. Thanks for any information you can give me.
Mary Lou Jones
---
Searching for information concerning one James Murphy b. abt 1776 in NC. Migrated to IN and was found in Posey Co. IN. It is said in History of Montgomery Co. KS that he fought in the above named battle. His first wife is said to be Elizabeth Cox. He had a second wife and thye had one known daughter, Keziah. Their sons were Jesse, James Noah, Aaron, Thomas, John. Thanks for any help.
C.M. Wright