Fagan Family Obituaries
The following was submitted by Tim Fagan, Bloomington, Indiana. He may be reached at tfagan42@hotmail.com
Lawrence Fagan Kentland Democrat Newton Co.Indiana. Friday July 26, 1895
Mr. Fagan whose death is announced elsewhere, was an old resident of this county, his home for many years being near Morocco. He was a veteran of the Mexican war, a man of high character and universally respected. At the time of his death he was living with his son Joseph, at Terre Haute. (Ind.) Note: Lawrence Fagan was my g.g. grandfather. Born in West Meath Ire.ca.1822 died July 15,1895.He was the husband of Catharine Burns. Both are buried at the North Star cemetery.
Lawrence Fagan, A short biography by Tim Fagan G.G. Grandson
Lawrence arrived from Ireland on the ship Cambridge Captained by Wm. C. Barstow.
The Cambridge was a Brigantine, it's burthen of 738 tons. Nationality Great Britton. Arrival was April 20, 1844 at N.Y. Harbor. It carried 297 passengers. (Source, Nat. Archives. series M 261 roll no. 29) Lawrence enlisted July 11 1845 in the military at Boston Mass. Serving with the 8th. Regiment; company D-E by Lieutenant Sherman for 5 years. He served in the Mexican War 1846-1848, and later took a wound in the right arm effecting his movement of the elbow and his fingers at the battle of Molino dell Rey Wed. Sept. 8th. 1847. Lawrence was discharged Tuesday Feb. 15, 1848 5 mo. 15 days after being wounded he also received a Military pension of $ 8.00 per month. (Source U.S. military Arc.) After the marriage to Catherine Burns on 7 Jan. 1851 at the church of the Nativity New York City they moved to Fairfield Co. Conn. There they lived next to or with Catherine's Mother and Father Edward and Isabella (Anderson) Burns. There first child John was born on March 9,1852. in Conn. Sometime between 1852 and before 1855 Lawrence and his family, along with Edward Burns (Lawrence father in-law) and his family moved to Newton Co. Ind. Settling in a little hamlet called Pilot Grove this was in Jackson twp. Lawrence & his wife Catherine (Burns) Fagan set up housekeeping there and raised six children. John 1852-1877 (never married, was a school teacher) Edward 1855-1856, Charles 1859-1932
(Lawyer & School Teacher moved to Seattle Wa. 1890 married Janet Cochrane). Mary Jane 1860-1929 (Married Edward Gorman), Joseph Benjamin 1862-1945 (School Teacher and Principal) Married Rosalie Herron. David 1865-1918 (never married lived in Chicago his occupation was a an street car conductor.) All the children are buried In Newton Co. Indiana except Charles M. (buried in Seattle Wa. and Joseph Benjamin who is buried in Bloomington, Indiana.
Lawrence occupation during the early years living in Pilot Grove was a farmer renting the land the family lived on. (Source 1860 Newton Co. Census) After the death of his wife Catherine on 7 of Nov. 1891 Lawrence lived out his remaining life living with his son Joseph Benjamin dying in Terre Haute In. on 15 July 1895.
(On the death certificate it is stated that Lawrence died of Cerebral Hemorrhage.)
Obit. The Kentland Democrat Newton County Indiana Friday July 26, 1895.
Mr. Fagan whose death is announced elsewhere, was an old resident of this county, his home for many years being near Morocco. He was a veteran of the Mexican War, a man of high character and universally respected. At the time of his death he was living with his son Joseph, in Terra Haute Ind.
(Source, Indiana Historical Society Archives Indianapolis)
Lawrence was born on Tues. 26, Dec. 1820 and died on Mon. 15, July 1895. 74 years 6 months and 19 days.
Notes from his discharge papers states that Lawrence Fagan was five feet five and one half inches tall, air complexion with blue eyes and brown hair. His occupation at the time of his enlistment was a laborer. On Monday the 15 July 1895 Lawrence died in Terra Haute Indiana, living with his son Joseph B. Fagan and then buried at the North Starr Cemetery in Newton Co. Indiana.
I remember going through Lawrence Fagan's discharge papers from the military and came across a note written for him addressed to the pension department indicating that he would would be leaving soon and would like his pension check mailed to the general post office of Rensselaer Indiana. Obviously The Burns and Fagan families knew ahead of time as to where they were going. As many people of that time period, Lawrence Fagan could not read or write he used the X mark and then usually signed by a witness that could read and write.
Catharine Burns
Wife of Lawrence Fagan. Bur. @ North Star cem.
Newton Co. Enterprise, Kentland Indiana Thursday, Nov.19, 1891. Laid to rest. The sad and sudden death of Mrs. Catharine Fagan cast a gloom over this entire community last Saterday morning.She spent Friday afternoom visiting some friends in town and Friday evening was spent in the family circle as usual in conversation, nothing unusual was noticed in either her conversation or manner.The sad realization that her spirit had taken its flight, came on the family all without warning about 5 o'clock Saturday morning. It seemed that the spirit had taken its flight without a warning pain. No mother could ever have been more devoted to the well fair of her family than she. She ever shared in both their joys and sorrows and guided and guarded the footsteps of her grown up children with the same care and devotion that she watched then through infancy and childhood.In all the wide world she had not a enemy. Catherine (Burns) Fagan was born in County Down Ireland August 22, 1832 departed this life Nov.7, 1891. She immigrated to America in the spring or 1848, landing in New York city May 1 st. She resided in the city a short time, after which she took up her residence in Fairfield Co. Connecticut. She was united in marriage to Lawrence Fagan, at New York city,in 1851 after which they resumed their residence in Connecticut until the spring of 1854, when they moved to Newton Co. Ind. which place has been their continuous residence. There marriage union was blessed by seven children or which only four survive her. Besides her children she leaves an aged husband and two brothers to mourne her loss.
Newton County Enterprise Thursday Nov. 12,1891 Died Mrs. Lawrence Fagan of Morocco, was found dead in her bed Saturday morning last. Cause heart failure. Was buried in North Starr Cemetery. Further particulars unknown to us at this writing. Mt. Ayr Nov. 12, 1891: Quite a large attendance from Mt. Ayr was at the funeral of grandma Fagan of Morocco, but an early settler of this neighborhood. Her loss will be deeply mourner by all that knew her. Note. the temp. at the time this obit.was pub. was 9 above 0 Sourse Ind.. H.S.Micro film.
John Fagan The Kentland Democrate (Pilot Grove) Jan.26,1877 A settled gloom pervades our vicinity at this time. Death loving a ssining mark, has visited our circle and taken one who was endeared to all who knew him. John Fagan, one or our best teachers and one who bid fair to develop all that was noble in man, was taken from us on Friday, the 26th. On Saturday previous he attended the township institute, though in ill health, yet prompt to the last to do what he esteemed duty, he was at his post. Saturday evening he was to ill to be present at the exercises, and on Friday death relived him from his indescribable sufferings. We cannot fathom the desigus of an all wise providence, and it seams strange to us, that one who bid fair for such usefulness should thus ,at the beginning of his career, be cut down. But let us hope that he was entered upon that rest that remanes for the people of god. He was a son of whom parents may well be proud, an affectionate brother, and an unchanging friend. The deeply bereaved friends have our heartfelt sympathy, and may his example, so worthy of imitations be followed by his puples as well as his associates. We also would sympathize with his school, knowing that when they meet again another's face must fill there teachers place, but may the memory of the loved and lost be an incentive to emulate his virtues.
The Newton Co. Enterprise Thursday Feb. 1, 1877 Mr. John Fagan a teacher in Jackson township died of lung fever last Friday. John was an excellant young man, known and loved by many in Kentland. All of whom regret to learn of his death. Source Ind. Historical Soc.
David W. Fagan (Obit.)The Morocco Courier Friday, March 8,1918, David W. Fagan youngest child of Lawrence and Catherine Fagan was born on a farm in Jackson Twp. Newton Co. Indiana, on March 6, 1865. He departed from earthly associations in a hospital in Chicago March 5, 1918. He was educated in the public schools and with his parents on the farm until they removed to Mt. Ayr. He then took up his residencs in Chicago and was employed as a street car conducter until his his health failed. He did clerical work for some time and then returned to his position on the street cars. His health again failed and then went into business for himself. He had a pronounced philosophy of life which included christian living and unlike most of us, he lived by his philosophy .He was the soul of honer, clean in his personal life, scrupulousy honest, faithfull as a friend, a loving son and a very thoughfull and interesting brother. He had a very active mind and was interested in life around him because he studied the problems of life and living.Funeral services were held at the home of his sister Mrs. James Gorman, at 1:00 o'clock Thursday and were in charge of Rev. Little. Burial at North Star cemetery. Note: Mrs. James Gorman was Mary Gorman (Fagan) David's sister.
Charles Fagan Obit Monday Nov.14, 1932 Bloomington Times:
His brother J.B. Fagan, of this city, has received Word of the sudden death of Charles Fagan, principal of the Cascade school at Seattle, Washington. Charles Fagan was the eldest son of Lawrence and Catherine Fagan, and was born near Morocco in Newton Co.Ind. He was educated in the public schools of Newton County and at Valparaiso University. He served as principal of the Morocco, Goodland and Brookston schools in this state, and was then appointed by President Grover Cleveland as superintendent of the Osage agency schools in the Indian Territory, Okla. serving in that capacity four years. After being admitted to the bar in Indiana, Mr. Fagan went to Seattle and practiced law one year. He took up teaching again and at the time of his death he was serving his 43rd. year as principal of the largest school in Seattle.
Joesph B. Fagan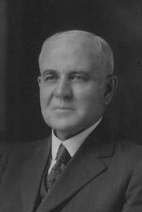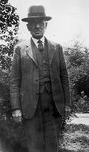 The son of Lawrence and Catherine (Burns) Fagan Jackson Twp.
Photo from the Tim Fagan Collection.

Obituary Bloomington, Hearld Telephone Sept. 2, 1945
Bloomington, Indiana. Joseph Benjamin Fagan.
Prof. Fagan Dies Saturday at Hospital.
One of the last Hoosier Schoolmasters Passes, Rites Tuesday.
After a lifetime given to school teaching a cause of education Prof. Joseph B. Fagan, in recent years of this community and the father of three well known Bloomington citizens. Howard S. Fagan Sam G. Fagan and John H. Fagan died Saturday knight at 9:30 at the local hospital the funeral will be held Tuesday morning at 10:30 at the Day funeral home chapel and burial will be at Clear Creek.
Prof. Fagan would have been 83 years of age if he had lived until October. During the past 12 months. His health an eyesight gradually fails but his mind retained its vast store of knowledge, and he was one of the well informed men of the community on the the background and causes of World War No. 2 During his years of retirement in Bloomington people would call him up with much the same questions he herd in early years in the classroom, what is the capital of Utah or what is the west boundary of China and would give the correct answer without hesitation. His final illness in the hospital continued eliven weeks but he never lost interest in community affairs or the war situtation until physical strength failed.
When Prof. Fagan retired from educational work he was superintendent of the Prinston schools then with the good wife who survives him, he moved to Bloomington to spend the last period of his life. He was one of the oldest surviving Hoosier schoolmasters when he died. All his life he served the cause of education in this state. The last 22 years of his career he was a superintendent and the 7 year before that a principal. At different times he was connected with the schools of Frankton, Goodland, Bedford and Prinston.
Prof. Fagan was born in Newton County Indiana, Oct. 22, 1862. He was the son of Lawrence and Catherine (Burns) Fagan, pioneer citizens of Newton Co. Indiana.
He married Rosalie Herron, also a member of a pioneer family of the Northern section of the state.( Newton Co.) Prof. Fagan was one of those individuals the foundation of the American educational systems who could have been nothing but a schoolteacher. He first graduated from the state normal at Valparaiso, and then at various times he continued at Indiana State Normal, Indiana University and the University of Chicago. He obtained an AB degree from Indiana University.
When he was married and had two children his salary was $60.00 a month. he did not find the situation impossible but with the loyal aid of his wife, maintained his family and continued his studies in the higher educational institutional he attended between terms of his own school. He was the superintendent of the Bedford school before he went to Princeton. He served at one time as the president of the Southern Indiana Teachers association and he was elected to various other possessions of honor in the state and comminutes he served.
Prof. and Mrs. Fagan raised a family of four children: Howard S. Fagan Sam G. Fagan and John H. Fagan this entire city and Mrs. Howard B. Eaton of St. Louis. Surviving Prof. Fagan there are also six grandchildren, and two great grandchildren, one Joseph son of Howard S. Fagan is now in the pacific with the US. Navy. This youth is the namesake of Prof. Fagan and during the last month of his life the thoughts of the fine old educator were much on this boy in the US. Fighting forces. During his years of residence in this city after retiring from retiring from an active carrier, Prof. Fagan made a large circle of friends. These friends regarded him as both a fine citizen and exceptional person. He was a member of the First Presbyterian Church. As these friends knew him he was the finished example of his own career, a career in which money was the last instead of the first thought. He was one of the last of the Hoosier schoolmasters and his life, in the complications and speed of modern America, will not appear again. Funereal of Prof. Fagan will be at 10:30 tomorrow at the Day funeral home and the pallbearers will be E.W. Chambers, A.J. Black, C. R. Bartlett, Donald Hanson, William B. Adams and Frank Decker, of Bedford. Burial will be at clear Creek and it is requested that flowers be omitted. Submitted by Tim Fagan, 2006
Rosalie Herron Fagan
Obit. (Bloomington Times Sunday Febuary 12, 1949)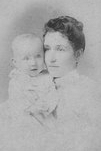 Rosa (Herron) Fagan and her son Howard.
Photo from the Tim Fagan Collection.
Aged Mother of Stone Company Officials Dies.
Rosalie Herron Fagan 86- year old mother of three prominent stone company executives here,died Saturday night at 8:00 pm.in the home of Miss Gwendola Parrot, 115 South Lincoln Street, following an extended illness.Mrs. Fagan,member of a pioneering hoosier family was the daughter of Samuel and Eleanor Warne Herron, born in Newton Co.Indiana.
Note:( Rosa Lee was born in Miskingum County, Rich Hill Twp. Ohio) She was the widow of Joseph B. Fagan, one of the states outstanding educators. Mr. Fagan who was a graduate of Indiana University and was, preceding his retiremant, superintendent of schools in Lawrence County, died in 1945. He and Mrs. Fagan came from Bedford to make their home here 19 years ago. On Feb 17, 1937 they celebrated their Golden Wedding date here. Mrs.Fagan was a member of the First Presbyterian Church in this city. Survivors include three sons, all connected with the Fagan Stone Company, Samuel,Howard and John, all of this city; one daughter Mrs. Howard Eaton, St. Louis, Mo; one sister Lula Zoboroski, of South Whitley, Indiana; six grandchildren and two great grandchildren. Funeral services will be held Tuesday at 10:30 a.m. in the Allen Chapel, with Rev. Joseph B. Walker officiating. Burial will be in the Clear Creek Cementery.The body will remain at the Allen Mortuary. Pallbearers will be E.W.Chambers, Claude J. Black, Claude Barnhill and Frank Becker.
Note: Rosa is burried at the Clear Creek Cemetery Bloomington, Ind. with her husband Joseph B. Fagan Submitted by Tim Fagan, 2008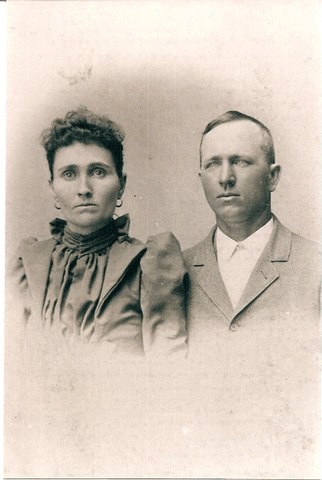 Wm. F. Herron & wife Samantha Handley.
Photo from the Tim Fagan Collection
Two children by this union Dewanna and Wm, S. Herron. ca. 1890 Newton Co. Ind. Wm F. was one of ten children born to Samuel and Eleanor Warne Herron. Samantha was the daughter of Wm. R. Handley & Elizabeth Lambkin. In the 1916 Newton Co.shows Wm. F. Herron as being a farmer in Jackson Twp. Section 17 N/W of the town of Mount Ayr.