Source: Crawfordsville Journal-Review March 7, 2008 p 2 (thanks to the Proctor's wonderful Waynetown Masonic Cemetery database)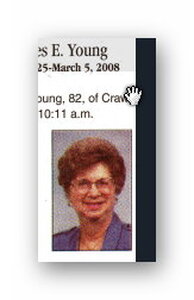 Frances E. Young, 82 of Crawfordsville died 10:11 a.m. Wednesday at St. Elizabeth Hospital, Lafayette. She was born July 13, 1925 in Alamo to Joel Alexander and Ruth Paulette (Brown) Weir. She married William J. Young Sept 28, 1947 in Yountsville. He survives.
Her memberships include First Christian Church of Crawfordsvile; Christian Women's Fellowship, Mu Chapter of Sigma Alpha Chi Sorority, Past Worth Matron of Alamo Order of Eastern Star, 4-H leader, Pink Lady at Culver Hospital, Volunteer at Sommer Elementary School, Sunday School teacher, Cub Scout Den Leader, Camp Fire Girls Leader and Harmony 18 Home Economics Club. She worked at the Painted Pony Children's Shop, Copage Cleaners, RR Donnelleys and The Book Processing Center.
Mrs. Young is survived by two daughters, Gina (Jeff) Turner of Waynetown and Karen Mason of Oconomowoc, Wis; one son, Rev. Greg (Grace) Young of Germantown, Wis ; one brother Bernard (Dorothy) Weir of Crawfordsville; 8 grandchildren and three great grandchildren.
She was preceded in death by her parents and one brother, Dean Weir. Funeral services are 1 p.m. Saturday at First Christian Church with Rev. Larry Demick officiating. Viewing will be 5-8 p.m. Friday at Powers-Priebe Funeral Home followed by an Eastern Star Memorial Service. Burial will be at Waynetown Masonic Cemetery following Saturday's services. Memorial contributions may be made at Salvation Army, 3100 N. Meridian St, Indianapolis, In. - kbz