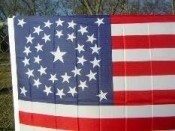 Source:
Crawfordsville Daily Journal 12 January 1910 p 8
---
Funeral services were held this afternoon over the body of James W. McMullen, a former resident of Darlington who died at Frankfort Tuesday morning at 3. The services were in charge of the member of Dakota Tribe of Red Men and of Stone River GAR Post of that city of which the deceased was a member. On Thursday morning the body will be taken to Darlington via the south bound Vandalia train which reaches there at 9:15. The funeral party will proceed at once to the Methodist Church where funeral services will be held. The Methodist minister of Frankfort will be assisted by Rev. JH Rayle. WC Stewart of crawfordsville will sing. Interment will be in the IOOF Cemetery at Darlington. Mr. McMullen was a man who made friends and kept them wherever he went being of a social kind disposition, honest and upright in his dealings. He leaves many friends who will mourn. Mrs. William H. Johnson of this city and John McMullen of Frankfort, his children, and the widow survive.
---
Source:
Crawfordsville Daily Journal 11 January 1910
Frankfort, Jan 11 - William McMullen, aged about 70, veteran of the Civil War, died here this morning about 3. He has been in failing health some time. He suffered a slight stroke of paralysis some time ago. He was a rural mail carrier. He came here from near Darlington about 15 years ago. He was for many years after the Civil War a farmer and resided 4 miles SE of Darlington. He married Julia Hubbard at Darlington during the progress of the war, coming home on a furlough he married and returned to the front the same day. Mrs. Lizzie Smith of Darlington is a half sister and Watson Roper a half brother, Mrs. William H. Johnston of Crawfordsville is a daughter. The body will be taken to Darlington for burial.