John DAVIS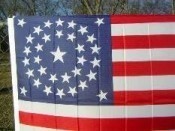 Source
: Waveland Independent,
Waveland, Montgomery County, Indiana,
July 3, 1908
John Davis d. at the home of his daughter, Mrs. WS Fulwider of Clinton, June 21. He was laid to rest in Poplar Grove Cem, Marshall, June 23. For a number of years he was night watchman at Marshall, and was a veteran of the Civil War, serving in Co. A. 31st IVI. The funeral services were in charge of the GAR. He leaves 6 sons: Joseph of Liberty, Ks; William of Terre Haute; Charles of Rosedale; Henry of Newtonville; Homer of Manila, PI; and Harrison of Ft. Huachuca, AZ. Also 3 daughters: Mrs. Fulwider; Mrs. Albert Perry of Los Angeles and Mrs. Henry Baugh of Rosedale.