He was part of Civil War - for seven days
By Karen Zach, Around the County
Thursday, October 8, 2020 4:00 AM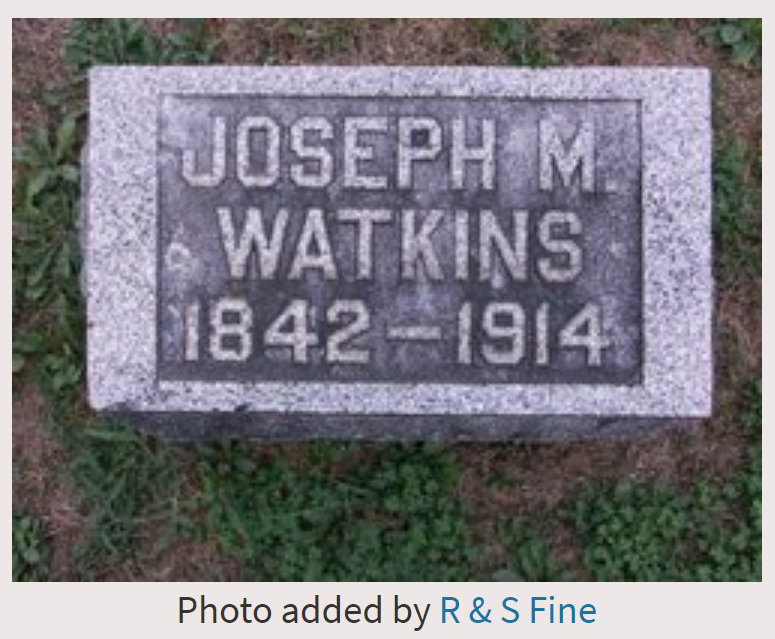 • • •
Well, I began tallying info on this fellow because the census year is about to finish-up and I've just become totally fascinated with the census takers of long ago, so trying to highlight a few of them. Then, I was just completely compelled with him, his family and his life. Joseph Milton Watkins was born July 16 in 1842 and passed away 24 April 1914, the oldest son of James F. Watkins and Louisa Scott. He was but nine years old when his father passed away (at the young age of 31) and he became the head of the household, just about literally, helping his mother (who also passed a few years afterward) with his younger brothers, Dan and Thomas and sisters Nancy and Minerva, the youngest at his father's death being just a couple of years old. His mother was listed as the head of the household and a "farmer," in the 1860 census, yet it is obvious that much responsibility fell on Joe's shoulders.
It stands to reason that he did not join the service for a long duration because of the responsibility of a mother and four siblings, but he did join the 104th at Ladoga on the 9th of July in 1863 during the Morgan Raid's into lower Indiana and was mustered out seven days later on his 21st birthday.
They lived on the old Watkins homeplace in Scott Township "nine miles southeast of Crawfordsville, section 4." Obviously, his education was ample since he could read and write as could his brothers and sisters. Joseph's grandparents, Daniel and Nancy Kelsey Watkins may have helped Louisa with some of the rearing of her children, but she passed away in early 1870 as she does not show-up on the census with her children, Joseph being the head of the household.
Sadly, in January of 1872, their home which was noted in a Crawfordsville Weekly Journal newspaper article, as a good, substantial one (but that had no insurance), burned down. Luckily, they did get several items out, but the article went on to say that they had been illy prepared for the happening and were recently left orphans and that it was hoped that the New Market area people (lived 3 miles southeast of there) would promote "sympathy and generosity of friends and neighbors toward this family." Joseph's brother, Thomas, just a few days before the fire had married Salome Himes. A few months later when it was time to set-out the crops, Thomas sold his interest to Joseph.
This family was true Methodists, his grandfather having been a minister and was said to have been the mover in establishing Finley Chapel where several Watkins' are buried and where they attended church. On the 5th of September in 1875, Joseph Milton Watkins married Marcia Bailey, daughter of Charles and Catherine VanHook Bailey. Her parents' story will likely appear here one of these days as well as it too is a fascinating tale. Interesting name, Marcia. I thought as soon as I heard it that it couldn't be right as that was a 1950ish name but in several cases, (children's deaths, obits) it always stated Marcia. In one of her brother's biographies her name was Martha which I would be more inclined to believe; however, in census records right next to that brother it was very plainly written Marcia. Married in 1875, died in 1882, Marcia had three of his ten children, who total: Louis, Hazel, Grace, Ethel, Clay, Della, Morton, Roscoe Bailey, Nora, Frances – at least I hope that's right.
Later that year in August, Joseph Watkins married Hulda "Ann" Johnson in the 1st United Methodist Church at Crawfordsville with SC Colvin performing the ceremony. Morton was able to tally himself and large family since he did Scott Township in the 1900 census as the census taker. His family was one of 257 Scott households that year. See the photo for a look at his writing. It is sometimes a challenge to read the census taker's writing but although Joseph's wasn't fancy it was well done and easy to decipher.
The family was social, several times in the old newspapers taking dinner or visiting, going or giving special occasion parties. Once in February 1899, the whole family was "sick with the grip" (grippe – the flu) and missed the "select crowd's" dinner. Joe was also very involved (VERY) with the Republican party. In the 1894 election, it was viewed as a loss but his "rousing speech" seemed to perk every one up and "so the Democrats will definitely be awake this campaign!" Several times he was selected as the party committeeman but as far as I found, he did not run for an actual office.
The favorite child of his (to me) was definitely daughter, Clay. She was pretty amazing. Having lived at home while teaching music up through about age 35 she decided to venture to Texas where she taught in a high school there, then on to the Frances DePauw Methodist Episcopal Industrial school for Spanish girls (in LA) where she not only applied for and received her Social Security card but taught for many years. She did return home when she retired and lived to be 91 years old (dying June 15, 1971), leaving her life savings for a couple of organizations for the blind. I couldn't determine why exactly but that she did! Pretty awesome. Perhaps his other children will appear in the column some time. Some were teachers; others, parents but many did not marry or only had but one child, so Joe didn't have many grandchildren, although a couple of them, too, are fascinating. In regards to the welfare of his family (I believe that came from him being responsible for a family early on in life) his obituary stated, "He counted no sacrifice too great if it only added to their happiness and progress!"
So, Joseph Milton Watkins passed away on April 25, in 1914 aged 71 years 9 months 10 days of a cerebral hemorrhage along with pneumonia, the former seeming to be a problem in his family. He, along with second wife Anna are buried together in Oak Hill Cemetery, his particular stone quite simple representing his plain, but strong and good life right here in Montgomery County, Indiana.
Karen Zach is the editor of Montgomery Memories, our monthly magazine all about Montgomery County. Her column, Around the County, appears each Thursday in The Paper of Montgomery County.