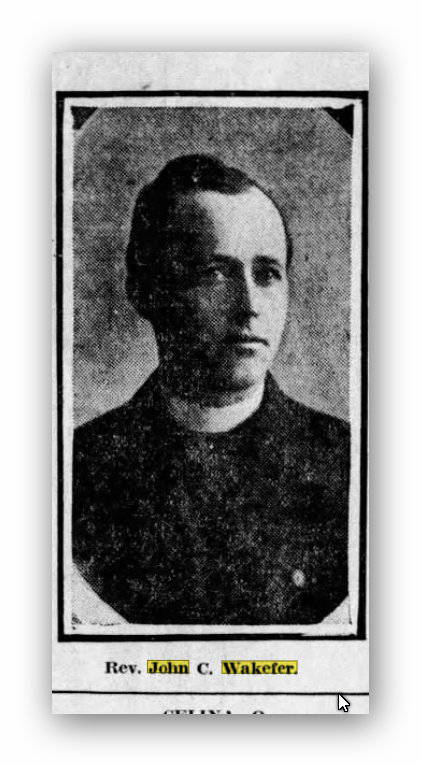 Source: Crawfordsville Weekly Journal 5 July 1901 p 3
John Wakefer, who was recently ordained as a priest, celebrated his first mass Sunday at St. Bernard's Church in this city, several priests assisting in the solemn service. The auditorium was beautifully decorated and an immense congregation was present, a becoming tribute to the popular young divine. The Rev. Mr. Wakefer is a Crawfordsville boy and has been admirably prepared for his high calling. – kbz
---
Source: Indianapolis News 22 Feb 1936 (Sat p3)
Ft. Wayne, Ind Feb 22 – The Most Rev. John Francis Noll, bishop of the Ft. Wayne diocese of the Roman Catholic Church, today announced the resignation because of illness of the Rev. John Wakefer, pastor of St. Peter's Church at LaPorte. Father Wakefer will be succeeded by the Rev. H. Victor Magsam, of Reynolds…
---
Source: The Times (Munster, Lake County, Indiana) Mon 16 Oct 1911 p 3
The Carpenters' Union of Indiana Harbor had charge of the funeral of Frank Madgzinski this morning, the union marching in a body from the late home of the deceased to the special car which conveyed the remains to Michigan City for burial. There were quantities of flowers sent by the many friends of the deceased. The special car left Indiana Harbor at 8:15 o'clock Michigan City, where solemn requiem mass was celebrated at St. Mary's Church. Father Ellering, the pastor of the church was the celebrant and he was assisted by Father John Wakefer of Indiana Harbor as deacon and Father John Blackman of Michigan City as sub-deacon. Father Wakefer delivered the funeral sermon paying a high tribute to the deceased. The pall bearers were: Wm. T. Clement, Mr. Neidig, John Wachel, John Bastian, James Porter and DW Morrison. Besides the members of the family and members of the Carpenters' union, the remains were accompanied to Michigan City by a number of close friends.
---
Source: Crawfordsville Weekly Journal 3 March 1888 p 3
A council of the Catholic Benevolent Legion was organized in this city Sunday by Deputy Chancellor, Thomas Meegan of Ft. Wayne. The Legion is an organization which was instituted in 1881 by Bishop Laughlin of Brooklyn for the purpose of relieving distressed poor under his care. There has been distributed since 1881, $780,000, nearly a million dollars. It is supposed tha tin the course of 25 years it will relieve 50% of the poor who would otherwise be thrown upon the cold charity of the world, and for want of getting enough to eat by begging would become dishonest, thus going on from bad to wose until they become very dangerous characters. This organization proposes to reduce this number by using the money taken in from the person insured in helping the distressed family in the event of the death of a member. Their success is certain, judging from the increase in membership since the date of organization. The membership is now 16,000 and rapidly increasing. Council are being organized in all the important cities in northern Indiana and other states north of the Ohio River. This organization does not start councils south of the Tenn River thus guarding against yellow fever epidemic. Mr. Meegan, the gentleman who organized this council made a very eloquent speech last night, setting for the objects of the Legion. His reference to a mother's love was very touching and all true to nature. A son cannot comprehend his mother's love for him. Why should he not then show his regard for her and make her happy by arranging for her welfare in the event of his death so she may not be thrown on her own resources with her children. After saying a great many other things too numerous to mention Mr. Meegan proceeded to the installing of officers who had been elected at a previous meeting. They were as follows: Chaplain, Rev. JR Dineen; President Con Cunningham; VP MF Devan; Chancellor, MJ Curran; Sec, JA Hogan; Collector, GW Chester; Treas, Demas Gilbert; Orator, D Sullivan; Marshall, John Sullivan; Guard, John Clark, Jr; Trustees, M. Kelly, James Wakefer, John McCarthy. The council then adjourned. It started out on a very good financial standing, having a good among in the treasurey.
---
Sure this is hid dad although sure a diff spelling
Source: Crawfordsville Weekly Journal 8 April 1898 p 6
James Wakeford (sic Wakefer) age 59 years died Sunday at St. Elizabeth's Hospital in Lafayette where he had been taken from this city for treatment some days previously. The funeral took place here at St. Bernard's Catholic Church Tuesday at 9 o'clock, interment at Calvary Cemetery. Mr. Wakeford leaves one son, John, who is now studying for the priesthood in Cincinnati. He attended the funeral.
---
Source: The Times (Munster, Lake County, Indiana) Mon 16 Oct 1913 p 8
Bishop Alerding confirmed a class of 314 at St. John's Polish Catholic Church Indiana Harbor yesterday morning. 173 of the class were boys and 141 girls. The bishop arrived the evening before via the Nickel Plate from Ft. Wayne and was met at the Hammond Depot by Fathers John Wakefer and Stachowiak in an auto. They were brought to Father Stachowiak's residence where supper was served, Bishop Alerding remaining over night as guest of Father S. …
(photo – Source: The Muncie Star Press Sun 18 Nov 1906 p 15)
Dunkirk, Ind Nov 17 – Among the prosperous churches of Dunkirk is St. Mary's. The beautiful edifice, together with its church home are located on South Broadway. During the past few years this church has had a steady upbuilding, due mainly to the untiring efforts of the pastor, Rev. John C. Wakefer. In Sept 1902, the Rev. Mr. Wakefer came to this city from Lafayette after serving a year as assistant in the St. Mary's Church of that place. He at once began the work of improving. Besides paying off a church debt of something over $1,000 he has also been instrumental in general improvements of both church and parsonage. The past summer has seen many changes about the property. The church has been reroofed, crosses gilted, an elegant steam heating plant installed for use in both church and parsonage, cellar put in, cement walks put down, electric lights put in, church frescoed, and a beautiful and substantial fence erected around the entire grounds. The coast of the general improvements will reach over $2,000. This expense does not include the new bell which was over $500.
---
Source: Ft. Wayne Sentinel Fri 21 June 1901 p 1
Rt Rev. HJ Alerding, ordained:
Rev. James Fitzpatrick, Ft Wayne. Rev. Thomas Conroy, Ft. Wayne. Rev. John Wakefer, Crawfordsville. Rev. Joseph Abel, Hanover Center. Rev. Peter Budnik, South Bend. Rev. Julius Seimetz, Michigan City. The young men who received holy orders today have just completed their theological education at St. Mary's seminary, Cincinnati and received minor orders at the hands of Archbishop Elder a week ago. Today they were ordained from deaconship to priesthood. There ceremony this morning began at 7:30 o'clock and assisting the bishop were Rev. PJ O'Reilley of the Cathedra and Rev. John Noll of Kendalville as chaplains; Rev. JH Bathe of the Cathedral as master of ceremonies and Rev FJ Dandurand of Monroeville as assistant. In addition to these each of the candidate was accompanied by a chaplin. Rev. Father Wroebel of Michigan City officiated for Rev. Father Seimetz; Rev. B Boebner, president of St. Joseph's college at Rennelaer for Rev. Father Budnik; Rev. A. Seifert, rector of the seminary at Carthagena, Ohio for Rev. Father Fitzpatrick; Rev. JF Delaney of St. Patrick's Church for Rev. Father Conroy; Rev. Father McCabe of Lafayette for Rev. Father Wakefer and Rev. E. Grimm, CPSS of Rensselaer for Rev. Father Abel. The occasion was a notable one for the young men for it marked the close of 11 years of preparation for the high office of priesthood and the beginning of a lifelong career of priestly labors. Three of the young priests, Fathers Conroy, Fitzpatrick and Abel were graduates of St. Joseph's college at Rensselaer in the class of 1896, entering that institution under the presidency of Rev. A. Seifert now of Carthagena, Ohio who was present today… The first mass is held on a feast day and in the present instance the Feast of St. Aloysius was chosen… Father Wakefer will read his first mass at Crawfordsville.
---
Source: Chicago Tribune Thu 14 May 1936 p 16
LaPorte, Ind May 13 – The Rev. John C. Wakefer, 60, for more than 19 years, pastor of St. Peter's Catholic Church here until last Feb died today in Detroit, Mich. He was also pastor at Dunkirk and Indiana Harbor, Ind. He resigned from his pastorate because of ill health.