Source:
Beckwith, H. W. 1881 History of Montgomery County, Indiana (Chicago: Beers) p 168 -- see also Mary Holloway Wilhite
E.A. WILHITE, tailor, Crawfordsville, who has spent nearly all his years in Montgomery County, was born Jan 1, 1820 in Jefferson Co, Ky. He is a son of Simeon and Mary ( FUNK) Wilhite, who came to Crawfordsville in 1824, and shortly after settled So. of the then "log city" of a few houses, where in 1829, Simeon departed this life and was followed by his wife in 1833. E.A. Wilhite received the training and schooling of a pioneer's boy, and can well remember the log schoolhouse with its slab seats and window of greased paper for light, the absence of desks, and especially the primitive "master." At the age of 10 he began to use the needle, and has followed tailoring ever since, being now one of the most thoroughly experienced workmen in the city. For over 30 years he has worked in his present shop. By economy and industry and fair dealing he has accumulated a little fortune of $15,000 or $20,0000. Mr. W. has a peculiar passion for music, having been connected with the Crawfordsville band ever since 1840, and still loves the recreation. In 1840 he played at the Tippecanoe Battleground celebration, and again in 1876. Mr. Wilhite was a whig during the time of that party, and with the advent of republicanism he adopted its principles. He has been twice married; first to Ada J. BLANKENSHIP of Crawfordsville, who died leaving one son, James QW, to survive her; and second to Dr. Mary H. HOLLOWAY of the same city. The fruits of the last marriage have been 7 children: 3 deceased, Edgar, Ella N. and Fred; four living, Edwin L; Mary E; Stanton L; and Bertha J. Mrs. Wilhite is a daughter of Washington and Elizabeth (KING) Holloway, the former of which is now living in Crawfordsville at the age of 80. Mrs. Wilhite attended school sufficient to fit herself for teaching, which she followed 4 years. In 1854 she entered Penn Medical University which she graduated in 1856. She was educated here at the expense of J. Edgar THOMSON, one of the members of the original board of incorporation for that college and a wealthy gentleman of Philadelphia. Mrs. Wilhite was the first lady for Indiana to graduate in a medical school. Leaving her Alma Mater June 2, she nailed her sign where it is still to be seen, on the 22nd of that same month, 1856. She emphatically asserts she has solved the problem that a woman can be a "wife, mother and physician." During her practice she has given instruction to two students; Mrs. WOOD who afterward graduated at Penn Medical University and was then engaged as lady physician in foreign lands by the Home & Foreign Mission and Mrs. WILSON who now holds 3 diplomas and is doing an extensive practice in Terre Haute. Mrs. Wilhite is also an ardent supporter in woman's rights and fully expects to see the day when woman may vote for those who make laws to govern here, and when doctors will counsel one another without distinction in regards to sex.
-- kbz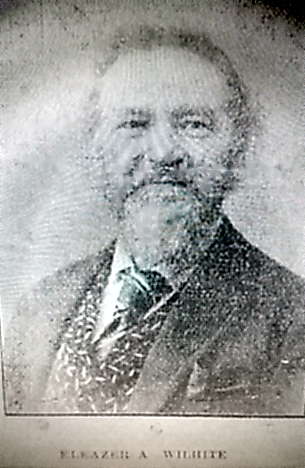 Source: Crawfordsville, Montgomery County, Indiana Journal 23 February 1900
He Is the "Oldest Inhabitant" of Crawfordsville and His Recollections are Highly Interesting,
The oldest citizen of Crawfordsville in point of residence is Eleazer A. Wilhite, who, although over eighty years of age, is still hale in mind and body, able to pursue the tailoring trade he has followed for sixty-five years, and able to discuss intelligently the issues of the day or to tell of the people, the customs, and the life of long ago. Mr Wilhite came to Crawfordsville in 1823 and has been a resident of the place ever since in speaking of his coming and of the early history of the town he said: ''Of course, I was quite a small boy when 1 came with my father, Simeon Wilhite, and my mother to Crawfordsville, yet I can remember many things most distinctly, strangely enough many of them matters so trivial and so inconsequential that one would scarcely be expected to remember thorn over night. We came here from Kentucky with the Miller family and most clearly do I remember crossing the great Ohio river on the ferry at Madison. One of the Miller children had a little dog and in some way it failed to get on the boat when it start­ed across. When we were far from land it appeared on the bank and all the children cried to think it would be left behind. I can Bee the little fellow standing now on the river batik, whining in his distress and all the children crying at the loss of their pat. I think I remember this incident better than anything else that occurred on our long and hard journey through the then almost trackless wilderness, but to ma it was the matter of most moment. Wo came to Crawfordsville by the way of Indianapolis, only there wasn't any Indianapolis there then. I remember passing the spot where they said the town had been laid out. When our party reached Crawfordsville there were just five little log cabins standing here and one of these had been built by my brother and one of the Millers, who had come on before to prepare for us. Major Whitlock and his wife had one of the cabins and it stood west of the residence he built later. It was on the hill just above the big Whitlock spring, near Price's warehouse. Williamson Dunn and his family had one of the other cabins, it standing in the big woods. Capt. Pence's residence now occupies the 6ite of that cabin. Two families named Smith had cabins about where Smith & Duckworth's lumber yard now is, and our cabin was near theirs. We all wanted to be near the springs you see for there were no wells here then. The big woods were all about, great giant trees standing where the court house and all the business blocks now are. Creeks and big hollows cut up the present site of the town and nothing then was in any way prophetic of the present you may be sure. There weren't even any streets and although Major Whitlock laid out the town about the time we got here there were then only paths. One day my brother and I want from our cabin over to the Williamson Dunn cabin, that is from Market street to Main, and we narrowly escaped being lost in the forest. "With the Millers came old Jacob Miller, a revolutionary soldier. He was then an old man and lived to be over ninety, dying along in 1838. I have heard him tell many stories of the fight against the king and he was a prime old talker, too. He had served the whole seven years and was with Washington at Valley Forge and at the surrender of the great Cornwallis. Of this last he liked to talk and grew really eloquent as he described the glorious day. But of Valley Forge and of the suffering when the Delaware was crossed he would talk but little, merely saying they had suffered many things. He was a native of Virginia and a man of many talents besides being a pure patriot. There were two other men here in the very early days, Daddy' Mason and 'General Jack Warren, both of whom claimed to be Revolutionary soldiers, but Mr. Miller did not believe them. After he came here he built a stout cabin, larger than most of the others, and it still stands. It is on Market Street, just east of the Sherman house. It was weather boarded finally and old Mrs. Dobson still lives in it. When Mr. Miller died he was buried in the Old Town cemetery, but was later buried in the Masonic cemetery, I think. Old Mrs. Shevlin, who yet lives here, is his granddaughter. "In 1823 there were no cleared fields in the county and people lived on fish, game, nuts, fruit, and what little corn they bought at Terre Haute. Corn bad to be brought overland or by boat then and it cost a dollar a bushel. Sugar Creek was a big river then and lumber and grain boats came up with little difficulty. The first field cleared about Crawfordsville was in the valley along what is now the Lafayette avenue. It was on the left side of the avenue as you go down, just below the Old Town cemetery hill. At first just garden truck was rained there, but soon the field was made larger and planted in corn. Other liable were cleared soon after and the community was rapidly populated. No laud had been sold when we came and the people were squatters, but it was sold the next year and great crowds were soon pouring in. The laud office was a busy place in those times, for the people had to come from all over this part of the state. The land office was a cabin like the rest, and stood on east Market street where Brown & Watkins mill was afterwards built. The office had a strong box and great sums of money were kept there, but none of it was ever stolen. For the people were all honest hereabouts at that time. It was several years before any offenses were committed except getting drunk, and getting drunk was scarcely an offense in those days. The first court house stood where Barnhill, Hornaday & Pickett's store now is, and the first jail where the courthouse now stands. The jail was a clumsy one and Dr. Curry caught the first thief that was put in it. The man stole a silver watch and the o'd doctor caught him out in the woods. His name was "Jack," but I do not recall his last name. Two guards were set over him at the jail and the very first night he was in, twelve men blacked up like negroes, came and took him away from the guards who laughed and made no defense. At that time the Lafayette avenue hollow ran up through town, passing from the Hall coal yards in a southeasterly direction, crossing what is now Washington street about where Steele's drug store is and having its head about the Methodist church. The hollow at the present site of the coal yard was quite deep and wide, and across it lay one of the largest poplar trees I ever saw, a magnificent forest king which had gone down in some big storm. The vigilants took poor Jack to this place and stretched him out on the log. Then they wore out on his back a dozen stout switches, turning him loose at length with the warning to leave the community at once, lie left and never returned. The day after the whipping some other boys and I went down in the hollow and saw the log. There was blood on it and I should say a full bushel of switch splinters were scattered about. For many years thereafter the hollow was called "Jack's Hollow."
Of course, Major Ambrose Whitlock was a big man in those days, but he was a very plain one and much like his neighbors and no more esteemed, for people were sticklers then for equality, and as I said, all honest men were equally esteemed. I remember well when General William Henry Harrison, afterwards President, used to come here to visit the major. They were fast friends and had been in the Indian wars together under Hamar and Wayne. The major told me once that he was present when General Harrison had his talk with Tecumseh at Vincennes in 1811. The general used to arrive by coach and he would visit for several weeks. He and the major would stroll about the town and about the woods talking over the wars and politics and about everything I suppose, the major's old dog following them around everywhere. Crawfordsville was only a straggling little village then, and it was quite a sight to see the two old soldiers who looked so much alike and thought so much alike walking down the woody lanes, that are now our streets, of a hot afternoon, talking and gesticulating most earnestly. It seems to me but yesterday that I saw them so. One day, it was very warm I recollect, they came into the tailor shop of W. W, Galey, where I worked with my brother, Boone. General Harrison wanted a thin coat and he had with him the stuff to make it. Mr. Galey measured him while he and the major talked away of all sorts of things. Mr. Galey cut the coat and Boone and I made it. It was a good deal like a very short Prince Albert and would look very odd now. But it suited the general immensely and he chuckled when he tried it on and found that it fitted so well. The general squirmed and twisted to get a sight of how it looked (we had no looking glasses in the shops then), and the major cocked his head to one side and held his arms akimbo as he looked it critically over through half shut eyes, it was a good fit and both said to The general wore it away from the shop carrying his thick coat under his arm, and I think he was just a little vain of the new one. He wore it all the time he was here that time. He never came to Crawfordsville after he was nominated for President, but the major was mightily pleased and while he couldn't make any speeches he did a great deal of work for him and whooped aloud when the stage brought word that the general had been nominated by the Whigs.
"It was in that campaign that I first heard Henry S. Lane speak. He had not been in these parts long then and no one knew he was an orator That fall the Whigs had the biggest rally in the history of the state at Battle Ground, and for fifty miles and more around the people came flocking there. The roads were miserable and it was a several days' trip from Crawfordville I was in the band and it took six big horses to pull our wagon through the mud. We got as near as Romney the first day, and there were thousands camped there that evening. They had come from everywhere and lawyers and politicians were called upon all over the camp ground to speak. There were a dozen speeches going on at once I suppose but soon I noticed that one orator was getting all the crowd and such yelling and laughing and cheering you never heard as came from his constantly increasing audience. The men were just wild when I came up and saw the tall, lean young man who was speaking. He was 'spell binder,' and when I asked who he was some fellow spoke up and said: 'They say his name is Lane, and he can just skin the Damykrits better'n anybody I ever heerd.' "That was the first time I ever heard Henry S. Lane speak, and I never lot an opportunity afterwards. "I was one of the original Lincoln men in this community, and when the late George W. Hall was elected a delegate to the Republican nominating convention in 1860 I went to him and told him to vote for 'that Abe Lincoln out here in Illinois.' He said he had already made up his mind to do that very thing, and he did. "I guess there is no musician in the county who has furnished inspiration at so many dances as I have. I became a fiddler when quite young and have played in every township in the county. At thousands of dances I was the most important factor in early days. The music was simple then, 'The Arkansaw Traveler,' 'The Fisher's Hornpipe,' and 'Old Sal Miller' being favorite selections. There was another in old times called 'Big Pigs Pulling the Little Ones Through the Fence,' but I haven't heard of this for many, many years, and I fancy that it is now entirely obsolete.
When we first came here it was no uncommon sight to see large bands of Indians. The trail ran directly through Crawfordsville and they would pass through, going from up about Thorntown to the narrows of Sugar Creek, where they hunted and fished. The trail was a very old one—probably hundreds of years old, for it had worn a deep path as hard as stone almost."
---
80th birthday
Source: Crawfordsville Weekly Journal 5 Jan 1900 p 3
EA Wilhite Tuesday celebrated the 80th anniversary of his birth. He came here from Kentucky in the fall of 1824 and is the oldest resident of the city. When he landed here the city was then a wilderness, there being only a house or two, standing near the Market street railroad crossing. He has seen many county elections held with a hat for a ballot box on a lot where the courthouse now stands. Mr. Wilhite enjoys perfect health and memory and finds enjoyment still in working at his trade.
---
Source:
Indianapolis Star Sun 9 April 1905 p 42
Crawfordsville April 8 – A "Young People's Club" with every member at least an octogenarian. This is the character of an organization unique in the US and which only Montgomery County can boast. Its youngest member is 80 and its oldest 92 and all of its members have entered the organization to find solace in their old age by living in the good old days of the past. A few weeks ago at a family reunion the idea forming a "young men's and girls' club," limited to boys and girls ove r80 years of age was suggested by one of the older guests present. The suggestion was enthusiastically received, and as a result, one of the strongest clubs of aged "children" in the country has been organized. The club members have been limited to candidates living in Montgomery County and so far nearly 100 members have been placed upon the rolls. An effort will be made as soon as the club has been completed to have a grand reuion in this city, where a banquet will be held during the day and evening, at which a general good time will be had by the "boys and girls" who will related stories of the early life when Crawfordsville was a dtruggling little burg and the wonders of today were unheard of. When one looks over the charter of this club and notes the number of names and the ripe ages the members have attained, it does not look necessary for any one to leave old Montgomery County to seek health. William School has been suggested as president of the order and has readily accepted. Mr. Schooler, who is 91 years of age, is the oldest member living in this township. He will represent the "boys," while Mrs. Mary McCall Raymond Cook, who boasts 92 summers, will look after the "girl" members.
"The Oldest Boy" -- William Schooler, who is the oldest boy member of the club was born in Ohio 1815 and when 15 years of age came to this county with his parents. Since that time he has lived in the immediate vicinity of Crawfordsville and it is interesting to hear him tell of the early days when this city was a hamlet. Mr. Schooler worked on a farm and studied at home for that was before the day of the district school. After he reached manhood he entered politics and was elected to fill a number of county offices. Mr. Schooler began trading in horses, which vocation he kept up until a year ago. It is a fact that Mr. Schooler can recall every horse he has ever owned. He can recall the color, age and price he paid for the animal, from whom he bought it and to whom it was sold. His recollection of events years ago is marvelous and he can readily describe them as though they occurred yesterday.
F.A. WILHITE (should be E. for Eleazer A.)
F. A. Wilhite is another of the club that has kept up a busy career all through life, and today, although 84 years of age, he can be found t his tailor shop, where he has held forth for 65 years. Mr. Wilhite is still an expert with the needle and personally attends to the work. When the Northwestern Traction Company entered this city last spring after a spirited fight with the City Council and the Consolidated Company, Mr. Wilhite was one of the first men to greet the electric car men and it was he that drove the first spike into the ties that were laid on Main Street. He received an ovation from the mighty throng that had assembled to watch the ceremony and Mr. Wilhite returned to his little shop with the dream of his last few years realized. Mr. Wilhite was one of the first musicians of this county. With his brothers he formed what was known for years as the "Wilhite Band," and it was only a short time ago that the "old boys" had to give it up.
The Dean of the Girls – Mrs. Mary McCall Raymond Cook, who resides in this city, has perhaps more patriotic ancestors than any other person living. Mary Williams McCall, Mrs. Cook's mother was the granddaughter of William and Mary Trumbull Williams. William Williams was a direct descendant of Roger Williams who was one of the signers of the declaration of independence, while his wife was the daughter of the famous Governor Trumbull. Mrs. Cook was born on a farm between Seneca and Cayuga Lakes in Lebanon County NY in 1813. She came to this city soon after the civil war and has lived here since. Though almost 92 years old, her mental faculties are as alert as ever. She talks entertainingly of the many thrilling incidents that occurred in her girlhood days and tells with the enthusiasm of youth the story her grandfather told her about the battle Bunker Hill. Mrs. Cook was married in 1831 to George Raymond, who died while yet a young man, leaving her with three sons, now all deceased. Several years after the death of her first husband she married Ezekiel Cook. Seven children were born to them of whom only three survive. Three of her sons and husband were soldiers in the war between the North and South and several of her grandsons served in the Spanish-American War.
SILAS PETERSON, who was one of the first members of the club, is hale and hearty at the age of 81. He was born in Ohio in 1825 and while yet a child came to this county with his parents. After their death Mr. Peterson began work on a farm, which he has kept up since with the exception of the four years he served as State Senator. He now has a farm of 1,200 acres of the finest farming land in the state, even after having deed away nearly 500 acres.
Maj. LUCIAN W. FOOTE, an active member of the club is another one of the "old boys" of this county. He is a prominent Mason having attained the 32nd degree. He is one of the oldest members of that order in the state of Indiana. Maj. Foote served throughout the war and after returning to this city held many prominent offices for the county. He is active for his age and one of the features of the coming reunion of the club will be some of his thrilling experiences.
Those who have signed the charter of membership up to date area as follows:
Crawfordsville: Mrs. Mary Cook, 92; Dr. IEG Naylor, 85; William Schooler, 91; John S Brown 80; John Sue, 85; Warren Davis, 80; David Ridge, 80; Maj. LA Foote, 80; EA Wilhite 84; James Scott, 84; Alexander Henderson, 88; Isaac Davis, 84; John Lowe, 83; JB Mack, 85; Silas Jones, 88; Loren Miller, 84; James Harris, 80; Abraham Miller 84; Mrs. Harmon Hiatt, 86; Mrs. Catherine Ashenhurst, 84; Mrs. Christina Stewart, 80; Jerre Voris, 82; MB Richmond, 84; Mrs. Tamar Campbell, 84; RK Krout, Sr 86.
Union Township – Alexander Weir, 84; Jacob McIntire, 89; Mrs. EB Smith, 83.
Walnujt Townsip – Goerge Chesterson, 82.
Darlington – Silas Peterson, 81; George Chrisman 83; John Hulet, 89; Pleasant Butler, 87; George Guntle, 81; William H. Endicott, 81; James F. Hall, 87; Hannah Mikels, 80; Mary Booher, 80; Sally Campbell, 82; Lucinda Endicott, 83; Hannah Wisehart, 88; Elizabeth Conrad, 84; Phoebe Moore, 80; Mrs. Raachel Dittamore, 83; Lucinda Royer, 80.
Franklin Township – Hannibal Trout, 80.
|Shannondale – Dr. Shannon, 86; Eli BUnday, 80; WH Browne, 81.
Sugar Creek Township – Silas Dunbar, Sr, 80; Ari Sutton, 83; Adam Saidla, 82; William Bryant, 81; Patrick Goodwin, 80; Sallie Kendall, 83.
New Ross – Andrew Loop, 83.
Ripley Township – Ulysses Wright, 86.
Clark Township – David Hostetter, 82.
Waynetown – levi Moore, 83.
Scott Township – Allen Harrison, 92; Lydia Graybill 93; Sarah M. Brookshire 86; Betsy Hicks, 84; DH Hostetter, 82; James Welsh, 83; Dr. Hyten, 82.
Walnut Township – John Lockridge, 86; Andrew Loop, 89.