Wednesday, February 21, 2007 Angela Todd (written by)
Subject: Forrest & Mary Todd: LOTS of Todd History, Some Burks History. So that you may know Forrest and Mary and those in their lives. A real blast to the past, full of factual diversions, sidetracks, trivia, and many, many spin-off memories.
THE HELTONVILLE, CRAWFORDSVILLE, LOGANSPORT, AND FT. MYERS CONNECTIONS. Here are many of your answers to "whatever happened to" queries posted on the Crawfordsville historical sites...about some of our Todd's...once they moved out of Crawfordsville, Indiana "way back when." This very long writing is only a small part of what I know. This particular writing centers around the lives of Forrest and Mary Todd, my aunt and uncle.
--------------------------------------------------------------------------------
FORREST EDWARD TODD (01-22-1910--12-12-1987) And his only wife, MARY KATHERINE BURKS TODD (11-29-1910--11-04-1988)
First of all, "Forrest" IS spelled with 2 "R's." No mistake. FORREST EDWARD TODD WAS BORN ON 01-22-1910, in the city of Linden, Montgomery County, Indiana. He was the 2nd of 6 children, all sons, of John Henry Todd (03-13-1884--09-02-1958) and Flora Etta Reynolds Todd (08-20-1888--02-10-1960.) John Henry's parents: John Starnes (Starns) Todd and his second wife, Mariah Jane Hawkins Todd. John Starnes' parents: Thomas Todd and Sarah ("Sallie") Helton Todd (Heltonville, Indiana.) Thomas' parents: George Todd and Sarah Brooks Todd. George's parents: Andrew Todd and Elizabeth Sipes Todd. Dates available upon request.
--------------------------------------------------------------------------------
Be advised that the birth and death dates listed for John Henry Todd are correct, even though other sources disagree. Two of his brothers were also born on March 13. No one was born on march 03, as some have said. I know because he was my grampa. Check these dates: JACOB ("JAKE") E. TODD ( 03-13-1873--06-07-1970) JOHN HENRY TODD (03-13-1884--09-02-1958) AND NOAH PRESTON TODD (03-13-1886--09-17-1982). Jake was from a different mother than John and Noah. Mary Ann Johnson Todd was Jake's mother, who was the 1st wife of their father, John Starns Todd. John and Noah's mother was John Starns' 2nd wife, Mariah Jane Hawkins Todd. John's Henry Todd's wife, Flora Etta Reynolds Todd (08-20-1888--02-10-1960)recorded these dates in her Family Bible, plus there was an article in the Pharos-Tribune newspaper in Logansport, Cass County, Indiana, which featured the brothers' birthdays one year, because of this March 13th birthday date coincidence. Also, dates are on their gravestones. Also, I have birth and death certificates. Also, in Flora's photo album, there are photos of all three brothers, celebrating their birthdays together one year.... This get-together was at John and Floras' R.R. 3 home on Highway 29, which turns into Burlington Avenue as you enter Logansport, Cass County, Indiana. -
-------------------------------------------------------------------------------
Mary Katherine Burks was born on 11-29-1910, in the city of Monon, White County, Indiana. She was the 2nd of 9 children of Elmer James Burks (01-15-1888--07-19-1958) & Estella ("Stella") Mary Fulmer Burks (10-22-1884--08-20-1962.) There was a question as to the city in which Mary was born. Although White County sent me a birth certificate for Mary, it only named the county, not the city. However, "Monon" is stated on the marriage application, listed below, down a few paragraphs.
--------------------------------------------------------------------------------
These facts about Elmer, Stella, and Mary are correct, though, sometimes, the order and spellings of these names have been MISTAKENLY recorded as "James Elmer" Burks and "Mary Estella" Fulmer Burks. Sometimes Mary's middle name has been misspelled as "Catherine" or "Cathryn," or just the initial, "C." It is "Katherine."
--------------------------------------------------------------------------------
Mary's Certificate Of Birth was filed with the White County Board of Health on December 06, 1910. Book 8, Page 63, Cert. #286. Their address: WHITE COUNTY DEPARTMENT OF HEALTH P. O. Box 838--White County Building Monticello, Indiana, 47960
--------------------------------------------------------------------------------
HOW DID FORREST TODD'S FAMILY END UP IN CASS COUNTY? The migrations of: John & Flora and sons, Allen, Sr.; Forrest; Ralph; Paul, Sr.; Frank; & "Johnny." John and Flora had a number of residences in various counties. Grampa John Henry (03-13-1884--09-02-1958) was born "near Bloomington," Monroe County, Indiana and Gramma Flora (08-20-1888--02-10-1960) was born "near Anoka," Cass County, Indiana. I haven't studied John and Flora's childhoods, but, at some point, they both ended up in Crawfordsville, Montgomery County, Indiana, where they were married on February 06, 1907. I imagine they were attending Sugar Creek Church, a Primitive Baptist Church in Crawfordsville, where Elder James H. Oliphant, the man who married John and Flora, once preached.
Picture of James H. Oliphant and wife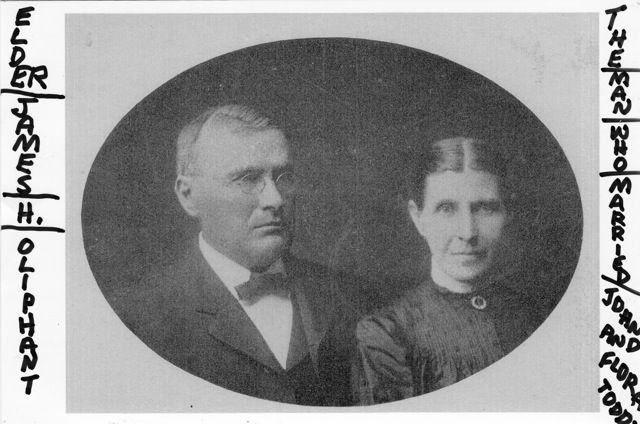 He preached in more than one place over the span of 30 years. Primitive Baptists, also known as "Hardshell Baptists" were also to be found with John Henry's father, John Starns Todd, and HIS father, Thomas Todd and families. We know that many of these old Todds are buried in Gilgal Cemetery next to Gilgal Primitive Baptist Church in Heltonville, Lawrence County, Indiana. We also know that Thomas' wife was Sarah ("Sallie") Helton Todd. And, of course, John Starns had two wives: (1) Mary Ann Johnson Todd, and (2) Mariah Jane Hawkins Todd, from whom I, Angela Frances Todd, 2nd child of Frank Todd, listed a few paragraphs below, am descended. IMPORTANT: For those who don't know, John Starns Todd, father of John Henry, did not die in Lawrence County...anywhere, as some may have thought. He died on April 11, 1929 in Logansport, Cass County, Indiana, in the home of his son, John Henry Todd, who, at that time, resided at: 1601 GRANT STREET, LOGANSPORT. TRIVIA: This address is next to Mount Hope Cemetery in Logansport. My Dad, Frank Todd, once told me that he used to get creeped out when the family resided there when he was a kid and he'd see a movie like "Dracula" or "Frankenstein," then shortcut through the Cemetery at night! More on John Starns. I have a "For Genealogy only" Death Certificate, obtained from the Cass County Dept. of Health, in Logansport, Cass County, Indiana. The date that it was obtained for me was 04-15-1992.
The following info. is on it.: John Starns birthdate was listed as October 15, 1843. Death is April 11, 1929. Date of Burial or removal is April 13, 1929. File Date is April 15, 1929. (Hmmm...another 04-15 date again, as in 1992). The birth and death dates concur with the dates in the Bible Records of John Henry's wife, Flora Etta Reynolds Todd. The cause of death was listed as "Cerebral Apoplexy (non-traumatic)," AKA a cerebral hemorrhage. The place of burial or death was listed as Lawrence Co., Heltonsville, In. By the way, there is no "s" in Heltonville. The funeral director was listed as, "C.E. Baker, Camden, In." I suspect, because it says, "Camden," that John Starns may have had a funeral at Paint Creek Primitive Baptist Church, near Camden, Carroll County before being transported out of Carroll County and Cass County to Gilgal Primitive Baptist Cemetery in Heltonville, Lawrence County, Indiana. Although, they would have to have done it fast, according to the dates listed. I don't know if the date of 04-13 was the date he was shipped off or if it was the actual burial date. It is unclear to me. Maybe the only thing they did in Camden was embalming, without a service in Paint Creek at all. Maybe they just did a quickie embalming then threw John on the train to Gilgal. Well, that sounded sensitive, didn't it? I would have to look through the Paint Creek records for the actual burial date. Again, these are CASS COUNTY records I am reading and transcribing, mixed in with my own personal thoughts and speculations. I also speculate that he may have had yet a second service after he got to Gilgal Church and Cemetery for burial. Speculation only, on that point, too. John Starns Todd did die in logansport, not in Heltonville, as some may have thought. Also, another of John and Flora's sons, a grandson of John Starns, Ralph Preston Todd, who was also one of my Dad's brothers, once told me he didn't know that much about John Starns, but that he did remember him living at their (John and Flora's) house. He described him as "an old man with a beard." John Starns was then "shipped" (by train, I guess?) to Gilgal, where he is buried with the other old Todds. Enough about John Starns Todd, John Henry's father, not to be confused with John Henry's son, with the same exact name of John Starns Todd.
--------------------------------------------------------------------------------
Back to the John and Flora Todd migration. At least eight years, between 1907 and 1915, are unaccounted for. Then, at another point, between 1915 and 1918, they must have moved to Boone County, Indiana. Son, Frank, was born there in 1918. At another point, between 1918 and 1923, they moved to Logansport, Cass County, Indiana, where they resided at four more addresses. Rural Route 3, Highway 29, which turns into Burlington Avenue as you enter Logansport, was their final residence in their lives. I also know that they joined the Paint Creek Baptist Church, 4 miles east of Camden, in Carroll County, Indiana (a few miles from Cass County) on Sunday, May 02, 1926, where Flora became the church secretary. Lots of addresses over the years. I figure the move with this info, which shows more cities and more addresses: I know John & Flora resided in Waynetown, still in Montgomery County, Indiana on March 18, 1908 when their eldest son, Harvey Allen Todd, Sr., my Uncle Allen (03-18-1908--09-18-1990, was born; In Linden, Montgomery County, Indiana on January 22, 1910 when their son, my Uncle Forrest Edward Todd (01-22-1910--12-12-1987) was born; In Elmdale, Montgomery County, Indiana on January 24, 1912 when their son, my Uncle Ralph Preston Todd (1-24-1912--08-16-2004) "Todd's Appliances" was born; In Crawfordsville, Montgomery Co., Indiana on June 26, 1915, when their son, my Uncle Paul Raymond Todd, Sr. (06-26-1915--05-15-2005) was born; In Jamestown, Boone County, Indiana on December 12, 1918, when their son, my Dad, Francis ("Frank") Leverett Todd (12-12-1918--10-07-1984) was born; And, finally in Logansport, Clay Township, Cass County, Indiana, on 04-18-1923, when their last son, my Uncle Johnny, John Starns Todd (same exact name as his grandfather's) was born. Uncle Johnny, killed overseas in WWII, died on the presumptive date of Nov. 21, 1944. He was buried twice overseas, exhumed, and buried a third and final time here next to John & Flora at Paint Creek Primitive Baptist Cemetery. "Everytime we made friends, we'd move again," my father, Frank Todd, used to say about his childhood days. Sad, huh? Through the late 1950's, Cass County, Indiana was the MAIN county for MOST of OUR line of Todd's...the younger ones. There were some exceptions.
--------------------------------------------------------------------------------
THE SPLIT
Forrest and Mary were then the first in our line of Todds who started yet another whole new migration...this time entirely out of the state...to Ft. Myers, Florida. The family was then again divided, with some remaining in Logansport, Indiana and others who followed to Ft. Myers. Some stayed in Ft. Myers forever. All stayed in touch and traveled back and forth for many visits. Uncle Ralph was the rock, the anchor, who kept Logansport important...because the family business ("Todd's Appliances") was always there. However, he bridged both the new and the old and he owned homes in both Logansport AND Ft. Myers. Anyway, new marriages and ties strengthened in both Florida and Indiana. Some moved to other cities in Florida, as well.
The marriage of Forrest and Mary: On Saturday, 06-06-1936, Forrest Edward Todd AND Mary Katherine Burks were issued a marriage license in Logansport by Sylvester Kelly, Clerk of the Cass Circuit Court. Forrest resided at that time at another of his parents' residences at 410 Washington St., Logansport. Forrest's occupation was listed as, "Filling Station Attendant." John Henry's occupation was listed as, "Furniture Repairman" and Flora as a "Housewife." On other documents, plus what I personally know, John and Flora were, over the years, also listed as farmers, Watkins sales representatives, and John also worked for a newspaper. The occupation of Mary's father, Elmer Burks, was listed as, "farmer" and Mary's mother, Stella, was listed as, "Housewife." There was a line drawn through a blank space for Mary's occupation. Her address was listed as "R.R.2," presumably the address of her parents, both of whom were listed as residing in, "Logansport, Ind." On Sunday, 06-07-1936, Forrest and Mary were married in neighboring Carroll County, Indiana, at Paint Creek Primitive Baptist Church, 4 miles east of the small town of Camden. The Reverend James E. Watson officiated. This marriage was recorded in Logansport's Book 59, Page 149. The wedding write-up, seen below, ran in the "Logansport Pharos-Tribune" on Monday evening, June 08, 1936, Page 5, Column 2, under, "Society."
--------------------------------------------------------------------------------
"Miss Mary Katherine Burks, daughter of Mr. and Mrs. Elmer Burks of Rt. 2 became the bride of Forrest E. Todd, son of Mr. & Mrs. J. H. Todd, 410 Washington Street, Sunday at the Paint Creek Baptist Church near Camden. Rev. J. E. Watson officiated at the ceremony. The bride wore a lovely navy crepe dress and white accessories. Attending the couple were Mr. and Mrs. Gilbert Calloway. Mr. and Mrs. Todd will reside in Logansport." (Note: This is a Primitive Baptist Church.)
--------------------------------------------------------------------------------
A new chapter of memories opened for Forrest and Mary. Their new address became 1518 Johnson St., on the north side of Logansport, half a block away from McKinley Elementary School. With his own two hands, Forrest built a small home, with faux brown brick siding, very popular at the time, with wooden window shutters, the kind that are nailed to the wall...on each side of each window. They didn't open or close. They were immovable, ".just for show," and were painted many times over the years, always in various shades of blue. On the front side of the house were four tall evergreens: one taller one on each outer corner of the house and one of the same size on each side of the gabled porch, which was centered in the middle of the house. Roses were trained up the trellises that formed the sides of the porch. A shorter row of evergreens set between the two taller evergreens on the right side of the porch. In front of the shorter evergreens was a row of daffodils, which created a glorious display of bright yellow in the Springtime. Lots more sunshine fell on the right side of the porch and house than on the left. That is, in the areas right next to the house, because of the large maple tree casting shade in the left side of the front yard. Mary and Forrest's love for nature and growing things was reflected in all four lawn and garden areas: front yard, back yard, and two side lots. As you stood on Johnson St. and faced the front of the house, to the left was the north lot, planted with patches of raspberries, cabbages, kohlrabies, green onions, and enough lettuce and carrots to feed all the "wascally wabbits" in the neighborhood. To the left of the north lot was the Elmore house. The parents were "Pinky" and Eileen Elmore. The kids were Leroy ("Butch"), Lee (a girl), and Jim. And then there was "Ginger," their sweet little Cocker Spaniel. To the right of the Todd house, or on the south lot, were strawberries and sometimes, corn. Around the grounds, there also were orangish-red poppies, fragrant, multi-colored peonies, and roses of yellow and pink. In the front yard was a tall maple tree and a small willow tree, started from a branch taken from the huge willow in the back yard, which was so tall and thick that rain never penetrated it. Does the phrase, "Go pick yourself a willow switch" hold special meaning to anyone?" In the Springtime, red robins contrasted against the white and pink of apple and cherry blossoms in the small backyard orchard, under which, in the Summer, was a shaded ocean of purplish-blue obedient plants glowing from the backdrop of the hot setting sun. Aunt Mary, a true country girl at heart, was almost always busy with one chore or another. And nothing went to waste...old rags were made into mops or knitted throw rugs. Leftover food was made into gourmet meals. Saturday was usually laundry day, done with a scrub board or a wringer-washing machine. However, the city slickers were no longer doing the laundry in "that old-fashioned way." WE lived in town and had a "modern" washing machine. And a dryer!
--------------------------------------------------------------------------------
Not to mention an uncle with an appliance store where our father worked! This, of course, was Uncle Ralph's store, "Todd's Appliances," later known as, "Todd's, Inc.," which was started on March 8, 1935 in downtown Logansport. It ended in 2004, a little over 69 years later, though one source incorrectly stated 70 years. The date uncle ralph passed on was August 16, 2004 and he had ended the business earlier in that year, so 69 was the correct number. TRIVIA: I always loved the "Todd's" calendars when growing up. Years later, I started buying ten each year and sent them to other Todds and friends. The calendars are now collector items, as well as are all of the newspaper articles, advertisements, photos, and such. I sent Todd history to the Cass County Historical Museum at 1004 E. Market St., on the opposite side of the block that I was raised at 1005 E. Broadway. There is also a history on the Todd Bank, if anyone wants it. It was once called The People's Bank, at the turn on the century sometime. Uncle Ralph bought it. The Todd's store on 3rd and Market Sts. was finally torn down. But, The Todd Bank, is now a historical landmark and will continue to stand and bear the Todd name. Back to Dad. Before the advent of TV, Dad started out doing radio repairs for Uncle Ralph, which was handy when he joined the Army, as he was in the Signal Corps. Later, when Dad had re-joined the civilian force, and t.v.'s came in, he also became a t.v. repairman for Uncle Ralph. At various times, Uncle Allen, Uncle Forrest, and other Todd's also worked for Uncle Ralph.
--------------------------------------------------------------------------------
BACK TO FORREST AND MARY'S YARD. The clothesline was in the backyard...and the sound of flapping sheets, billowing in the wind, mixed in with the motorized sound of Uncle Forrest's sharpening wheel in the garage, as it whirred around, metal grinding against stone, sparks flying everywhere. This backyard garage doubled as Uncle Forrest's work shop, with its large wooden planks, stuffed into overhead beams; and large, deep drawers, full of assorted nails, tools, wood planers and such. Forrest was always making something. Of mornings, Aunt Mary was usually inside, fixing breakfast, along with a mean cup of hot chocolate. I never will forget that huge clock on the wall over the kitchen sink...the kind you see in schools. You know, at least a couple inches thick with a big white face. and the numbers and outside edging were black. You could watch the huge secondhand count every second. Its movement was always smooth, never jerking from second to second. It was so huge that, If you were farsighted, you most likely would want to step back for a correct focus. Anyway, it was not uncommon for Mary's next-door neighbor, Eileen Elmore, to drop in for some girl-talk, such as swapping the latest techniques for crocheting doilies for armchairs and couches, etc. Of course, while Aunt Mary was cleaning house and doing chores, she also had to start her day with that great big floor radio next to the living room/kitchen doorway, complete with pre-set times to blast her hillbilly music on and off. I remember once, some lady was belting out a song and, in the middle of it, was heard a loud interrupting CLICK, followed by silence and Aunt Mary's humor: "Well, I guess that shut YOU up!" Anyway, we three kids never really understood that hillbilly music, as we came from a more refined background...on Mom's side of the family. Aunt Mary referred to OUR music as, "that long-haired stuff." But, even though our taste in music never really changed, we still came to accept her music as an endearing feature that made Aunt Mary...Aunt Mary. But by afternoons and a brief news report, Aunt Mary was usually listening to a different kind of music...pop music or Rock 'n' Roll, which blared out the windows from the enclosed back porch that faced the south lot. This was from a second radio, small enough to set on the geranium-lined windowsills, as it played songs from "The Hit Parade," such as, "Rock Around The Clock," "The Wayward Wind," or "Bo Weevil" by Teresa Brewer. Teen idols soon followed. Back to the backyard. At the mouth of the apple orchard, were not only trees with "regular-sized" apples, but also crab apple trees, one or two red cherry trees, and one black cherry tree, near the orchard...next to the garage door. Not the big car door, rather the smaller door you'd walk through. Large hydrangea bushes, which we called, "snowball bushes," were under the front garage windows. The flowers were the old variety...large and greenish-white in color. A long, but thin, sidewalk, that Forrest laid himself, ran from the small garage door, across the backyard, alongside the multi-colored irises, which lined the side of the house, then around the corner and across the front of the house, turning left at the front porch, crossing the front lawn, and out to the simple wooden plank that spanned the small drainage ditch along Johnson Street. A long sidewalk! Between the garage and apple orchard, Forrest built a red brick fireplace, with an iron top and tall brick chimney. In front of the fireplace was a large, white, wooden picnic table, with long seats on both sides. In back of the fireplace were tall lilac bushes of white and purple, that swayed with every breeze. A hibiscus tree was there, too, which, as a kid, I referred to as, "a hollyhock tree." These bushes were as tall as trees and they were on the L-shaped alley that also ran in back of the garage. The alley made a sharp right angle at the south end of the orchard, then turned right or west, going back to the front side (Johnson St. side) of the south lot. Aunt Mary loved her pretty bluish sweet peas growing up a trellis on the other side of the garage. Everything was so beautiful. Sweet Williams of red and purple and blue bloomed within a small wall of unmortored bricks...on the backyard side of the enclosed porch...next to the kitchen. QUEEN BEE FLASH: I never will forget one morning, I am guessing in June (berry month), when Aunt Mary told my sisters, Marie and Chris, and I to go pick some raspberries, which were next to the sweet peas, on the east end of the north lot. We ran back inside and I said something like, "Mary, Mary, there must be a hundred bees out there!" I do remember specifying, "100," which, looking back, was probably more like 1000 or so. Anyway, she thought we were exaggerating and told us to go back outside. But, we were insistent and, this time she went outside WITH us to check it all out.... Well, all I can say is that she got all "buzzed out" when she saw what was there. Hanging from a branch was this membranous-looking "sack," full of buzzing bees. It must've been about three feet long by a foot and a half wide. How it got there from one or two days to the next without anyone noticing is beyond me. Do bees work at night? Funny, you know how much bees hate smoke, and there was a big metal trash barrel, where trash was burned, only about 15 feet away from that branch. Hmm, we must not have burned anything for a few days. Of course, that was back when you COULD burn trash. Anyway, as luck would have it, the grandfather of one of the Engel kids across the alley was a beekeeper and said if the queen bee was captured, the rest would follow. Somehow he did just that and all of the bees followed into a pipe that he had and he took them all away. I couldn't help but wonder...how DO you attract a queen bee. Do you call her like you would a cat, like..."Here queenie queenie, here queenie, queenie, followed by a little whistle? Or, perhaps a few pheromones are in order. Or, if all else fails, hire a cute Chippendale bee dancer to "lure" her into that pipe.... But, seriously, what really attracts a queen bee into a pipe? Another queen bee? What? Over the years, people tell me they must've been hornets or something else other than bees. I only know what I saw and what I was told. But, I never saw anything like that ever again. But, it makes a great story, huh? Bees don't usually bother you. I love bees. I walk amongst them in my gardens. But, I learned long ago, don't walk barefoot in clover. I got stung on the bottom of my foot. Aunt Mary made a paste of baking soda and water to get rid of that burning sensation, full of venom. Bee stings don't usually bother me beyond a rare stinging. Moving along... Carpets of bright yellow dandelions were everywhere in the Spring. Poison them? Oh no, for there was a use for them, that is, ONLY in the Spring, while they were young and tender. We'd help Aunt Mary gather them up, rinse the dirt off of them a zillion times, and then cook them with pork or bacon. Although Aunt Mary was a great cook, I still wasn't crazy about watching chickens hanging from the clothesline, with their heads being whacked off, their bodies dropping to the ground, running all over the yard. Or watching a catfish swimming around in a pan for a couple days on the back porch, "purifying." I remember once a hog was butchered on the back porch. Thank God it was dead before it got there, cause I couldn't have hacked watching it get killed. I just remember that meat grinder was working into the night and several people, none of whom I remember, were there with her. I loved Aunt Mary's Apple Pies, always red in color, made with her own red apples and homemade jelly made with crabapples. Fresh clean glass jars, jelly sealed with paraffin on the top etc. I also loved her Wilted Lettuce, topped with hot bacon grease, bacon bits, chopped green onions and salt. I also loved her excellent wild morel mushrooms that Uncle Forrest and my Dad used to go pick in the countryside. Aunt Mary would rinse them off, dry them on a kitchen towel, flour them, and fry them in butter. Only the yellow, spongy, wild morel mushrooms would do. And, when she made a cake, she would take the leftover icing...and sandwich a thick layer of it between two graham crackers...a whole stack of them. They were so good with a cold glass of milk. None of these were low-cal recipes, but, we loved them all just the same. By the way, by one of the corner posts that held up the clothesline, was a small patch of poison ivy. Uncle Forrest would boast how he was immune to it and would pull it up with his bare hands. Sort of a claim-to- fame thing with him. In the Fall, Uncle Forrest would prune the apple, cherry, and willow trees, and we would all help to lay them in a big pile on the side south lot after the corn stalks, etc. were gone. The stack would be lit to become a real bonfire for a neighborhood wienie roast. Everyone would come over......the Engels, Silbermans, Elmores, etc. The Brandensteins and Llewellyns were across the street. Of course, we toasted marshmallows, too, all stuck on long "forks" made of straightened wire coat hangers. One time, my sister, Chris got too close to the fire and singed her eyebrows. Fourth of July with "sparklers" was always fun. Running under a water hose on a clothes line on a hot summer day was fun. Doing summersaults on little hills in the front yard was fun. Playing "tag" into the night time hours (it was safe to do so then) with the neighbor kids was fun. Watching lightning bugs was fun. Riding bikes was fun. Going to the neighborhood Mom and Pop grocery store, on the other end of the alley, past the north lot was fun. The store was made from a reconverted garage. The white-haired couple that ran it were always smiling. I remember the bell that tinkled everytime you opened or closed the door. We'd get a soft drink or those paraffin lips, teeth, moustaches, etc. with the flavoring that you could chew like gum. Aunt Mary was strict, but she always let us have our treats. They also had a pickle barrel in the backyard, under the huge willow tree. I was always lifting the wooden lid and snatching a few everytime I passed them. There were a lot of fresh dill sprigs floating around in the brine mixture. Uncle Forrest let me take all I wanted. Forrest and Mary decorated their outdoor evergreens with Christmas lights during the Yuletide season. And decorating indoor trees was fun, too. And, on cold days, there was that wonderful feeling of warm air blowing upward from that huge living room floor register, large enough to accommodate all three of us standing on it together. We knew how to have fun then. We really did. It was a simpler time.
--------------------------------------------------------------------------------
TODD REUNIONS...THE TIES THAT BIND LOGANSPORT WITH CRAWFORDSVILLE.
I remember things like all the fun Todd's reunions in Milligan Park in Crawfordsville. We'd first stop at an ice house off of West Market St. in Logansport, pack everything perishable in large closed ice chests, etc., then hit the road. Once in Crawfordsville, everyone would set up tons of food on the long, long, picnic table. At the park, there was also a bandstand and the band would play all day. We kids would do summersaults down the little hills which looked so big then. There were all the TODDS, the REYNOLDS, the EADS, and the WHITAKERS. The Reynolds reunion was also held in that park. Dad once said I embarrassed him by asking some old lady, "Isn't that the same dress you wore last year?" When the reunion was over, I remember how, after we got back to Forrest and Mary's in Logansport, they'd drive through the alley to the backyard and back the car up into the yard by the picnic table and brick fireplace. The neighbors would be called over then for a tailgate party with all the leftovers from the reunion. Thank God Gramma and others, including myself, snapped photos of these reunions. The last reunion that I went to was in the 1960's sometime with Uncle Paul, Aunt Ruth, and Cousin Jeanie. OTHER FUN: A number of weekends, we'd go with Forrest and Mary to the Eagles in downtown Logansport, and my sister, Chris and I would dance to rock 'n' roll. One time, Dad, and my two sisters, Chris and Marie, went to The Eagle's and stayed out to 1:00 a.m. We were still kids and we couldn't believe we stayed out "all night!" The main place, however, that we three kids learned how to dance was at "Jo's Dance Studio" in downtown Logansport, which also had parties on the weekends, which we attended by late grade school. Just we three kids. Our schools...for all age groups, The Knights of Columbus, the Memorial Building, and street festivals all had dances. And there were other things to do on the weekends, too. You could go to three movie theatres. If a really good movie was playing, such as, "Gone With The Wind" or "Journey To The Center Of The Earth," the lines at The Roxy, The Logan, and The State" theatres sometimes went halfway down the street and around the corners. But, when we were with Aunt Mary and Uncle Forrest, before anyone went anywhere on a Saturday night, Aunt Mary would usually repair her nails, filing away with emery boards, painting them a bright red, while she and Forrest watched "Gorgeous George," the wrestler, or "The Honeymooners" on that little, little, snowy t.v. set of theirs. Mary liked Ed Norton. Whenever he'd do or say something goofy, she'd laugh that funny little laugh of hers. It was like a rapid series of little laughs all put together into one goat-like laugh. When she'd laugh, it would make us laugh. I say that in an endearing way. Sometimes, the Elmores would come over and share some beer, which some of the more religious relatives frowned upon. Especially the older ones. Such as the Primitive Baptists. But, oh well...Mary and Forrest were not church-goers, anyway. When Mary and Forrest went out alone, it was usually to a bar on the north end of downtown, a little rundown, shack-like looking bar, that was leaning to the right. The name was, "Thurms." Forrest called such places, "Honky Tonks." It was only a block or so away from The Eagles. I don't ever remember Forrest or Mary getting wasted. We spent lots of time with other relatives, too, but, this is about Forrest and Mary. In the late 1950's, Aunt Mary's parents, Elmer and Stella Burks, needing more supervision, moved in with Mary and Forrest at their home on Johnson St. Stella, who was older than Elmer, had medium-gray hair, pulled upward and into a bun on the back of her head. Mary would brush it for her each day..... Stella had horrible complications from diabetes and the doctors just kept cutting on her. Both legs were amputated. Later, she had a stroke, which paralyzed one arm. One day, she fell out of a wheelchair and broke an elbow. This fractured elbow was listed as the cause of her death on her death certificate. The doctors wanted to amputate her arm, I think, but, I overheard her niece, Sandy Strasser (daughter of Mary's sister, Emma Sue Burks Strasser) say how she told the doctors, "You're not going to cut on her, anymore." Sandy resided in Monticello, White County, Indiana. I am guessing that she was referring to Stella's arm, because there wasn't much else left to cut off. Elmer, now white-haired, would look through those big black glasses, and play solitaire for hours, while he smoked his pipe. Later, he developed lip cancer, so part of his lip was removed, but it then looked okay. Though Elmer and Stella had the free roam of the house and grounds, their bedroom area was on the back porch, which, years before, had been enclosed and refurbished into a room. It also had the sink, which Aunt Mary used to bathe us in when we were babies. I remember thinking that all that water pouring down on me was going to drown me. Uncle Forrest and Aunt Mary could never have their own children, which was disappointing for them, because they loved children. We were there so much because our mother, Evaleen Rosemary Murphy Todd (07-03-1924--03-05-1987) was ill a lot. We also spent a lot of time at the home of Uncle Paul and Aunt Ruth, as well as at Gramma and Grampa Todd's home. Since Mary wanted children, she would tell us to call Elmer and Stella, her parents, "Gramma and Grampa." One day, "Grampa Elmer" said to me, "You know, we aren't really your grandparents. You can only have two sets of grandparents." I came back with, "Why not?" Wasn't that a great line? However, to this day, I still call them, "Gramma and Grampa Burks." They are buried in Davis Cemetery, Burnettsville, White County, Indiana. Double headstone. Elmer James Burks (01-15-1888--07-19-1958) and Estella Mary Fulmer Burks (10-22-1884--08-20-1962) One source that I found listed Burnettsville as being in Cass County. Though it is almost on the Cass County/White County line, it is none-the-less on the White County side of the line. After Elmer died, Aunt Gladys said that Stella came to live with she and Uncle Ralph...on R.R.3, highway 29, Logansport, which was the house directly next-door to Gramma Flora and John Henry Todd. To the right of John and Flora's home was the house of their son, Paul Raymond Todd, Sr. and his first of two wives, Ruth Mae Potts Todd. I wanted to say that Mary used to cut hair and give permanents to various people that would drop over, such as my Great Aunt Myrtle Higgins Todd, wife of my Great Uncle Oscar Francis ("Frank" Todd. Hmm, that's strange, because Uncle Frank was a barber. (I have his license.) Of course, they were old by then and he didn't do permanents on women. Anyway, by 1962, the parents of both Forrest AND Mary were gone. And another chapter was coming to a close. I never knew then that all of these memories would become so fond. But, time marches on and all things change.
STARTING WITH THE SPLIT: Now, that Stella was being taken care of by Aunt Gladys, Forrest and Mary decided to open yet another chapter in their life, by moving to Ft. Myers, Lee County, Florida. Forrest, no longer a young man, still, with his own two hands, built yet another home, and two other homes next to his, in Ft. Myers. Again, all by himself. His sense of humor dictated that he name the new place, not "Green Acres," but, "Belly Acres." He actually had a little sign hanging above the carport in those exact words, visible from the street. He had a bad back, later developing into spinal cancer which caused his death. Sometimes, before cancer set in, he would continue building even with pain that caused him to walk half-stooped over at the waist. He was always super-skinny, too, most of his life...unlike Mary. They were like Jack Spratt and his wife. Forrest was always a rebel...in that he didn't care what others thought...........and, he didn't care about following the crowd. He would do exactly what he wanted to do. Including moving to Ft. Myers. This also set a trend for other Todds...and two households of Forrest and Mary's Logansport neighbors...to follow. Their Logansport neighbors, Louise and Ethel Silberman, and their children, Joyce, Jim, and little Connie, moved to Ft. Myers into one of the two new houses next to Forrest and Mary. "Pinky" and Eileen Elmore, also Logansport neighbors, moved to another part of Ft.. Myers and everyone still remained friends...in this new city of theirs. I think that the original plan was for the Todds, Silbermans, and, maybe, the Elmores to go into business together. But, it didn't work out that way. I think there was a problem about who was going to be the boss, but, I don't remember what business they wanted to start. I wonder if it had to do with cooking. Back to the houses. One of the three houses was for Forrest's brother, Ralph and wife, Gladys, for whenever they visited. But they ended up buying a more expensive home in another part of Ft. Myers., so that extra house became more like a guest house for other visitors. At age 77, almost 78, Forrest died. Here is part of the info on Forrest's death certificate, mixed with my own comments: Forrest died at 9:10 A.M. in Lee Memorial Hospital, Ft. Myers, Lee County, Florida on 12-12-1987. This date marked what would have been the 69th birthday of his brother, Frank (my father) had Frank still been alive. Frank was born on 12-12-1918, one day short of MARY TODD LINCOLN'S 100th birthday of 12-13-1818, had she still been alive. As previously stated, Frank was born in Jamestown, Boone County, Indiana and died on 10-07-1984 in Logansport, Cass County, Indiana...burial in Ever-Rest Memorial Park Cemetery right outside of Logansport on U.S. Highway 24 East. Rosemary, my mother, is buried next to him. At the foot of Frank's grave are buried, in a box, the cremains of my sister, Christine Annette Todd Cook (12-05-1948--through the estimated date of death of Sunday, St. Patrick's Day, March 17, 1991. She died alone in her apartment in Wheelersburg, Scioto County, Ohio.
--------------------------------------------------------------------------------
Forrest & Mary had both worked at a facility called, "Suniland Center" in Ft. Myers as, "Cottage Parents." As I remember, in one of Aunt Mary's letters, she said that "they're just like little kids," meaning "the special needs" people, but I don't know what age range they were. When Forrest built the three Ft. Myers homes, he was allowed to name the street himself, thus, "Todd Street." So, the address was 3040 Todd St. However, later the address became 3040 Palm Avenue. I am guessing that, as the city grew out to that edge of town, so did the influence of whoever named the streets. Anyway, the Palm Avenue address was the only address Forrest and Mary had in all the years they lived in Ft. Myers, Florida. Name of attending physician on Forrest's death certificate: Michael G. Raymond, M.D., 3840 Broadway, Suite B, Ft. Myers, Fla., 33901. The name of the funeral home was Lee Memorial Park and Crematory. Burial was at Lee Memorial Park & Crematory, LeHigh Acres, Fla., 33936 (P.O. Box 568.)
--------------------------------------------------------------------------------
A short announcement of Uncle Forrest's death ran in the "Fort Myers News Press" on Sunday, December 13, 1987, Ft. Myers, Lee County, Fla. "Todd, Forrest E., 77, of Fort Myers, private burial by Lee Memorial Park......." Pay attention to the words, "Private burial." Keep reading and you'll see why.
--------------------------------------------------------------------------------
That was it. No other write-up known to me. Uncle Forrest used to say that, about when he died, "I don't want people to gawk at me," meaning people seeing him dead in an open casket. He and Mary just wanted to be wrapped up in a sheet and buried as soon as they died, before the word got out that they were even dead. So, a "PRIVATE BURIAL" does not surprise me. I remember that, whatever the arrangements were, Aunt Gladys said that, "It's the strangest thing i've ever heard of." She said that, speaking now about MARY, that Mary was "not embalmed" and was buried the same day of death. I don't know...that's what she said. Is that legal? That is the way Aunt Mary wanted it. I wonder about Uncle Forrest's arrangements, now. If he was buried in the same way as Mary.
--------------------------------------------------------------------------------
TRIVIA: Before I forget, I wanted to say that, when it comes to Forrest and Ralph, Gladys and Mary, I always say, "Two brothers married two sisters." About Aunt Gladys Estella Burks Todd: She was, as was Mary, also born in Monon, White County, Indiana on 01-30-1913 and died on 10-27-2000 in Logansport, Cass County, Indiana. Dates in her 1st obituary are all messed up. They had to run a second obit. Burial: Ever-Rest Memorial Park Cemetery on U.S. Highway 24 West, where Mom, Dad, Chris, Ralph & Gladys' son, Robert Gene Todd ("Bob") Todd (a whole long iron bridge collapsed under him...separate story) and HIS son, Robert L. Todd, etc. are all buried next to each other.
--------------------------------------------------------------------------------
INFO ON MARY'S DEATH: As with Forrest, there was only a very short announcement of Aunt Mary's death, which was also from the "Fort Myers News Press" on Saturday, Nov. 5, 1988: "Todd, Mary K., 77, of Fort Myers, private burial, arrangements by Lee Memorial Park." INFO ON MARY'S DEATH CERTIFICATE: Her birth date was incorrectly listed as November 19, 1910. The correct birthdate is Nov. 29, 1910, as stated on her marriage application and also Aunt Gladys wrote down these family dates for me, as well. Death: November 4, 1988. Age 77. I don't know the name of the place in which Aunt Mary died, but the address was under, "Hospital or Institution" at 3408 4th Avenue, St. James City, (which is is Lee County), Florida. State of birth: Indiana. Citizen of U. S. A. Widowed. "Cottage Parent" was her occupation in a "State Insititution" Ever in Armed Forces? "No." However, it incorrectly lists part of her home address: "3040 Palm Avenue, St. James City, Lee County, Florida. All correct except the address was not in St. James City. The city was still Ft. Myers, Fla. Father: Elmer J. Burks. Mother, Estella M. Fulmer. "Informant" This was one of she and Gladys' brothers, William T. Burks (Bill Burks) at 4345 Orangewood Ave., Ft. Myers, Fla., 33901. Hope his address is correct, because I never knew it. Burial was at Lee Memorial Park, Lehigh Acres, Fla., 33970 Funeral home also listed as Lee Memorial Park, P.O. Box 568, Lehigh Acres, Fla., 33970 Funeral Director. Can't make it out. Rick somebody-or-other. Last name starts with an "S". Ends with "wen" or "wer." Frank M. Bryan, M.D., 3660 Broadway, Ft. Myers, Fla., 33901 Date signed: November 7, 1988. Hour of Death: 2:00 A.M. Registrar listed as Michael Lyon. Sub-reg November 7, 1988. Date received by registrar: November 7, 1988. --------------------------------------------------------------------------------
MARY'S FINAL DAYS: Mary became ill with Alzheimer's. It was really sad. Aunt Gladys said that Aunt Mary would keep saying, "I just wanna go home." Aunt Gladys said that Aunt Mary was not talking about the Ft. Myers home, rather she was talking about the old Logansport home and going home to Uncle Forrest, who she could not remember was now deceased. Forrest must have been glad when Mary joined him again in their new home in Heaven. He must've been glad that she never went back to see their old Logansport home, for the flowers were all gone. Someone got rid of every last one of them. Including the trees and the orchard. There was no shade anywhere. Only cut grass and weeds remained. And a little house setting in the middle of the hot sun. The bright blue shutters became gray weathered wood on loose hinges. Most of the people had all moved, or were dead and buried. Everything as they knew it is now gone...save for the sound of the wind and the memories. I thought I should remember it all...and write it all down, so that people would know...there was an Aunt Mary...and an Uncle Forrest, who lived and breathed, and laughed and loved. Just everyday people with dill pickle barrels. And hillbilly music and lots of friends. People who planted such beautiful flowers, and also the seeds of undying Love. And, as the last page is turned and the book softly closed, my last entry reads, "I did not forget you, Aunt Mary and Uncle Forrest. I thank you for everything and still love you both." Angie P.S. There were still so many untold stories...of Ft. Myers. Like the time a 200-lb. shark was caught in the water I just got out of at Ft. Myers Beach. All of our good times at Bonita Beach. Trading apple and cherry trees for grapefruit and palm trees and hydroponic gardening. Uncle Forrest's interest in the benefits of sea salt. The story of when I picked up a sleeping coral snake that looked like a pretty shell till it uncoiled and raised its head. Uncle Forrest didn't think it was a snake till I screamed. He came running out and scooped it up with a shovel. Then there was the time I ran through a red ant hill. Only did that once. Thank God a hose was nearby. Then there was the time three snakes went after their cat. And the time alligators were blamed for seven missing dogs. And stinging horseflies on the beach. And beautiful dragonflies. And new neighbors. And more Kodak moments.