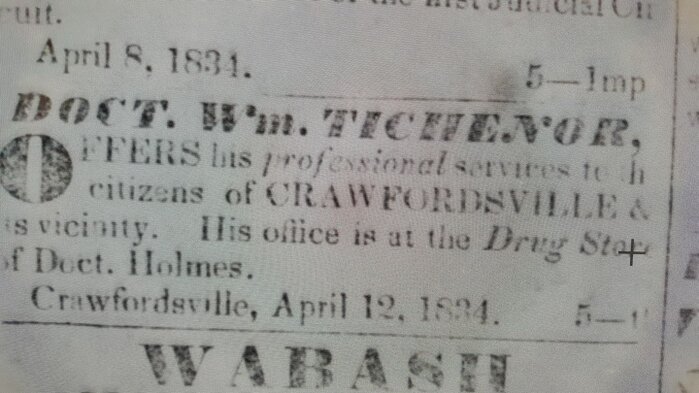 Source:
5-3-1834 Crawfordsville Record, Montgomery County, Indiana - loved all the mistakes in the old ads
Source:
Zach, Karen Bazzani. Montgomery Medicine Men ... Crawfordsville: Montgomery County Historical Society, 2002.
Nancy Eckerman, Special Collections Librarian at the Lilly Medical Library (IU) has a William Tichenor having practiced here, listed in the 1846 Turner Directory. I find only one WIlliam Tichenor in our 1850 Montgomery County census who is just 21 so don't think he could be listed in the 1846 Turner Directory. (See note below). Also, in the 1860 Indiana census there is a William Tichenor in Jasper County, listed as age 57, having been born about 1803 in Kentucky. This would be a prime candidate to have been in the 1846 Directory of Physicians. The only other thing I know is that his wife was Nancy. Do not know if the WIlliam in our 1850 census is their son or not. It would be nice to find out more about this doctor.
Note: Little more about the good doctor.
It is strongly believed that the doctor was born in Gallatin County, Kentucky, and married there on 11 Jan 1825 to Susan King. She evidently died fairly young, leaving him with at least two children, Sarah and Robert. She likely died in Montgomery County after the 1840 census as they are listed in the 1840 Montgomery County census in Walnut township with a family of four children, three sons and a daughter. The William Tichenor mentioned above is likely their oldest son, one male in 1840 age 10-14. Susan died before 1849 when William Tichenor married Nancy (unknown maiden name, married name Wood) 12 November 1849. Sarah and Robert K. Tichenor are with them in the 1850 Carroll County, Indiana census along with two of her children from the Wood marriage.
By 1860 Dr. Tichenor moved to Jasper County where he and Nancy live. He is still practicing at age 57 and does not pass away for 24 more years (31 Oct 1884) when he is found in Goodland, in Newtown County. Buried??