Schools attended: Medical College of Indiana H
Year Medical Grad or Attendance: 1876
County: Montgomery (Crawfordsville)
Med. Reg./Exam.: 7.15.97
Sources: P1886 / Physicians Directory of Kentucky and Indiana 1893: Main Street. 8:30 to 10, 1:30 to 2:30, and at 7 P.M. N.Y. Pllyclinic, 85. N.Y. Post Grad. 90. Mem. Ind. Inst. of Homo., Pres, Ind. State Bd. of Health. / Indiana State Board of Health 1882, 1884, 1890
Record# 1680 in database 19th Indiana Century Physicians
OBITUARY
(this one is actually a death notice, the longest one I've ever seen)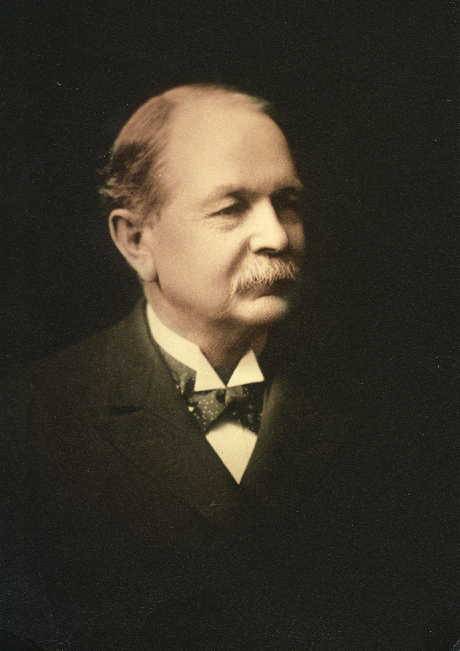 Source:
Montgomery Medicine Men & Women by Karen Zach
John N. Taylor was born in Harrisonburg, Virginia in 1849. He died in Crawfordsville in 1935. He graduated with honors from the Indiana Medical College in 1878. At one time, he served as President of the International health Association, as well as the Indiana State Board of Health. Like his brother, he wrote impressive poetry, both brothers have poems included in Pioneer Physicians & Surgeons of Montgomery County.
Source:
Crawfordsville Daily Journal 27 April 1934 p1
Dr. John N. Taylor, 84, prominent Crawfordsville physician, expired at his home, 717 east Main street, at 9 o'clock Thursday night. Death was caused by complications resulting from a 13 weeks' illness with heart trouble. John Newton Taylor was born in Harrisonburg, Va., Oct. 21, 1849. At the age of four years his parents came west, taking up their residence in western Illinois, then in Crawfordsville, Ind., from which place they removed to Greencastle, Ind., where they continued until death. He obtained his early education at home under the tutelage of his mother, who was well versed in literature, and adept in the art of imparting instruction, also in the common schools of his time. Preliminary to entering upon the study of medicine he took a course in botany, chemistry, German and Latin in the State University of Iowa; later he acquired some knowledge of Greek and of French. His medical education he obtained first in the Indiana Medical college from which he was graduated in 1876, delivering the class valedictory; then in the New York Polyclinic which he attended in 1886; the New York post-graduate in 1889, matriculating also in Bellevue Medical college and also the College of Physicians and Surgeons of that city, also taking a course in bacteriology in the Carnegie laboratory. In addition he took a course under Dr. E. H. Pratt of Chicago in 1892 and another in the Illinois School of Electro-Theraputics [sic] in 1903. He was admitted to membership in the Indiana Institute of Homeopathy in 1878, of which body he was elected [president in 1887. He became a member of the American Institute at its meeting in St. Louis. In 1886, he was endorsed by the Indiana Institute for the homeopathic representation on the state board of health. He was appointed by the governor and the position so acquired was held during eight years, four years of which time he was president of the board and largely directed its activities. In addition he served his own city twelve years as a public health commissioner, and was largely responsible in procurring [sic] for it a pure water supply; a system of sanitary sewerage; and an adequate dairy inspection and supply; meat and food inspections and regulations of markets and other measures. At its meeting at Memphis, Tenn., in 1887, he was made a member and vice-president of the American Public Health Association. At Washington, D.C., May, 1888, he was elected president of the American Conference of State and Provincial Boards of health of the Untied States, the provinces of Canada and the republic of Mexico, being the second westerner to receive this honor; in this capacity he served two years. Early in the World War he tendered his services to the United States volunteer medical service corps and was accepted. Though too old for active service he thought it possible that the old physicians might be required to replace the young called abroad. He also served as president of the local pension board under Presidents Wilson and Harding. In his class valedictory delivered at his graduation in 1876 occurred this quotation from Sir Frances Bacon, which he made his guide in his professional career: "I hold every man indebted to his profession, from which he, of course does seek to receive honor and profit, so ought he endeavor himself, by way of amends, to be a help and an ornament thereunto." He began the practice of medicine in this city and count in 1874. In those days physicians were few and during the prevalence of those annual scourges, malaria typhoid and the intestinal disorders of infancy, sometimes difficult to get, so that one had studied two years under a preceptor was allowed to practice under his supervision and advice, for which he was allowed credit for one year on his collegiate course. In early spring and late autumn roads were deep in mud and progress slow, and the physician could reach but few of the sick and only after hours of travel and often obtained but little rest; these were additional reasons for the employment of undergraduates. Many of these visits were made after night and in the worse of weather, the times when alarm was most apt to be felt and the desire for help became urgent. In 1897 Dr. Taylor was married to Alice, daughter of Sampson M. and Margaret McCullough Houston, who were widely known and highly respected in their day. At the time of the "Morgan raid" when the middle and southern counties were arming in anticipation of invasion, Sampson Houston was appointed commander of the local home guard by Governor Morton and was thereafter known as "Col. Houston." The raid having failed of its object he was kept busy to the end of the war watching the movements of certain organizations hostile to the government. The Houston home was often the scene of that old-fashioned hospitality so characteristic of the times and was often made the headquarters of visiting ministers of the Christian faith of which Sampson Houston was also a minister. Not long after their marriage Doctor and Mrs. Taylor built them a residence on east Main street. Brief funeral services will be conducted from the Taylor home at 2:30 o' clock Saturday afternoon, with the Rev. Paul Benedict officiating. Burial will be made at Oak Hill Cemetery. Friends are asked not to send flowers.