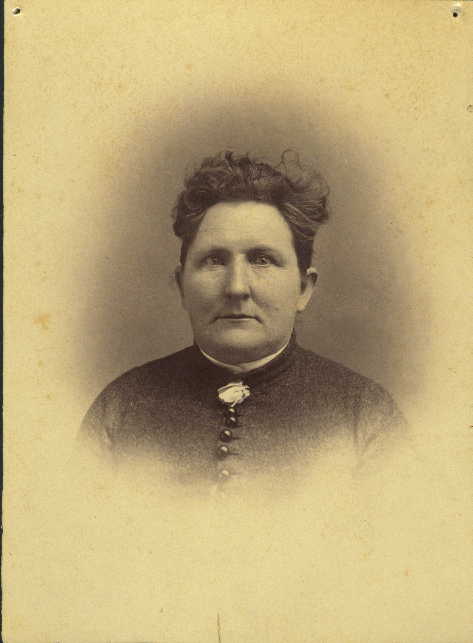 Source: Zach, Karen Bazzani. Montgomery Medicine Men & Women.... Crawfordsville: MCHS, 2002.

Fanny (found also as Fannie and Annie in various references) McClelland was born in Montgomery County (Ripley Township), near the tiny hamlet of Alamo on November 2, 1842. Her upbringing was in a large family; her parents were William and Sarah McClelland, his occupation being a tanner. Having a rough early life doing much domestic work, Fanny decided she desired broadening her life's interests. After studying medicine under her uncle, Dr. James McClelland, a pioneer physician in the area, she graduated from the Eclectic Medical College in Indianapolis in 1875. She married James S. Rich, a farmer. After practicing in our area about 15 years, she moved her practice to Frankfort and also practiced in the Lafayette area. After some year, she returned to Crawfordsville but did not practice again. She ran a boarding house on North Grant Avenue and died at Culver Hospital April 25, 1921.
Source: Crawfordsville Daily Journal April 26, 1921
Fanny McClelland Rich was born in Crawfordsville, Indiana, Nov 2, 1842. It is believed that her uncle, James S. McClelland helped her set up her practice. She graduated from the Eclectic Medical College of Indianapolis in 1875, afterwhich she located in Crawfordsville, but also practiced in Frankfort and Lafayette. She did a general practice and was especially succesxsful in the treatment of diseases of women and children. She died in Crawfordsville April 25, 1921.
Funeral services for Mrs. Annie McClelland Rich, who died Monday, will only be attended by immediate relatives and close friends of the deceased, and will be conducted at the A.G. Breaks home, 220 west Main street, Thursday morning at 10 o'clock. Rev. M.H. Appleby, pastor of the First M.E. Church, will officiate and burial will be at Oak Hill.

Source: Indiana Certificate of Death #12085
Died April 25, 1921 at Culver Union Hospital, Crawafordsville, Union Township, Montgomery County, Indiana
Dr. Fred A. Dennis attended her from April 1, 1921 to April 25, 1921 - Organic Disease of heart - probably 15 years duration and Nephritis for 2 years
Buried April 28, 1921 at Oak Hill Cemetery by Proffitt & Sons
Born Nov 2, 1842 Indiana
Occupation: (SAD) Housekeeper
Father; William McClelland born Penn.
Mother: Sallie Gilkey born Ohio
Informant: Ward McClelland, Crawfordsville, Indiana