On 4/20/2015 3:58 AM,
Angela Todd
wrote:
Leverett Merritt Reynolds (4-27-1899--8-29-1982). Ever-Rest Cemetery, Logansport. –
It took awhile to get the correct facts, as to the date of death, place of death, and the correct cemetery. All of my facts were straight. Other places recorded those facts incorrectly.
His parents were Edward L. Reynolds and Olive Mary Merritt Reynolds.
His wife was Ferne Bessie Young Reynolds. I have photos of Edward and Olive, as well as a baby photo of Leverett and Fern's girl, Emily Rose Reynolds, dated July 4th, 1934. Emily was born April 1, 1934 and died December 17, 1996.
. I have dates on all of the people in that photo, for anyone who wants them.
LEVERETT WAS a brother to my grandmother, Flora Etta Reynolds Todd (8-20-1888--2-10-1960) and a brother-in-law to my grandfather, John Henry Todd (3-13-1884--9-2-1958).
I have a lot more details on everyone, for those who want more info.
Source: Pharos-Tribune Newspaper, Monday, August 30, 1982, Logansport, Cass County, Indiana. Leverett Merritt Reynolds, died in Memorial Hospital, Logansport, Cass County, Indiana, on Sunday, August 29, 1982 (not Aug. 25, 1982, as others incorrectly reported). Ever-Rest Cemetery, east of Logansport, on Highway 24 East.
Wife Ferne later shared his double headstone.
Leverett M. Reynolds, 83, 1409 Chicago St, died Sunday at 5:30 a.m. in Memorial Hospital. He was born in Montgomery County on April 27, 1899 to Edward and Olive Merritt Reynolds. On August 25, 1920, he was married to Ferne B. Young, who survives. He was retired from Logansport Machine Co. and was a member of Tipton Masonic Lodge No. 33. Surviving with the wife are a son, Lewis, 1414 College St, a daughter, Emily Van Baalen, Anderson; a sister, June Bailey, Crawfordsville; 8 grandchildren and six great grandchildren. A son, a granddaughter and five sisters preceded him in death. Services will be Tuesday at 10 a.m. at the McCloskey-Hamilton-Gundrum Funeral Home with Rev. Dr. Sam Young officiating. Burial in the Ever-rest Memorial Park Cemetery. Friends may call at the funeral home today from 2-5 and 7-9 p.m. Masonic services will be conducted tonight at 7 p.m. - typed by
kbz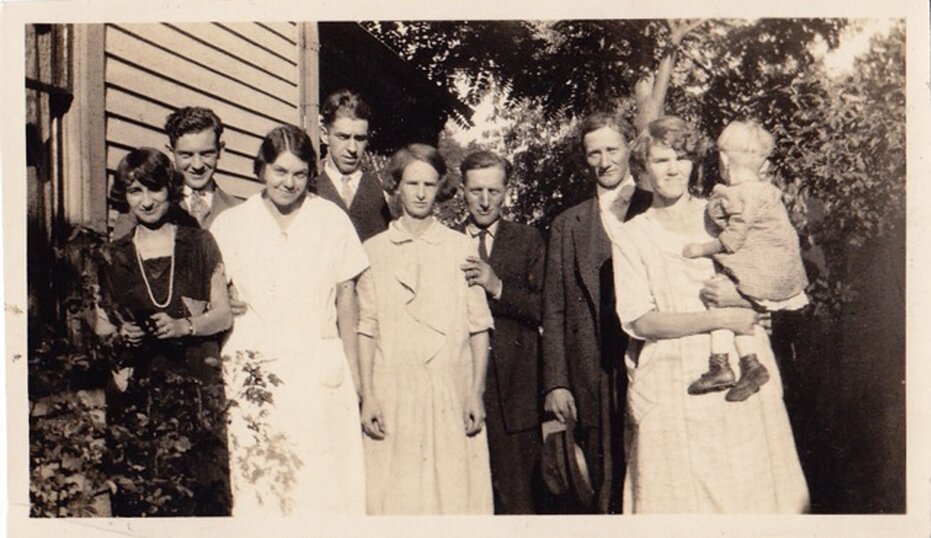 Thanks MUCHES to Angie Todd who provided most of the Todd-Reynolds photos.
Leverett, second man from left, was my Great Uncle. Fern was my Great Aunt. Emma, to the right of Ferne and Leverett, was Leverett's sister, Emma ("Emmy"). Emmy's husband was George Weaver. To the right of George was William Bailey ("Won't ya come home, Bill Bailey?") and his wife, Emma and Leverett's sister, also my Great Aunt June. Do you know who the baby was? My Gramma Flora Etta Reynolds Todd married John Henry Todd. Flora was a sister of Leverett, Emma, June. Also Elsie and others were their siblings. Flora and siblings were children of Edward L. Todd and Olive Mary Merritt Reynolds. John Henry Todd and Leverett Merritt Reynolds, Ferne's husband, were brothers-in-law. ) Angie)