TULLY CARL CRABBS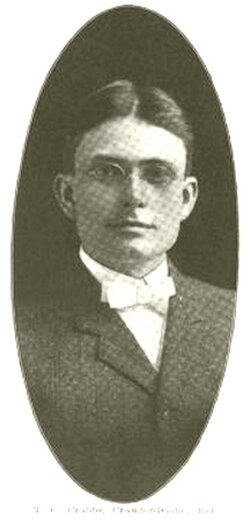 Source
: Grain Dealers Journal 10 July 1904
T. C. Crabbs, the junior member of the old firm of Crabbs & Reynolds, Crawfordsville, Indiana, now known as the Crabbs-Reynolds-Taylor Grain Company. He was born on a farm in Ashland County Ohio,
1 years ago. He moved to Crawfordsville when 7 years old and
recieved a liberal education. He began his career working in
his father's office, the senior member of the firm. After three years he was offered a partnership and became the Secretary Treasureer of the company.
---
Thanks so much to Jerry Turner for this one :)
---
Note: More information (kbz) about Tully Crabbs was born 1 June 1873 in Savannah, Ashland County Ohio son of Benjamin F. and Mary Fickes Crabbs (one of their eight children). He died in Crawfordsville, Montgomery County, Indiana 21 May 1955. On the 20th day of November in 1895 in Crawfordsville, he married Effie Gardner. C. Claude Travis married them. She was the daughter of Frederick and Mary Allen Gardner, and was born 18 March 1874 in Russellville, Putnam County, Indiana and died at her daughter (Mary Virginia Crabbs Shaw) home at 311 E. Wabash Avenue on 1 January 1966. They were active members in the First Methodist Church. Mary Virginia was their only child. She and Tully are buried in Oak Hill Cemetery, Crawfordsville.