FLORENCE COWEN
Source:
Waveland Independent newspaper, Oct 7, 1898
Remember our display of trimmed hats and bonnets today and tomorrow. We also have in a new line of sailors, round hats and walkers. Come in and see us even if you are not ready to buy. All are welcome.... Florence Cowen -- typed by kbz

After some research here are some hats - similar what she would have had in this time frame. Wish we had a picture of Florence :(
Lady in black has on a sailor hat
Round hats looked like the dark one with the pink roses and likely the yellow polka dotted one
Rest are what were called "walker hats"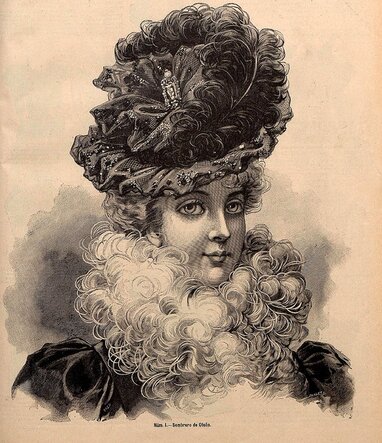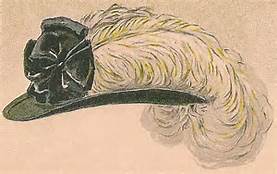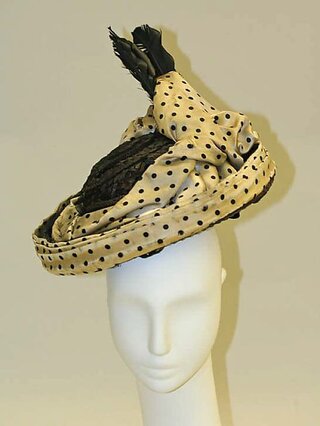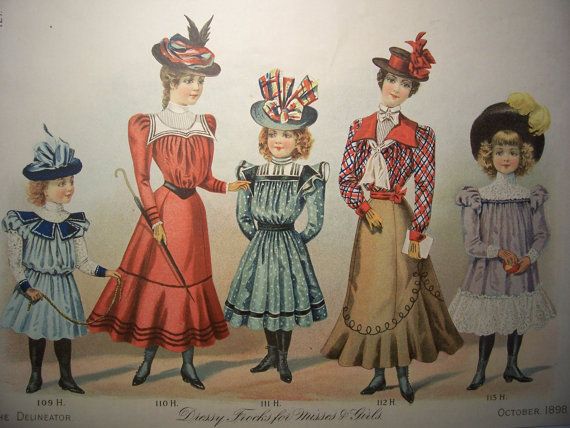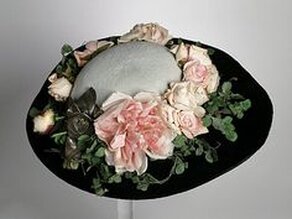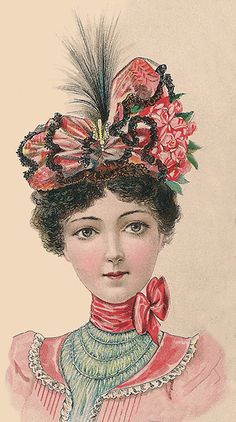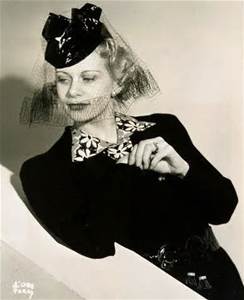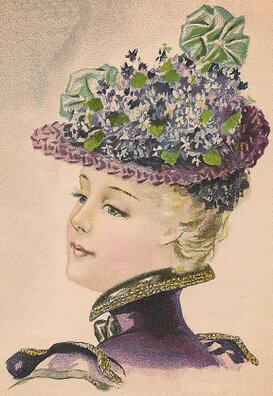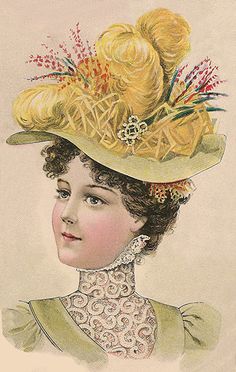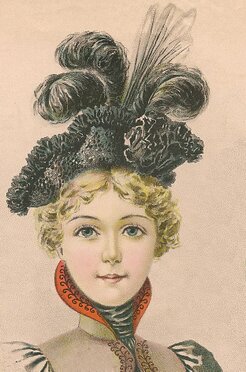 Here is
Florence's obituary
which tells much more about her life as a milliner in the small town of Waveland, Indiana
Source
: Waveland Independent, Thursday, March 26, 1942
Miss Florence COWAN, one of our oldest citizens and the oldest member of the business community, died on Sunday evening following a third cerebral hemorrhage. In spite of ill health she continued to attend to her business until the final seizure came on Tuesday afternoon. Funeral services at the Machledt Funeral Home on Tuesday afternoon were inc ahrge of Rev. CN McBrayer, pastor fo the Methodist Church. "nearer Still nearer, Save the Grace and SHall We Gather," were sung by a quarter Mrs. Elba Emmert; Mrs. Wilmer sharp; Paul Emmert and Myron Banta, with Mrs. Lowell Spencer at the paiano. The casket was born by Guy Durham; CM Moore; Frank Shanks; Ira Sharp; Orris Reiter and CG Swaney. Mesdames Harry Crutchfield; CM Moore; TS Banta; Olive Lough; GUy Durham; Frank Shanks; Orris Reiter and Etta Campbell carried the flowers. Burial int he Presbyterian Cem by the side of her father and mother. The following obituary was read: Florence Cowan, daughter of Aaron K. and Srah C. Cowan was born on Aug 6, 1860 on the old Cowan homestead north of Waveland. Her death occurred March 22, 1942. Surviving are one sister, Mrs. Ellen Whittington of Emporia, Ks and one brother Goerge M. Cowan, Waveland, one nephew and several nieces and many friends. She has been a lifelong resident of this community sharing abundantly in all its interests. Her deepest concern was centered on her business career on Cross Street where for about 60 years until she was fatally stricken a few days ago, she conducted The Ladies Millinery and Apparel Shop, so familiar to all. And also very dear to her heart was her affiliation with the Methodist Church of which she was a most devoted and faithful member. She held the enviable and remarkable record of having taught the infant class in the SS for more than 50 years. Efficiency, self reliance and high ideals were some of the sterling qualities of her character. Her artistic taste found expression in her exquisite needle work as well as in her passionate love for flowers in the growing of which she seemed to have a magic hand. Her beautiful flower garden always called forth the enthusiastic admiration. She was associated with the Woman's Department Club from its beginning. And as a member of the House & Garden Circle of the club her knowledge of flowers was a joy to the other members. In her passing, we sustain a loss that is irrepapble but in the words of our beloeve poet; "We cannot say and we will not say, that she is dead -- she is just away -- she has wandered into an unknown land and left us dreaming how very fair it needs must be since she lingers there. -- typed by kbz

The purchase of the business
Waveland Independent,
Waveland, Montgomery County, Indiana,
Feb 20, 1920
Miss Lizzie May, well known to our older citizens, died at Parr's Rest, a home for old people, in Louisville, Ky, [has been returned] for burial. She conducted a millinery store in Waveland for many years; at one time in the room now occupied by Dean Milligan and lately in the Milligan building with the Milligan Bros. store. This business she sold to Miss Florence Cowan. Charles Milligan visited her a few days before her final illness, and found her at that time in fair health.