EDWARD H. COWAN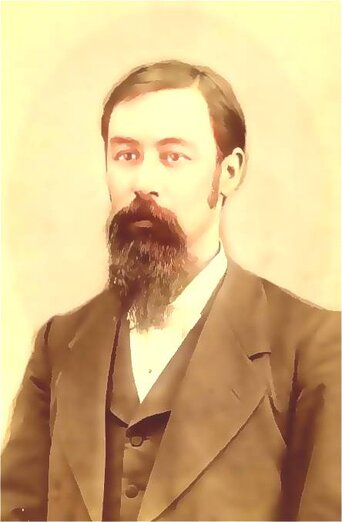 Sources: P1886 / Physicians Directory of Kentucky and Indiana 1893 / Indiana State Board of Health 1882, 1884, 1890

Edward Howard Cowan was born at Frankfort Indiana, Dec 21, 1846 to John Maxwell Cowan and wife, Harriett Janney. Died in Highland Park, Dallas County, Texas Aug 1, 1942 of cardiac failure and arterioscolosis. In 1862 he entered Wabash College and continued his studies there until the end of the 1864 school year, when he enlisted in the Army at President Lincoln's call for volunteers. He served in Company. H, 135th Indiana Volunteers under Captain McClelland of Crawfordsville. In September of 1864 he was mustered out of service. He reentered at Wabash and graduated in 1867. In 1868, he began the study of medicine with Dr. Moses Baker of Stockwell. He later received his M.D. degree in 1873 from Miami Medical College in Cincinnati. In April 1873, he began practicing medicine in Crawfordsville and remained in this city for more than 50 years. He was the FIRST city health director and served as a member of the Crawfordsville School Board. At the time of his death, he was Surgeon General of the GAR and was Montgomery County's last surviving Civil War Veteran and was believed to be the last survivor of the Wabash college Roll of Honor of Students & Alumni who served in the Union Army during the Civil War. His wife, Lucy Ayars was born in the Louisville, Kentucky area in Oct 1855 and died in November of 1924. They had three children but only one, their beloved Bessie who married Lewis Repp Ferguson (late in life, leaving no grandchildren for the Dr. and Lucy) survived.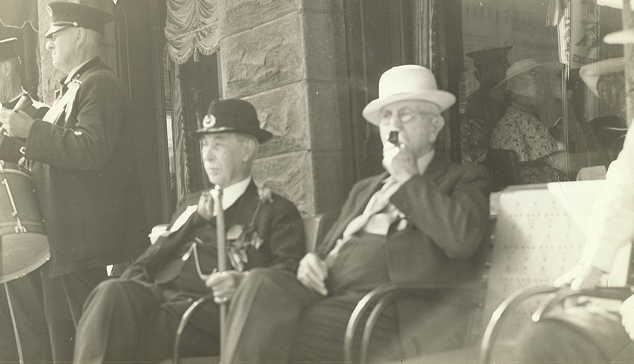 Cowan, Edward H. (middle - sitting on left with black hat). He had several interesting hats.
Schools attended: Miami
Year Medical Grad or Attendance: 1873
Membership in Medical Orgz.: Indiana State Medical Society-admitted 1875, 1880
Obit location: JISMA v. 35, 1942, p540
County: Montgomery (Crawfordsville)
Med. Reg./Exam.: 8.30.97
===============================
Source:
Zach, Karen Bazzani. Montgomery Medicine Men born 1850 or before. Crawfordsville, Indiana. Montgomery County Historical Society.
One of the most interesting of all the early Montgomery County doctors would have to be Dr. Cowan. He served as the first Crawfordsville Health Officer; was a member of the US Pension Board for many years; was an active member of the school board when the old Central School building was replaced by the high school most readers remember. He was a member of the Wabash College Class of 1867 and later received an honorary Master of Arts degree. In the Spring of 1864, he left with several other 17-year-olds to join the Army ath the call of President Lincoln, and may very well have been the last of the group to serve in the CW from Wabash College, as Montgomery County's last surviving soldier of Crawfordsville. Most of his time in the war was spent on what was called the "cracker line," in the area of Tennessee and Alabama. His group helped march Sherman to the sea. Some of Dr. Cowan's best loved times were when he attended reunions of the Grand Army of the Republic (see above pic). Also, he served as Surgeon General of the National GAR several times.
Cowan was born in Frankfort, Indiana four days before Christmas in the year 1846. He was the eldest son of John Maxwell and Harriet (Jane) Cowan, John being a Wabash graduate as well. John served as a Circuit Judge for Montgomery County's district. He, like Edward, lived to be 95. John's father, John was a mounted ranger in Southern Indiana before it became a state. He fought against the Prophet at the Battle of Tippecanoe. Grandfather John was one of the earliest people in Montgomery County, bringing his wife, Anna Maxwell, sister to the Maxwell who started Indiana University.
Edward Howard Cown began his career in the field of medicine by studying with Dr. Moses Baker in Stockwell, Indiana. After his reading year, he attended Miami Medical College in Cincinnati, receiving his M.D. in 1873. He worked for some time at Bellevue Hospital in New York. On March 22, 1884, a news article in the Crawfordsville Journal told of a smallpox scare concerning one Bill Robb, but Edward Cowan, along with Drs. May and Ensminger pronounced it a "bad cold." The Journal noted that the community was thankful, but urged everyone to get the vaccination. On November 13, 1877, Dr. Cowan married Lucy Ayers, great niece of Major Ambrose Whitlock's wife. She died 18 years prior to her husband. They were parents of two children: John who died at age 11 in 1891, and Elizabeth, wife of Lewis R. Ferguson of Dallas, Texas. Dr. Cowan died at her home, b ut his body was shipped here for burial. The Amerian Legion (at his expressed wish) had charge of the services, fittingly taking place in the Wabash College Chapel. One of Cowan's virtues was his wit, but it was coupled with his wide knowledge of his field, as well as a sincere kindness to all.
==============================
You might also like to see these related pictures (Crawfordsville District Public Library) regarding Dr. Cowan