Josiah - James COLEMAN
(see note at bottom of page
Josiah Coleman was a physician in Montgomery County shortly. While here, he had at leasst one son, James Asbury Coleman's picture taken. Josiah had a very large family and moved around a great deal. Josiah was born in Pennsylvania (county unknown) November 7, 1816. He married in Adams County, Illinois in mid June (15th) in 1845 to Martha Hill who was his wife for life. On the 10th of March in 1856, he received government in Section 9 Township 65 North, Range 35 West consisting of 40 acres.
From the 1860 Nodaway County, Missouri census we know he had at least these children (listed below). They were probably all born in the town of Ursa in Adams County, Illinois and at least two daughters and a son were born to this couple (Mary, Margaret and Lafayette) who likely died young as they did not show-up in other census records, plus these children: Josiah; William; Charley, lLarissa, Ollie, Edwin and M who I believe was the last one, tallying at least 17 children (kbz).
John born 1842 Illinois
Robertson born 1845 Illinois
James born 1847 Illinois (or in other census records 1848 in Missouri)
Asa born 1848 in Illinois
Marcus born 1850 in Illinois
Caroline born 1852 in Illinois
Louisa born 1855 in Illinois
Joel born in1856 in Indiana
Mary born 1857 in Iowa
Nathan born about 1858 in Iowa
Josiah died in Liberty, Montgomery County, Kansas and is buried in the cemetery there, having died the first day of June in 1898.
==================
James Asbury Coleman was born December 16, 1846 in Illinoois.. He had that rovingness as well, since he lived in Illinois, then Kansas, then back to Illinois and finally to Kay County, Oklahoma where he died August 1, 1914. (Newkirk). Although there is a James A. Coleman listed on a CHerokee Indian Reservation in 1898 as a Cherokee by blood, on ancestry.com kbz is about 90% sure this is not the same James A. Coleman in this picture.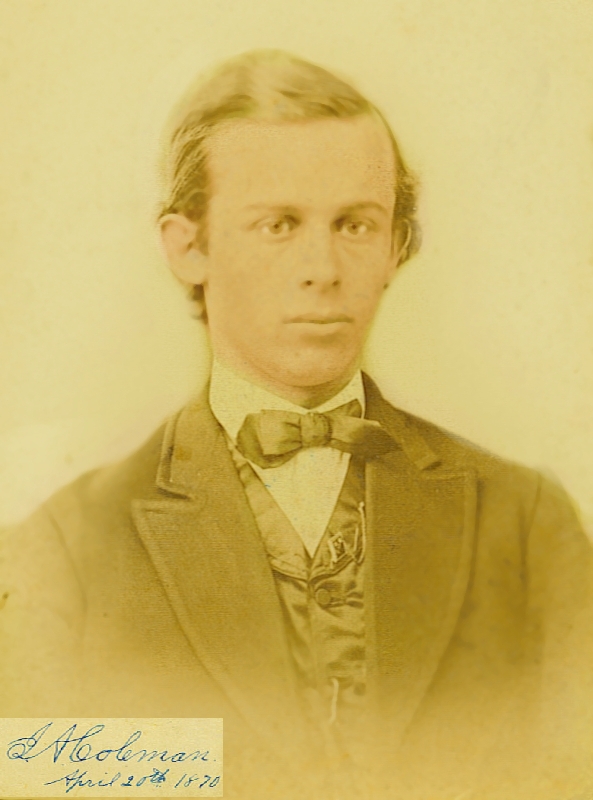 Now, don't you just wonder if he had the other kids' pictures taken, too :(
====================================
NOTE:
There is also a remote possibility this is James Coleman who was born in Ireland and was in Montgomery County as a young man in 1834, but do not think it is because of the age, the brown eyes although if they are green, could be. ????
Source: 1860 Census #1011 Union Twp.
James Coleman, age 23 Laborer b. Ireland. #199
Source: 1870 Census Coal Creek Twp
James Coleman, age 38 b. Ireland lives with Nicholas Coleman age 57 b. Ireland and his wife
Mary 57.
1880 Coal Creek Twp #2
James Coleman 45 Farmer b. Ireland (all parents b. Ireland) Catherine 38 wife Ireland
Mary 67 Mother b. Ireland
Nicholas 17 Son Indiana;
Catherine 14 daughter. Indiana;
Mary 10 daughter. Indiana.
Source:
1874 People's Guide Coal Creek Twp
James Coleman Farmer 9 mi. NW Crawfordsville b. Ireland to Montgomery Co. 1834 Dem. Catholic.
Source:
1900 Census #68 Coal Creek
James Coleman b. 1848 married 40 years b. Ireland (all parents b. Ireland) here 1852 Farmer. Kate b. 1845 Ireland;
Nicholas J. b Sept 1862 Indiana;
Katie b Sept 1865 Indiana;
Mary E. b Dec 1871 Indiana.