AARON CLORE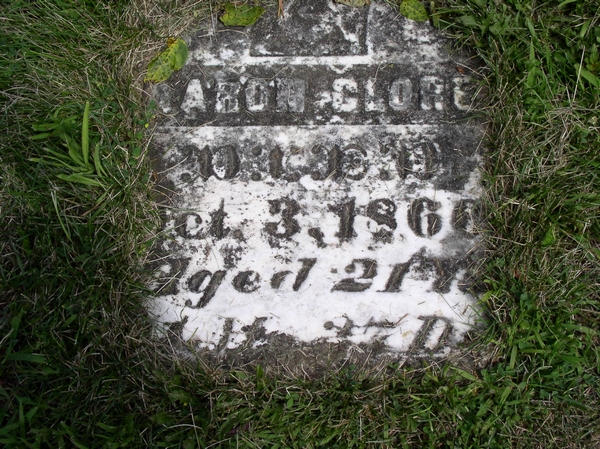 Aaron was born about 6 October 1839 in Montgomery County (probably Brown or Ripley Township), son of Joel and Sarah Ann Rice. His father died at Lake Providence, Louisiana when Joel was a young infant. He had 3 older brothers, the oldest age 13 when his father passed.
Although I don't have this in my Family Tree Maker (kbz) it seems I heard that he had taken things down to be sold and was bumped-off because someone had watched him and knew he had money. DO NOT quote that. Just think I remembered hearing it. At any rate, to my knowledge, Sarah never married again and died at age 70 years, 6 months on 27 Nov 1880 and is buried at Old Union Cemetery, Brown Township, Montgomery County, Indiana. She raised her boys with the help of her brother-in-law Howard, who would come to have ten children of his own, all younger than Aaron.
The 1860 census saw Aaron with his beloved Nancy (Tate, born Dec 1, 1841) as newlyweds (having just married a few days before the census was taken, 5 August 1860 in Fountain County). All looked good for the couple until Aaron passed young as well on 3 October 1861. Buried Alamo Cemetery. Nancy never remarried and is buried at McCormick-Fruits Cemetery, having passed away 1 September 1865. Nancy was the daughter of William and Mariah (Wert) Tate.
(Sure wonder what would they have been like, accomplished, would he fight (or maybe he did?) in the Civil War ??, how many children would they have ... ?????