VERNON CHADWICK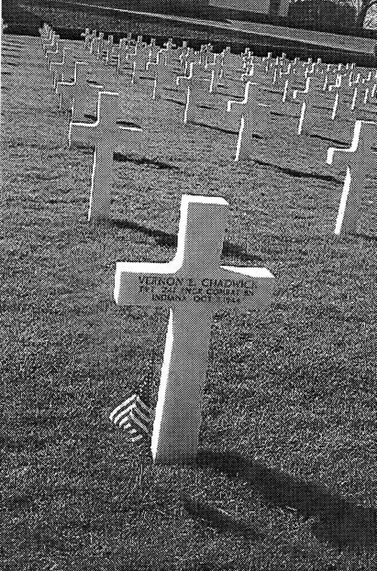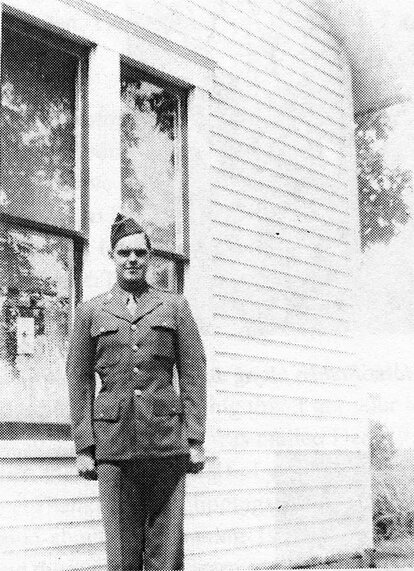 Here are articles I've written (Karen Bazzani Zach) about Gene. Such a wonderful young man, never to return from a war.
Source
: COUNTY CONNECTIONS - Montgomery Memories Online August 2015 -- by Karen Bazzani Zach
This article may/may not connect to the theme of the month; it will however be a feature article of the Montgomery Memories showing connections from the past to the present. We hope you enjoy! Around 80 Montgomery County men went off to WWII and never returned. Literally, never returned. I want to tell you about one such man. Really, a boy. In fact, he was barely 20 years old. A hard worker, Vernon Eugene (Gene) Chadwick was a farm boy and loved every minute of it. Born on the family farm on the 21st day of September in 1924, he attended New Ross High school where he graduated in 1942, having had an awesome high school basketball career. As with most young farm boys in our area, Gene also showed hogs in 4-H and was active in Jr. Leaders. Gene joined the service on April Fool's Day in 1943 for the duration of the conflict. The next Thursday he left for the US Army. It was six days before they would hear from him when the mail truck brought their first letter. What excitement for his family. Almost each letter was introduced with, "Dear Dad, Mom and Delmas," his brother. As the train chugged from Indianapolis to Washington state, he surely must have thought of his parents and brother, but his letters were almost always cheery and full of interesting details. After having been on the train for 83 hours, one of his big questions was, "How's the Farm?" His first letter tells of the beauty of Washington, the Apple and Cherry trees in bloom. He gives his address and asks them to write soon. Many times Gene repeats the lines of "write soon," and "how's the farm?" Questions were asked about the crops, the mushrooms (hunting them in the beauty of their woods is still a tradition), the animals and the equipment. On Thursday, April 15, Gene wrote that they had all had their shots. Nary a problem for Gene, but he noted many were sick. He also discovered he had Type 0, "the most common" blood. Eats were not bad, but he usually also ate 2-3 candy bars. With great gusto, Gene thanked anyone who sent him goodies. Gene always shared his treats, "with our bunch from home." Once, he thought the popcorn was a little tough, "but was still devoured." This shows a bit of Gene's subtle humor. Good with his money, he had taken $24.50 with him and at the end of the month still had almost $20 left. Guess it helped that those candy bars were 4 cents and his beloved malts were only a dime. His first pay check was $33.15 which he kept but the rest were sent home to save until his return, although he consistently told his Dad that if he needed the money for anything on the farm to feel free to use it. A few times, Gene would put remarks such as: "I don't like Army Life!" Not only the family, he also missed his girl, Bette Jo Cox whom he had planned to wed upon his arrival back, plus he pined for his dog. Gene had been keeping the Chadwick farm books and when discussing the sows and pigs, he told his Dad to "Look in that big green book!" By the end of the second month, he had received more than 100 letters. Gpa' sent Gene money for "malts and goodies," and a daily report, as well. As a Christmas gift, Gene sent word that he was made a Cpl, but later lost his stripe because he entered the ammunition tent when on guard duty. "I didn't know I wasn't supposed to." Exactly! His record at the time of his death shows Pvt US Army 247th Engineering Combat Battalion - purple heart. He was a specialty truck driver who mainly aided in hauling supplies to build bridges. He surely enjoyed his truck and kept it in fine condition. Not long before he passed, he requested "Send me candy, cake and a steering wheel spinner!" About that same time, he was extremely excited to have gotten to sleep on a real bed in a real (Belgium) home and eat Red Cross donuts. Gene is buried in the Henri-Chapelle American Cemetery and Memorial in Liege, Belgium. Finally, I'm getting to the Connection to Montgomery County. All American soldiers' graves in Belgium have been adopted but several years ago when the adoptions began a young, energetic, fun-loving, caring man named Martijn van Haren adopted ten graves originally but has a total of 25 now at the end of the adoption period. In fact, Martijn has more graves than anyone else in the project. He decorates Gene's grave once or twice a year, often taking his darling wife (Cindy) and two daughters , Fenna and Maud. Martijn was a soldier himself and can still wear his uniform and he so loves the American and English soldiers who helped free his country. Martijn has contact with relatives of well over half of his adopted graves and has been to America at least twice to visit with Delmas and Jean Chadwick and family, as well as the USS Indianapolis survivors he has come to know and love. Also, many people he has met on FaceBook. It is a life-time project for Marijn and many appreciate it immensely. Thanks, buddy for loving our soldiers and our wonderful Montgomery County young man, Gene Chadwick. Please read more about Rodney's book and Gene in the Historical Highlights this month. (BELOW)
Source:
Historical (Fiction/Non) Highlights for Montgomery Memories Online - August 2015
One of Montgomery County's brave young men who lost his life in WWII, was Vernon Eugene Chadwick (Gene), who had turned 20 years old less than a month before his death. It was in the morning (Tuesday) Oct 3, 1944 when Gene's truck got hung-up and he lost his helmet in a fierce barrage of shells. When the shelling ceased, Gene and others went back to the make-shift camp. It seemed many had left their helmets behind at the bridge that the group had been building. Gene wasn't having that and went back to retrieve his. When he didn't return some of the men went to the bridge and saw a figure in the stream with coveralls on. Gene was the only one wearing coveralls and it was quickly acknowledged that Gene had lost his life via a wound in his head and another on the "left side of his neck." Gene Chadwick's great nephew, Rodney Simpson, compiled the letters from Gene to his parents, grandparents and others in the book, A Soldier's Wish. Rodney's introduction and his own letter to Gene at the end are touching and helpful in getting to know this young man who endured a tragic ending. His company would bear another three weeks of intense battling before finally being relieved. A Soldier's Wish isn't about the last battle or the death of an extremely brave young man, however. It's about the life and loves of one of our own, Gene Chadwick. After finishing the work, the reader feels as if Gene were an old friend. The book is also a rendition of army life in WWII times and especially that of a truck driver in the Engineering field. Sometimes it wasn't huge loads of gravel Gene carried, though, but an officer in a jeep. I loved some of Gene's advice. As far as a new car went for his folds, he agreed with his dad that a Cadillac would be really fine, but Gene suggested a Chevy instead and "use the difference on a new bedroom or living room suit for mom." Brother Delmas often got life suggestions from his big brother, as well, sometimes about farming, driving and even girls and school (Sept 8, 1944). "Say, Squirt, what's the matter with the girls back there? You must be shopping around - don't take just anything and be careful what you do when you're out." In the next paragraph: "You darn well finish these eight months of school and don't go until you have to - this Army isn't what you'd think it is!" In Holland in mid-September of '44, Gene seemed to be more satisfied than he had in quite awhile, maybe because most of the people spoke English, they were friendly and thrilled "to see us Americans." The homes and buildings were nice and he loved the ice cream cones which were "not like ours, more a frozen dessert." He got a haircut and shave and must have soon gone back out, moving from fox hole to fox hole. Not long before the end of Gene's letters, also in September '44 he wrote from Belgium, "that they were saying the war was over, but we have heavy fighting here." Then, slightly more than two weeks before his death, he wrote his last lines to his parents, one he had repeated many times in his correspondents, "Be back soon, I hope!" Hopefully, I've given you some insight into not only Gene, as a wonderful and unique person, but also a look into a very intense time in our history. If you'd like to read more about this fine man, check out the book at the Crawfordsville District Public Library. I loved it!