ISABEL TAYLOR CASH
Source: Article in the Crawfordsville Journal Review - date unknown - found in a large collection of 4-H clippings at the Crawfordsville District Public Library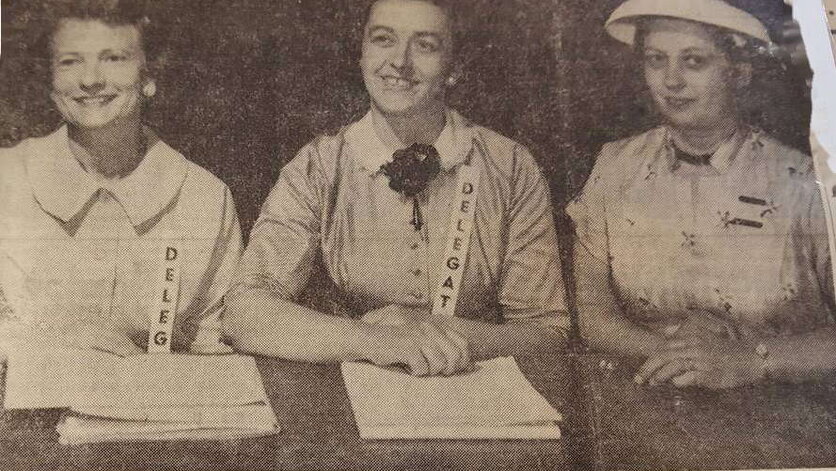 These are the newly elected member of the executive committee of the Indiana Home Demonstration Assn. They are left to right, Mrs. Gordon Brubaker, Country Club Drive, Warsaw; (Mrs) Lloyd Cash, Rt 7, Crawfordsville and Mrs. W.S. Woodmansee, Rt 2, Marion. Mrs. Charles Rogers, Rt 5, Madison was unable to be present when the picture was taken. The women were elected at the 46th meeting of the association held in connection with the Homemakers Conference at Purdue University.
Source:
Crawfordsville Journal Review 19-Aug-2011 2A April 14, 1920-Aug. 17, 2011
Isabel M. Cash of New Market died at 10:10 a.m. Wednesday at Franciscan St. Elizabeth Health-Crawfordsville. She was 91. Mrs. Cash retired in 1995 after 30 years as a nurse's side at Culver Hospital, Crawfordsville. She was a graduate of Crawfordsville High School. Her memberships included: New Market Baptist Church, where she Missionary Society president, youth group sponsor and on the board of trustees; 50-year American Red Cross volunteer; 40-year Dorcas Society member; Crescendos Home Extension Choral Club; Chapel Extension Homemakers; County Extension health and safety leader; State Extension president; 4-H County Advisory Board; Chairman, County Girls School and Dorm Mom for the State School for Girls; New Market PTA president; Girl Scout leader; Camp Fire Board of Directors; American Cancer Society; American Heart Association; Indiana Hospital Auxiliary Association; and Culver Union Hospital Auxiliary, starting in 1948 and volunteering more than 15,000 hours and serving as its president, vice president, treasurer, corresponding secretary, board member and on the scholarship committee. She was the first recipient of the Culver AMI Executive Director's Award. In 1970, she was one of three nurses aides asked to take special training to work in the Intensive Care Unit at Culver. She was born April 14, 1920, in Montgomery County, to Roy and Cora (Zachary) Taylor. She married Lloyd Cash on Dec. 14, 1941, at Whitesville. He died in 2003. She is survived by daughter Sheila M. Smith of Indianapolis. Two sisters, Betty Manges and Jane Todd, and are deceased. Funeral services are scheduled for 10 a.m. Monday at Powers-Priebe Funeral Home, 315 S. Washington St., Crawfordsville, with the Revs. Andrea Leininger and Michael Whitacre officiating. Burial will be at the Oak Hill Cemetery Mausoleum, Crawfordsville. Friends may call 4-8 p.m. Sunday at the funeral home. Memorials may be sent to Francisan St. Elizabeth Health- Crawfordsville Auxiliary Scholarship Fund, 1710 Lafayette Road, Crawfordsville, IN 47933. Online condolences may be made at www.powerspriebefh.com.