JAMES R. CANINE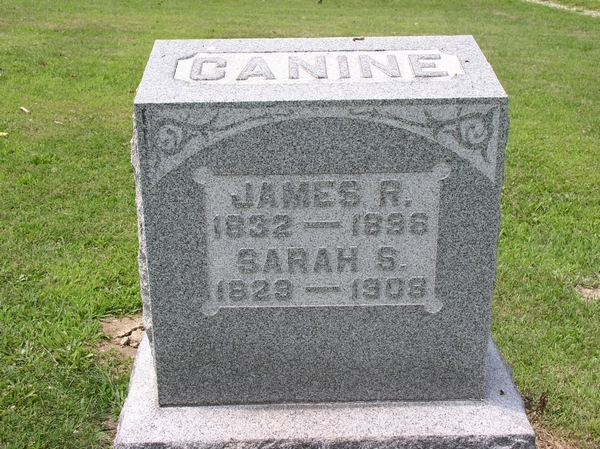 Source
:
Atlas of Montgomery County, Indiana
(Chicago: Beers, 1878), 5 (thanks Cathi :)
CANINE, J.R. Po Waveland, Farmer, son of John and Hulda C. LONG Canine, was born in this township in 1832. His father at the age of 14, moved from Shelby Co, KY with his parents, settled in this township 1826 and assisted his father in clearing a farm in the dense forest. When 17 years old, he became connected with the Old School Baptist Church and remained a faithful and honored member until death, May 1, 1875. Dec. 2, 1830, John Canine and Hulda C. Long, daughter of James and Nancy Long were married and settled on Sec 29 and cleared the timber from 60 acres. Three children were born: James R (subject of our sketch) and two who died in infancy. In 1849, Mr. John Canine sold his land on Sec. 29 and purchased 160 acres on Sec 24, afterward adding, by the aid of his son, James R, 160 acres more and made the present improvements as shown in view in the atlas. Dec 13, 1853 James R. Canine and Sarah S, daughter of Mulenburgh and Elizabeth PROCTOR were married and have had 5 children: Rilah F. J. born April 25, 1856 d. Jan 17, 1863; John H born April 15, 1864; Hulda A born Oct 7, 1866 died Feb 8, 1870; Lucinda EB born July 4,1 869 died Dec 20, 1871; and Jesse W, born Nov 25, 1871. Mr. Canine's mother died March 18, 1875 and his father May 1 of the same year, and by their demise comes into the possession and enjoyment of the fine farm and commodious residence. Hulda C, daughter of James and Nancy LAWS Long, became Mrs. John Canine in 1830. Her father, in the Spring of 1822, began clearing a farm on Sec 21 now added to Parke Co. From a large oak tree in Brown Twp he obtained clapboards to cover his cabin home. Here he was joined by other members of his family from time to time; became a member of the Old School Baptist Church at the age of 18 and is yet a faithful member. His wife d. in Feb 1866. Desiring to administer on his own estate, Mr. Long disposed of his land in 1861 and has since given to each heir his or her portion, reserving for himself a contingent fund. Mr. Long makes his home with his grandson, James R. Canine at the ripe old age of 85.

Thanks to Cathi Frost for the photo (long before findagrave became popular :)