Canby - Edward Richard Sprigg
Edward Richard Sprigg CANBY
Source:
Bowen, A.W. History of Montgomery County, Indiana. Indianapolis: AW Bowen, 1913, p. 1053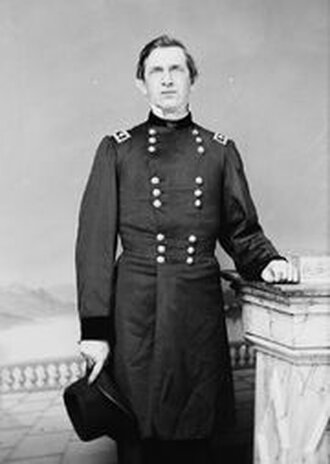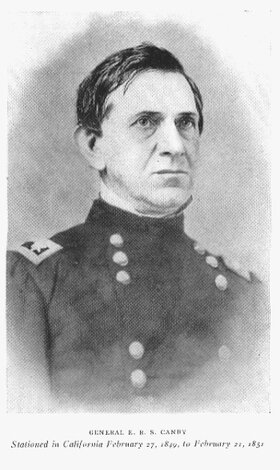 Edward R. S. Canby, United States Army officer, son of Israel T. and Elizabeth (Piatt) Canby, was born at Piatt's Landing, Kentucky, on November 9, 1817. His father, a country doctor, later moved his family to Indiana. Canby enrolled in Wabash College and was appointed in 1835 to the United States Military Academy; he graduated thirtieth of thirty-one in the class of 1839. He married Louisa Hawkins of Crawfordsville, Indiana, on August 1 of that year. Lieutenant Canby served in the South, notably in the Second Seminole War in Florida (1839-42). During the Mexican War he earned two brevets in the campaign of Gen. Winfield Scott against Mexico City. Between 1848 and 1855 Major Canby held staff posts on the West Coast and in Washington, D.C. He was ordered to the Tenth Infantry Regiment in the Trans-Mississippi and later took part in the Mormon Expedition (1857-58) under Col. Albert Sidney Johnston. Soon after the Civil War began, Canby was named colonel of the Nineteenth Infantry at Fort Defiance, New Mexico Territory. In a series of battles (Valverde on February 21, 1862, and Apache Canyon and Glorieta on March 27 and 28), Canby's troops blunted a Confederate invasion led by Gen. Henry H. Sibley,qv who turned back into Texas. Canby's actions prevented Confederate expansion from Texas into the greater Southwest. After staff duties in Washington, D.C., from January 1863 through May 1864, Canby, as newly promoted major general of volunteers, took command of the Military Division of West Mississippi. He was wounded by guerrillas at White River, Arkansas, on November 6, 1864, but recovered and led the land campaign to capture Mobile, Alabama (March through April 1865), in cooperation with Gen. Gordon Grangerqv and Adm. David G. Farragut. Canby received the surrender of Confederates under Gen. Richard Taylor on May 4, 1865, and that of the Trans- Mississippi forces of Gen. Edmund Kirby Smith on May 26. The army was reorganized in July 1866, and Canby ranked ninth of only ten regular brigadier generals. His command included several states on the Gulf of Mexico, but Gen. Philip H. Sheridan reduced Canby's department to Louisiana. Sheridan supervised Texas through subordinate officers, Gen. Charles Griffin and Gen. Joseph J. Reynolds.qqv All three of these officers were strong Republicans. After devoting Reconstructionqv time to Louisiana and the Carolinas, Canby replaced Reynolds in the Fifth Military District, where he served from November 1868 to March 1869. As an independent in politics, Canby was recognized during Reconstruction as one of the most fair-minded army officers in the South. His main accomplishment in Texas was supervising the process that led to the ratification of the Constitution of 1869. New southern state constitutions giving blacks the right to vote were required under the congressional Reconstruction Acts of 1867. Canby saw to it that the convention records were preserved and published. He removed few civilian officials, and his political appointments were judicious. He carefully protected the rights of freedmen without suppressing Democrats. In March 1869 President U. S. Grant reinstated Reynolds as commander in Texas. Reynolds had been removed by President Andrew Johnson, who thought he was partisan. Grant reassigned him, however, and ordered Canby to the Department of the Columbia, in the Pacific Northwest. There the Modoc Indians, based in an area known as the Lava Beds in California, were attacking settlers in California and Oregon. On April 11, 1873, Canby went unarmed to a parley and was killed when set upon by Modoc negotiators, including their leader, Captain Jack. Canby was the only regular army general killed in the Trans-Mississippi Indian wars. BIBLIOGRAPHY: Martin Hardwick Hall, Sibley's New Mexico Campaign (Austin: University of Texas Press, 1960). Max L. Heyman, Jr., Prudent Soldier: A Biography of Major General E. R. S. Canby (Glendale, California: Clark, 1959). William L. Richter, The Army in Texas during Reconstruction, 1865-1870 (College Station: Texas A&M University Press, 1987). James E. Sefton, The United States Army and Reconstruction (Baton Rouge: Louisiana State University Press, 1967). Joseph G. Dawson III - typed by kbz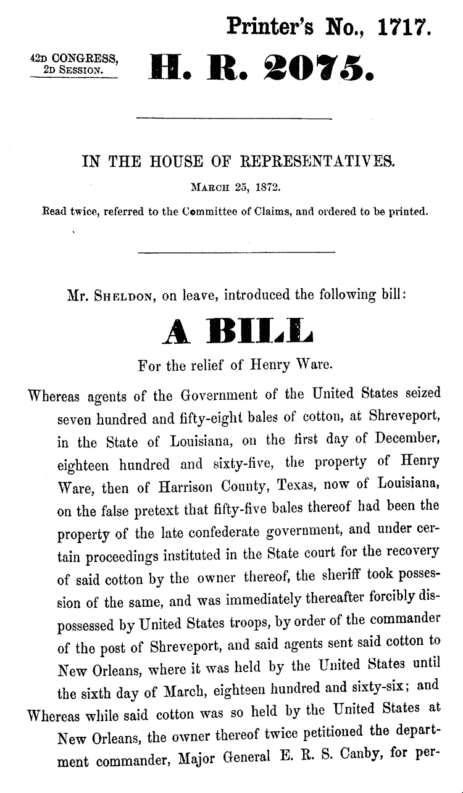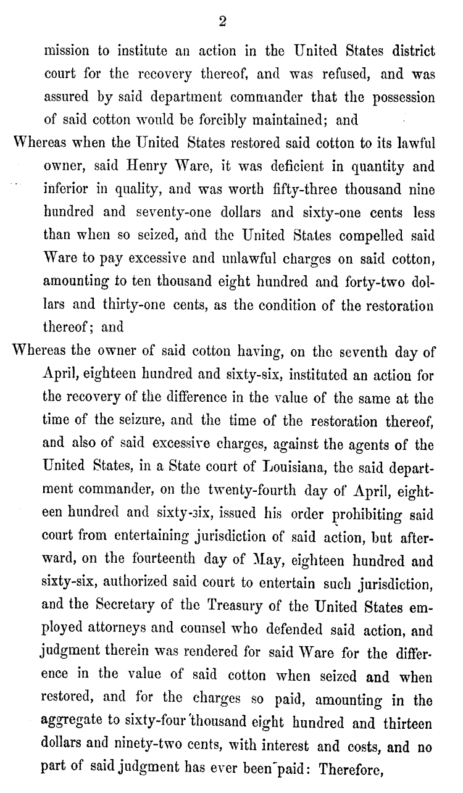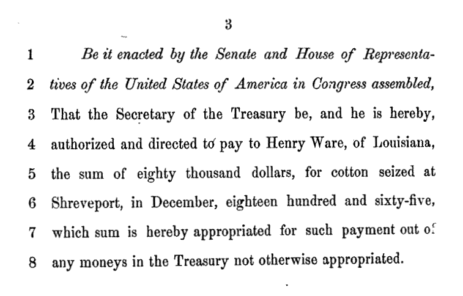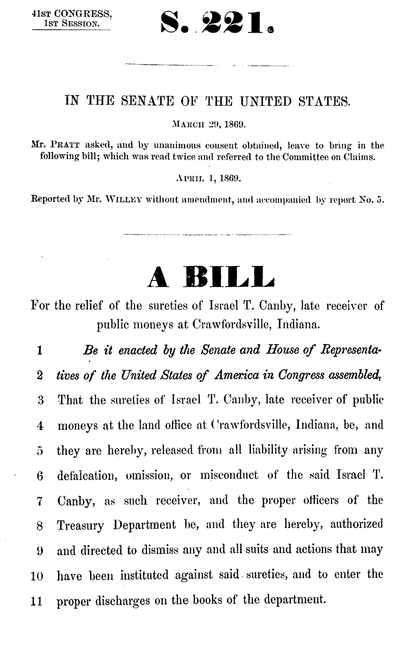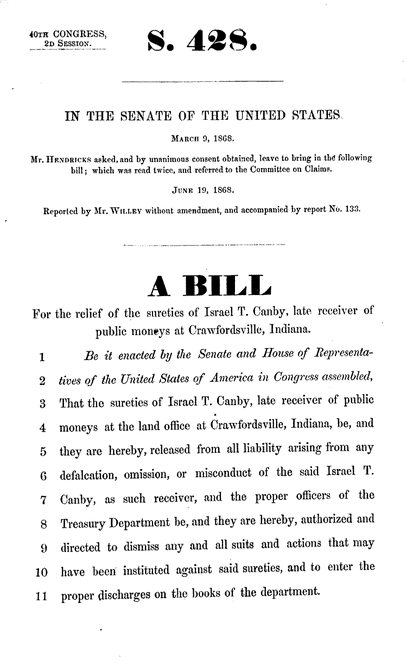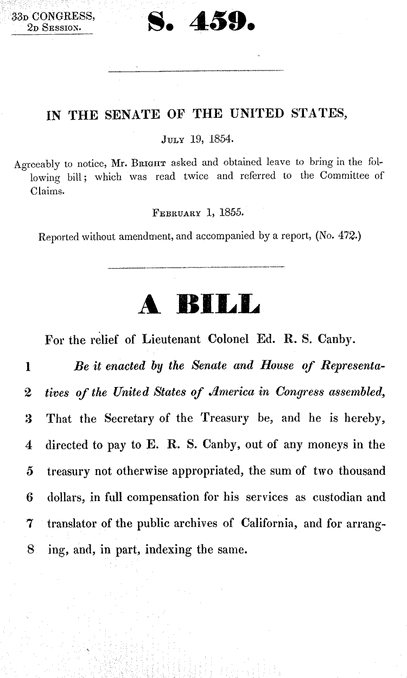 ---
CRAWFORDSVILLE Ia. JUN 10 FREE (black CDS & FREE postmark)
Hon. Henry S. Lane
Rep in Congress
Washington
D.C.
Crawfordsville Ind.
June 9th 1841
Dear Sir
By the mail tomorrow morning I will
forward to the Adjt. Genl. of the Army an application for the extension of my leave of Absence for the benefit of my health with the Certificate of Drs. Fry and Speed as to my inability to perform duty and the length of time necessary for my recovery. My Father informed that he wrote to You on the 7th Inst. and requested You to call at the Office of the Sect. of War and make Sworn the character of the Offic physicians making the Certificates and such other representations are acted
upon I believe in the office of the Adjt Genl and not in that of Secy of War as my Father supposed. Will You have the Kindness then to call at the Adjt. Genl Office and make the representations requested by my Father. As my present leave expires on the 20th of this month You will oblige as much by doing this at your earliest convenience, as the Application will probably be acted upon as so on as it is received
We were detained in Kentucky on account of Louisa's sickness between 5 & 6 weeks and did not much this place until a few days ago. We met Mrs. Lane in Indianapolis as we passed through She is now expected home. Your other friends are generally well. Louisa's health has improved much since her arrival at home. She sends her love - & wished you to become acquainted with Mr Levy the delegate elect from Florida
Very Respectfully
Yours Os
E. R. S. Canby
---
Source: Indianapolis Sentinel Tues Dec 16, 1873 -
Gen. Coburn has been thoughtrful enough to bear the widow in memory, and yesterday introduced a resolution looking to a pension to the widow of Gen Canby, the Modoc Martyr. Congress can do no more graceful or grateful act than provide for the relics of a soldier whose service was as faithful as his life was pure and noble
---
Source:
Wednesday May 21, 1873 Indianapolis Sentinel p 8
A dispatch from General Ord dated May 19 at Omaha, informs General Love that the remains of General Canby left Omaha yesterday at half past two in the afternoon, via Burlington and Peoria, to arrive here this evening. General Love requests the several committees of the citizens meeting, City Council and soldier's meeting to meet promptly this morning at 9 o'clock at his office, No 21 1/2 East Washington. The body and escort will reach the city over the Indianapolis, Bloomington and Western Railway at a 1/4 before 7 o'clock this evening.
---
Source:
Thursday April 10, 1873 - Indianapolis Sentinel p 4
Capt. Jack sticks most tenaciously to his lava bed, all the efforts of the wily Canby to lure him from it having proved thus far unavailing. The Modoc matter remains just where it was 2 months ago, Jack in his natural fortress ad the peace commissioners trying to get some kind of terms out of him. Jack is plainly suspicious of his pale face adversaries, and they are as suspicious of him. the extreme caution necessary to the successful arbitration of an international question between parties so fearful of each other, makes anything like a successful termination of the controversy a question of time. The commissioners say, however, that their spirit will not always thus strive with that of the haughty and unaccomodating Jack, but that forbearance will shortly cease to be a virtue, when they will descend upon the devoted stronghold of the simple Modocs worse than a house of bricks, and make them rue the day they rejected the overtures of a kind and beneficient government.
---
Source:
Indianapolis Sentinel, April 1, 1873 (Tues) p 4
General Canby thinks he can discern evidences of a change of heart in the hitherto incorrigible Modocs. They are represented as perfectly frantic for a peace. They understand that their Great Father at Washington once said, "Let us have peace," and they are satisfied that it is a good article to have. The General is positive that they will not hold out and reject the means of grace after all avenues of escape are closed and all hopes of successful resistance are cut off. This is gratifying, and will put to shame those who sneer at the promise of a red man. They will learn, to their ineffable humilitation that Lo's word is as good as his bond.
---
Source:
Indianapolis Sentinel Monday March 17, 1873 p 5
San Francisco - March 16 - Gen . Canby has moved his headquarters to Van Brenn's ranche Saturday. Col. Ridde, Co K, of the 15th Cavalary came up with a party of Modocs, captured, 35 horses and would have killed the savages had not peace negotiations prevented. A new peace commission is formed: Gen. Canby, Meachin, Roseborough, Ordineal. The squaw Arttina came out from the lava bed and says that Jack wants to talk out is afraid to come out and that Canby can't control the soldiers. The report that the soldiers captured horses and four children last week is pronounced false. Jack wants Meachin and fairchild to come and talk with him again.
---
Source:
Indianapolis Sentinel Sunday April 13, 1873 p 1
New York April 12 - The following is a portion of the Herald's special about the massacre of General Canby and the Peace Commissioners, dated Lava Beds April 11, 3 p.m.
Between 10 and 11 o'clock this morning the Peace Commissioners party comprising General Canby; AB Meacham; Dr. Thomas; Mr. Diar; Riddle - the interpreter and squaw and Bogus Charley and Boston Charley went out to the designated spot where they met Capt. Jack; John Schnochin; Black Jim; Shack Nasty Jim; Ellen's Man and Hawker Jim. They had no guns with them, but each one carried a pistol at his belt. This, however, was not much noted as in previous interviews they had their guns with them. They sat down in a kind of broken circle and General Canby, Meacham and Dr. Thomas sat together, faced by Capt. Jack and Schonchin. Diar stood by Jack, holding his horse with Hawker JIm and Shack Nasty JIm to his left. Meacham opened the talk and gave a history of what they wanted to do for them, after which General Canby and Dr. Thomas both talked for some time. Capt Jack then talked in an apparently good serious strain and when he had finished stepped back to the rear near where Meacham's horse was hitched. John Schonchin then began to talk and while he was speaking Diar heard a cap miss fire and looking around, saw Capt. Jack to his left with his pistol pointed at General Canby. THis was the signal for a general massacre and a dozen shots were fired inside of half a minute. Capt. Jack fired again on General Canby and the noble old gentleman ran on to the left but was speedily shot down and killed instanter. Meacham was shot at by Schonchin and wounded in the head. He tried to draw his derringer when two Indians ran up and knocked him down. Dr. Thomas was killed almost instantly by two pistol shots in the head. Riddle ran off and it appears they did not fire at him, but they knocked his squaw down. Diar, RIddle and the squaw returned in safety to the camp. About a hundred yards to the west of the place of meeting was found Mr. AB Meacham, badly wounded with a pistol shot over his left eye. 50 yards further on was the body of Rev. Dr. Thomas lying on his face and stripped to the waist. Life was extinct from pistol shot wounds in the head. The body of General Canby was stripped of every vestige of clothing and lay about a 100 yards to the southward with two pistol shot wounds in the head.
---
Source:
Indianapolis Sentinel Sat May 10, 1873
The widow of Gen. Canby, though scarcely able to leave her bed has started to San Francisco from Portland, Oregon in order to accompany the remains of her husband, Gen. Canby to this city for burial. The time of her probably arrival cannot be now determined but it will be duly announced. Action should be taken once by the City Council and Board of Trade to give the cortege an appropriate escort and reception.
---
Source: Evansville Daily Journal Thu 19 May 1864 p 2
Matters look "bilious" in Louisiana and Arkansas. It is hoped that our Hoosier General, Canby will set things to rights in the latter command. - kz