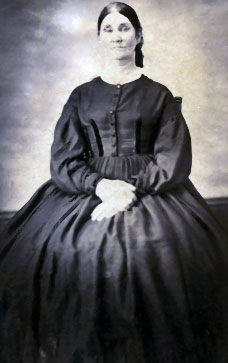 Miriam CATEY EDMAN
Miriam Catey Edman b. July 31, 1808, Burlington Co., NJ d. 6 May 1855 Kosciusko Co (buried Leesburg Cem). Married Christen EDMAN September 8, 1825, Wayne Co., IN. 1850-1860 in Kosciusko Co. census. See Edman Family Bible for a list of children.

Both photos were taken at "H.C Milice & Bro Photograph Artists, Warsaw, Ind., over Cosgrove's Fancy Dry Goods Store." Both have postage stamps on the back as if they had been mailed, with pencil writing over the stamp as if a handwritten cancellation. The stamp on Meriam has 2.8/64 written on it, while Christen's says 6/64. I believe these may have been taken on a trip back to Warsaw after their children had moved to Kansas. My Grandfather told me that they had made a least one trip back after moving to Kansas.

From an obituary of one of their daughters - Elizabeth Catey Sanderson - it appears they also lived near Williamsburg, Randolph Co., In. until Elizabeth was 10 and then they moved to Kosciusko Co near Leesburg. So, the children born after 1846 would be Kosciusko births, those would be David and Milton Jefferies Edman.
The photo is provided courtesy of Larry Edman.

Updated: 30 July 1999


Gene Andert / Fort Wayne, IN / gandert@mac.com