Land Record Research in Kosciusko Co.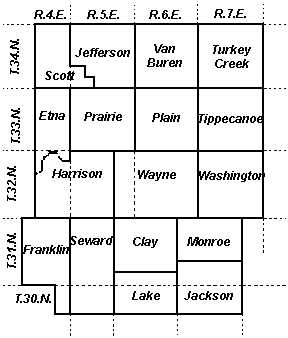 Kosciusko County and Indiana in general fall within the Township-Range method of land description. This methodology was established with the Land Ordinance of 1785 and the Northwest Ordinance of 1787.

It starts with the basic unit being the Section, one square mile of land containing 640 acres. 36 Sections, organized in a 6 by 6 square make up a Township. Kosciusko County is divided in 17 Townships. Only 6 of these Townships: Van Buren, Turkey Creek, Tippecanoe, Plain, Prairie and Washington strictly follow this legal description of a townships. The balance of Kosciusko County's Townships are irregular in their boundaries. Etna Township, for example, is bounded on the south by the Tippecanoe River. Kosciusko County township boundaries evolved between 1836 and 1870 and were not firmly established until 1870. A set of maps are presented here showing this evolution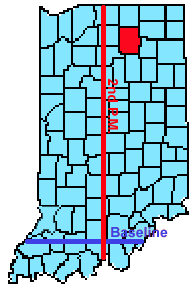 In researching land records, you need to translate the legal description of the land into a frame of reference based on land marks or common county reference points. Townships are described as being a specific number (range), east or west of a Principal Meridian and a specific number (township) north or south of a Baseline. Shown here is the 2nd Principal Meridian that runs north/south through Indiana and the Baseline running east/west.

Land sections within Kosciusko County are defined as being in legally described Townships within a matrix between Range 4 East to Range 7 East and Township 30 North to Township 34 North. So Turkey Creek Township is legally described as Range 7 East, Township 34 North. In other words, it is the Township that is 7 townships to the east of the Principal Meridian and 34 Townships to the North of the Baseline.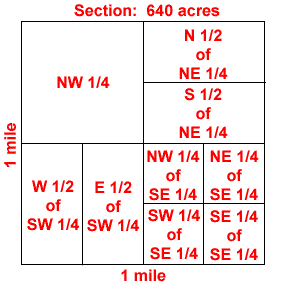 Land is further described as to the section number within the Range-Township and where it is within the section. Each section is 640 acres and is further subdivided based on the quadrant the land lies in. For example, an 80 acre plot in Tippecanoe Township can be described as "South 1/2 of the Southeast 1/4 of Section 7 Range 7 East Township 33 North". This lot would be in Lake Tippecanoe.








Kosciusko Co Land Records
The Kosciusko County Original Tract Book (99 pages) and many years of the General Index of Deeds are on microfilm at the Allen County Public Library. The Original Tract Book is on-line and contains land originally purchased from the government and is indexed on the Township/Range numbers. It contains this information:
Page 95
Township
Range
Description
Section
Acres
Date Entered
Person
34
7
SW NW 1/4
32
40
March 31, 1836
Cornelius Cable
These 40 acres of Cornelius Cable would be in Turkey Creek Township, Section 32, the Southwest square of the Northwest 1/4.

The General Index Deed Books cover a period of years, for example, the first one covers 1836 to 1852. It is indexed alphabetically by the seller of the land for the most part, I have found this mixed on occasion, though, to include who the land was sold to. Each entry covers two pages and includes the following information:
| | | | | | | |
| --- | --- | --- | --- | --- | --- | --- |
| Land Deeded From: | Land Deeded To: | Kind of Deed | Date of Deed | Amt of Consideration | Description | Section |
| John Mock | Jacob Hammon | Warranty | Oct 20,1848 | 220 | E 1/2 SW qtr | 26 |
| Township | Range | Acres | Hundredths | Date Recorded | Book | Page |
| 34 | 7 | - | - | Nov 22, 1850 | 9 | 375 |
In this transaction, Jacob Hammon purchased the E 1/2 of the SW quarter of Section 26 in Turkey Creek Township for $220 on 20 Oct 1848. The deed was recorded 22 November 1850 in Deed Book 9, page 375. No amount of acreage is noted, so it can be deduced from the description of the land that this transaction covered 80 acres.
An index to Kosckiusko County Deed Books 1 to 10 is now online. These books cover land transactions from 1836 through May, 1852.
Township/Range/Section Maps
To aid you in placing your ancestors land plots within Kosciusko County, Presented here is the 1879 county and township maps from Kingman Bros, Combination Atlas Map of Kosciusko County, Indiana, 1879. A complete map of the county can be accessed here: Kosciusko County, but it is quite large. You can also access smaller township maps, showing just the sections, from this table:
Links to other Land Records Research Pages
Updated: 25 September 2012

Gene Andert / Fort Wayne, IN /
---
©2015 by Eugene W. Andert
The USGenWeb Project is not affiliated with USGenWeb, Inc.
---