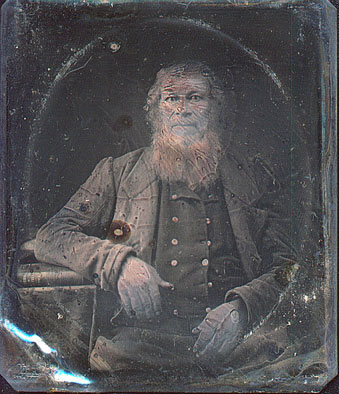 Jacob HAMMAN
Jacob Hamman b. 26 Oct 1784 PA, d 6 Aug 1858 Kosciusko Co, IN. Married Elizabeth Mock 2 May 1826, Tuscarawas Co, OH. Elizabeth Mock was Jacob's second wife, He was married first to Mary Himes from about 1804 to 1824. A genealogy on Jacob Hamman's descendents can be found Here.

This photo was provided by Roger Simmons, a descendent of Jacob Hamman. The photo is in a fancy cardboard case with an oval cutout. On the bottom, left side of the photo are the marks: "A. Gaudin, Brevette, 40" and an icon of a slain lamb.
The photo is provided courtesy of Roger Simmons.

Created: 16 July 1999


Gene Andert / Fort Wayne, IN / gandert@mac.com