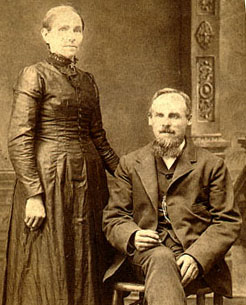 Lovina (SPALDING) and Emanuel FASHBAUGH
Emanuel FASHBAUGH was born 26 March 1844 in Tuscarawas County, OH and died 20 February 1917 in Kosciusko Co, IN. Emanuel was married to Lovina SPALDING, a daughter of Charles SPALDING and Patience PIERCE on 4 March 1865 in Kosciusko Co, IN. Lovina was b 20 Oct 1845 and d 1930. Emanuel's parents were Jacob FASHBAUGH and Catherine MOCK. Emanuel served in the Civil War with Company A, 118th Indiana Regiment. He migrated to Kosciusko County in 1849 with his parents, siblings and grandparents shortly after the wedding of his sister, Lovina, to Frederick Hartline. All individuals mentioned above are buried in the Mock Cemetery, Tippecanoe Township, Kosciusko Co, IN.

This is the signature box of the photographer from Pierceton, Indiana who took the photograph.
The photo is provided courtesy of Jim Hartline of Sterling Heights, Michigan.
Created: 21 April 1998
Gene Andert / Fort Wayne, IN / gandert@mac.com