FIRE
At the Jefferson County, Courthouse
Madison, Indiana
May 20, 2009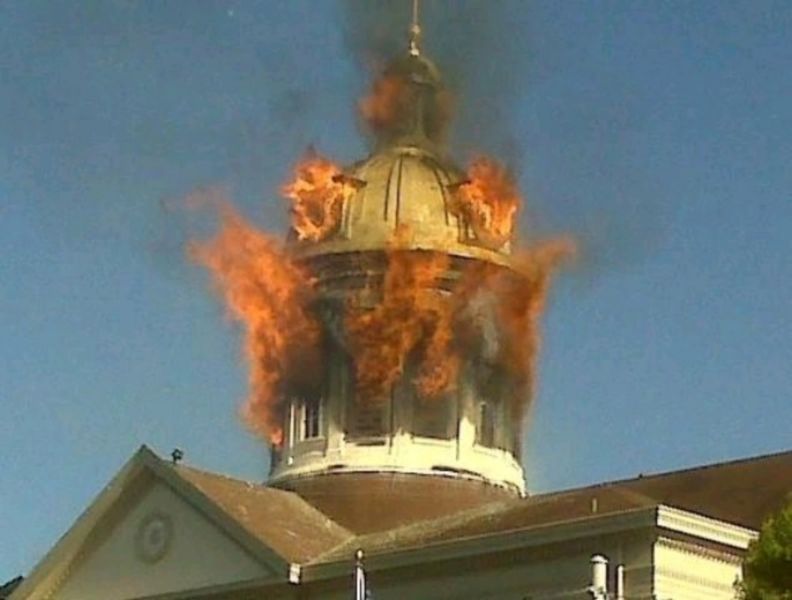 Thank You! Jamey Cobb of JeffersonCounty Kentucky-KYGenWeb for this picture

The Historic Jefferson County Courthouse, at Madison Indiana. Caught fire in the late afternoon of Wednesday May 20, 2009. The fire destroyed the newly painted dome and the roof collapsed on to the third floor. The Courthouse was 154 years old this year and was being spruced up for the Madison Bicentenial Celebration.
For those of us whose family records were stored in the big old Record Books kept in the Courthouse this fire was a multiple disaster, a beautiful old building was severely damaged and we feared for the fate of the county records. The people of Madison wanted it restored as closely as possible to its former condition. Since Madison was a main point of entry into Indiana in the early years, much of the States early history has foundations there.
The happy ending is that the documents that were in those upper rooms were saved and the Courthouse is back in business.
I went down to Madison on (5/28/2009) and they are in the process of removing what was left of the dome. A large crowd had gathered to see them lift the dome (see picture below).