Biographies
Cemeteries
Census
Churches
Families
History
---
Maps
Military
Newspapers
Obituaries
Pictures
Records
Resources
Writings
Welcome to Henry County, Indiana!

Henry County was named in honor of Patriot Patrick Henry, governor of Virginia ~ "Give me Liberty or Give me Death." The county was created on December 31, 1821 from the Delaware New Purchase, and was officially organized June 1, 1822. Henry County encompasses 391.90 square miles which is divided into nine townships: Blue River, Dudley, Fall Creek, Franklin, Greensboro, Harrison, Henry, Jefferson & Liberty. New Castle is the county seat.

The goal of the USGenWeb Project and each states' GenWeb Project is to provide FREE genealogy information to family researchers. Each county in every state has a volunteer coordinator who is responsible organizing, maintaining and improving the information on his/her county's website. We wish to thank Pat Mount for her years of work in Henry County. Pat has retired and Henry County is up for adoption. If you would like to be a volunteer county coordinator please contact:
Indiana State Coordinator: Lena Harper
Assistant State Coordinators are Jim Cox and Karen Zach
Jim Cox is the temporary caretaker of Henry County INGenWeb. Please contact him if you have information to contribute to the site.

Page created 10/17/2017

What's New log
Visit our neighbors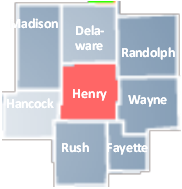 Delaware
Fayette
Hancock
Madison
Randolph
Rush
Wayne
All material on this site @ 2003 - by INGenWeb.