Genealogy

---

Original Land Tract Purchases


Gibson County,

Indiana



An Index to images of the Tract Book of Gibson County, Indiana, 1813-1860s,

compiled and made available courtesy of Phillip R Earles.

The
Index
contains the name of the person and on which page of the Tract Book their land entry(s) may be found. After you identify the PAGE NUMBER(s) associated with the person in the INDEX, you may then "click' on the
Page Number
in the table below to view the image of the Tract Book page in question.
(It is possible that some tracts are no longer within the present day boundaries of Gibson County. See the
County Boundary Supplement
for details.)
Alphabetical Index
(Click on the desired section to see names there.)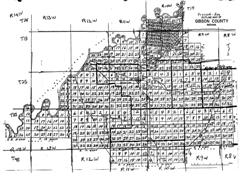 Click on this link to see a complete description of the evolution of the boundaries of Gibson County.
To submit additions or corrections please,
E-Mail
the County Coordinator