Rita F. Hipp, 85, of Evansville, IN formerly of Haubstadt, IN, passed away Saturday, March 25th, 2017 at Heritage Center in Evansville.
She was born on October 12th, 1931 to the late Herman and Emma Elpers.
Rita was a woman of great faith and a member of St. James Catholic Church in Haubstadt. She and her late husband Eugene "Scotty" Hipp were the founders of Scotty's Lawn and Garden.
Rita was a character and everyone who met her was drawn in by her zest for life, frequent jokes and generosity. She was an excellent cook, and every batch of sweet rolls was the best she'd ever made! Rita even self-published her own cookbook. She was a social butterfly and rarely refused a good, cold beer. Rita was an avid clabber player and any time you asked, she always won!
Rita was preceded in death by her parents, her husband, Scotty, sisters Mary Martin, Norma Hoffman and Allene Hisch.
Rita is survived by her children; Carol (Jeff) Rodgers, Cindy (Jim) Rexing, Randall Hipp, Kathy (Bruce) Deer, David (Mary Jo) Hipp and Mark (Jan) Hipp, 19 grandchildren and 20 great-grandchildren, siblings; Martina Angermeier, Rose (Gilbert) Adler, Hilda (Francis) Spahn, Jane (Keith) Ward and Emma Jean (Richard) Couture; three brothers, Herman "Bud" (Sandra) Elpers, Paul (Sarah) Elpers and Dennis (Carol) Elpers.

There will be a Mass of Christian burial held at 11:00 A.M. on Thursday, March 30th, 2017 at St. James Catholic Church, with Father Kenneth Betz, Father Tony Ernst and her grandson, Father Branson Hipp officiating. Burial will follow in the St. James Church Cemetery. Visitation at Stodghill Funeral Home in Fort Branch, IN on Wednesday, March 29th, 2-8 pm, and on Thursday from 9:30 am to service time at the church.
The family would like to thank Drs. Douglas Hatler, Satyam Tatineni & Richard Sloan for their compassionate care. Also, special thank you to the wonderful residents and staff of Holiday Village and Heritage Center. She loved her time at the Village and considered everyone there to be her extended family.
<![if !vml]>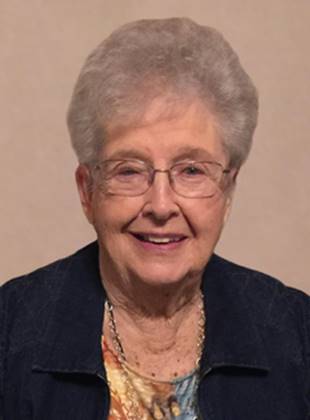 <![endif]>