Catherine Nadine (Seib) Elpers, age 90 completed her journey on earth and went to be with Jesus while being with her loving and caring family at The Deaconess Hospice Care Center on Sunday, March 24, 2013.
Nadine was born in Poseyville on March 12, 1923 to the late Clem and Theresa (Gerard) Seib.
Nadine and her late husband of 62 years, Anthony A. Elpers who passed away in 2010 were married at St. Francis Xavier Catholic Church in Poseyville on October 4, 1947.
Nadine and Anthony were very active members of St. James Catholic Church in Haubstadt where Nadine worked with and loved the parishioners. She was also a member of St. Annís Altar Society, had a tremendously strong faith and developed a devout devotion to The Blessed Virgin Mary.
She always accepted the many joys and sorrows of her life and shared all of Godís blessings with her family and prayed that they too would all develop that same strong faith.
Nadine enjoyed hand quilting, gardening and cooking many New Yearís Eve and wedding dinners. She worked 40 years with the Burgoo soup team at the Summer Social. She also worked as a cook at the school cafeteria for 38 years. She enjoyed most of all being with and talking to the students.
Also preceding her in death were two sisters; Mary Catherine Seib and Ada Cecelia Seib-Hassel and one brother, Lester J. Seib. Sr.
She is survived by two daughters; Rita Rae Beckley and Lois Jane Hasenour. Two sons, Ronald Paul Elpers and Earl Anthony Elpers. six grandsons; Eric, Andrew & Aaron Elpers. Seth and Lee Hasenour and Gabe Elpers. One grandaughter, Leanda. one great-great granddaughter, Madalyn Catherine Elpers.† Many nieces and nephews. One sister, Wilma G. Rogge and 1 brother, Alfred P. Seib.
A Mass of Christian burial will be Wednesday, March 27 at St. James Catholic Church with Fr. Kenneth Betz as celebrant. Burial will follow in the church cemetery.
Family and friends will gather at Tuesday, March, 26 at Wade Funeral Home for a family Rosary.
Visitation will proceed from to Tuesday at Wade Funeral Home.† Visitation will also be Wednesday, March 27 from until Mass time at the church.
<![if !vml]>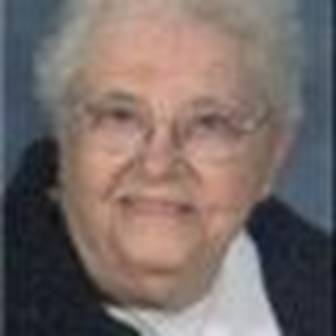 <![endif]>