James H. Hipp, 69, of Haubstadt, IN, passed away on Thursday, June, 21st, 2006 at Deaconess Hospital in Evansvile, IN.
Jim was born to the late Wendelin and Theresa (Herding) Hipp on June 23rd, 1936 in Haubstadt, IN.
Jim owned and operated Jim Hipp Nursery in Warrenton, IN. He was a lifetime member of the St. James Catholic Church in Haubstadt, IN, a lifetime member of the Rocky Mountain Elk Foundation, and He was a 49 year member of the Evansville Eagles. Jim was for sure, a people person. He loved to talk with his friends and customers. Jim was never any happier than when he was on a hunting trip with his friends or working with his customers, to make their home beautifully landscaped,  He considered himself a very lucky man to have been able to work with his wife and children to build such a beautiful and successful business. Jim always was appreciative of the many generations of employee's that worked at the nursery over the years. All of them considered family.
Besides his parents, Jim is preceded in death by his brother, Kenneth Hipp and 2 brother in-laws, John Wimsatt, and Jim Wethington.
He is survived by his wife of 44 years, Eula (Lewis) Hipp, 4 children and their spouses and children, Sandra Will and her children Alexa and Mitchel, Tony and Judy Hipp and their children Megan, Daniel, and Isaac, Donna and Jeff Kamman, Jerry and Joella Hipp, and their children, Jacob, Jenna, and Joseph, all of Haubstadt, IN, 3 sister, 1 brother and their spouses, Delores Wimsatt of O'Fallen, MO., Betty and Jack Bridges of Evansville, IN, Shirley and Willard Jones of Cynthiana, IN, and Eugene "Scotty" and Rita Hipp of Haubstadt, IN. He is also survived by his 2 dogs Milly and Lillie, and "The old Mother In-law" Dorothy West and many loving nieces and nephews.
A mass of Christian burial will be conducted on Monday, June 26th, 2006 at 10:30 A.M. at the St. James Catholic Church south of Haubstadt, IN. Burial will be in the church cemetery, where a military graveside service will be conducted by the VFW Post 2714.
Visitation will be held on Saturday from until and on Sunday from until . At the Stodghill Funeral Home located on Hwy. 168 West in Fort Branch, IN A Rosary will be recited at the funeral home on Sunday at by the church parish. The family would like to thank the Deaconess Hospital Doctors and nurses and especilly Dr. Thomas Vonderhaar and Kathy.
One final planting tip from Jim, "Green Side Up".
<![if !vml]>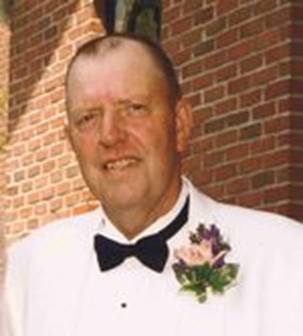 <![endif]>