Anthony A. Elpers, 90, passed away Friday, Feb. 12, 2010 at Transcendent Health Care of Boonville.
Born Oct. 17, 1919 in Haubstadt, he was the son of John B. and Caroline (Keil) Elpers.
He resided in Haubstadt his life. He retired from farming and as a carpenter from Elpers Brothers Construction.
Anthony was a life member of St. James Catholic Church and was a member of The Menís Club. After retirement, he spent much of his time volunteering at St. James Church and school. He was a U.S. Army veteran of World War II where he was a recipient of The Purple Heart. He was also a member of American Legion Post 194 and V.F.W. Post 2714.
Survivors include his wife of 62 years, Nadine (Seib) Elpers; two daughters, Rita Rae (Larry) Beckley, Lois Jane (Tim) Hasenour; two sons, Ronald Paul (Nancy) Elpers and Earl Anthony (Vickie) Elpers; seven grandchildren, Seth and Lee Hasenour, Eric, Andrew, Aaron, Gabriel and Leandra Elpers; and several nieces and nephews.
He was preceded in death by his parents; and a brother, Clarence Elpers.
A Mass of Christian burial will be at Monday, Feb. 15, 2010 at St. James Catholic Church with Father Kenneth Betz the celebrant. Burial will follow in the church cemetery with military rites by American Legion Post 194 and V.F.W. Post 2714.
Visitation was Sunday at Wade Funeral Home with a Rosary service at Friends may also call Monday from until Mass time at the church.
†<![if !vml]>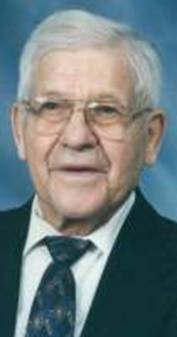 <![endif]>