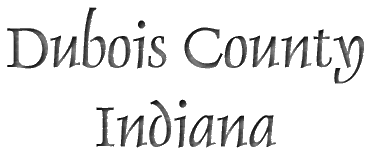 Cemeteries
Risley Cemetery
Located At Dubois - Pike County Line
Half in Dubois - Half in Pike County.
Lat 38°20'57.4"N Long 87°04'21.0"
Restoration of Risley Cemetery
Del Himsel and Paul Schitter performed the initial repair work in 2003. Trustees for Dubois and Pike
Counties were contacted and agreed to share the cost of repair materials and cost of the memorial
marker. Cemetery history was heavily researched to obtain the most complete list of those buried here.
When preparing the installation of the memorial marker later in 2003, an arrowhead was uncovered. The
arrowhead was placed on the county line, facing north, in the position it was found.
Click Each Image To Enlarge
| | |
| --- | --- |
| Stones Piled Against Tree | View After Restoration |
| View After Restoration | Memorial Marker |
The listing below is a combination of data extracted from Dubois County Genealogical Society Cemeteries, Volume 6 and that resulting from
research for the memorial marker. This remains the property of the Dubois County Genealogical Society. You may freely copy any portion
for your personal use, but this page may not be displayed in any other public media without written permission.
Copyright © Dubois County INGenWeb, Dubois County Genealogical Society, and Del Himsel.
Last Name
First Name
Born

Died
Other
Allburn
Martha R.
7/28/1847
12/30/1906
Allburn
Phillip D.
10/31/1835
2/19/1897
Allburn
P.
Co K 59th Ind Inf
Ashby
Margaret
12/16/1877
First wife of William
Ashby
William
12/24/1813
1/17/1894
Co D 58th Ind
Butler
James
2/10/1888
12/23/1889
Butler
Martha Eveline
9/8/1854
2/13/1907
Chambers
Infant
10/20/1894
10/20/1894
Infant of J.W. & M.C.
Chambers
Amy

1873
1894
Cline
Ida
2/2/1908
9/20/1903
Dau of B.M. & S.J.
Dove
Jane
12/10/1874
Wife of John 41y 6m 13d
Payne
Elizabeth
1830
1860
Payne
John
1846
1857
Platt
Willis E.
4/24/1886
11/4/1892
Son of C.H. & A.A.
Poe
Jonathan
Co I 58th Ind Inf
Poe
Anna
10/1/1883
23y 3m 21d
Poe
Lucinda
7/21/1881
61y 9m 22d
Risley
Addeline
9/29/1902
10/9/1902
Dau of A.L & Della
Risley
Amy Blanche
1/16/1873
7/11/1894
Risley
Annabelle
1846
1872
Risley
Celia
1/31/1843
3/4/1861
Wife of Daniel 18y 1m 4d
Risley
Celia A.
3/4/1861
1/1/1871
Dau of Daniel & C. 9y 9m 4d
Risley
Daniel
Co C 58th Ind Inf
Risley
Dora A.
2/4/1872
3/29/1872
Dau of J.& T.A.
Risley
Edward
1876
1906
Risley
Everett
1892
1892
Risley
Gracy G.
1/27/1877
10/14/1877
Dau of J.B. &

T.A.
Risley
Hattie
6/23/1885
40y
Risley
Hosla
4/8/1888
Son of J.M. & S.E. 1m 4d
Risley
Jacob
1869
1950
Risley
James
4/10/1888
76y 9m 3d
Risley
Jas
11/12/1879
9/23/1921
CAS Det 29 US Inf
Risley
Josiah
2/24/1851
Son of J. & M. 20y 8m 9d
Risley
Louisa
1865
3/2/1882
17y
Risley
Malicia M.
1/26/1870
10/18/1889
Dau of Jackson & T.A. 19y 8m 22d
Risley
Margaret
7/5/1857
Dau of 18y 6m 19d
Risley
Martha
10/3/1893
85y 1m 27d
Risley
Nancy
9/30/1843
12/29/1907
Risley
Posey
Risley
Raymand
11/6/1879
Son of J.M. & S.E. 1m 15d
Risley
Rickie
12/21/1873
7/22/1919
Wife of J.W.
Risley
Russell
1908
1908
Risley
Stella
2/26/1872
Dau of J.M. & S.E. 13d
Risley
Tobitha Ann
1/26/1842
2/8/1891
Wife of Jackson
Risley
William
9/10/1887
73y
Robinson
Stephen
Corpl Co C 42 Ind Inf
Robinson
Jonas
1828
1896
Robinson
Jonas
Co C 58th Ind Inf (Government Stone)
Robinson
Rebecca
1832
1885
Robinson
Maude
1884
1886
Dau of M.E. & Alnora
Robinson
Stephen
Co F 4 Ind Cal
Shewmaker
William
1/8/1809
11/13/1873
Shewmaker
Mary E.
1859
1871
Shewmaker
Mary E.
3/6/1818
2/7/1890
Shewmaker
Silas H.
2/2/1870
7/16/1870
Son of I. & E.
Shewmaker
George
10/4/1871
8//24/1873
Son of I. & E.
Taylor
Eunice
1815
1871