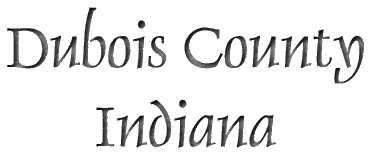 Niblack or McMahan Cemetery
In the 1920's the Dillin/McMahan Cemetery was in much need of repair. The stones were broken, leaning and or covered with dirt. The groundhogs had also infiltrated the cemetery and caused much damage.



Judge Samuel E. Dillin, who was related to most of the ones buried there, decided to once and for all "fix" the cemetery for the ages. He had the remaining stones stacked in the corner of the cemetery and proceeded to pour the entire 24ft x 30ft cemetery in concrete. He had previously mapped where the individuals were buried so that he was able to inscribe their names in the concrete as to where they were buried. The intent was honorable, however, the concrete was of poor quality and thin with no rebars.

Consequently the freezing and thawing of the ground, with the help of groundhogs and trees growing through the cracks upheaved this original intent of "saving the cemetery" for the ages as you see in the before restoration pictures . Over 70 years after the original restoration, Delbert "Junie" Himsel contacted the Bainbridge Township Trustee and showed her these pictures and told her of his idea of honoring those buried there by cleaning all the debris away, repairing the fence and erecting a stone with all the known names on it. The township agreed and worker J.P. Stemply cleared the site.

The fence had grown into the large tree and J.P. cut that section of the tree out and took it home put it in his fireplace and "burned" that portion of the fence free so that he could rebuild the fence. Himsel contracted a monument company to have the stone made and erected as you see here in the 2009 pictures of the completed restoration. Note: Restoration was completed in 1992. This cemetery history is provided by Delbert Himsel, who is responsible for the restoration of many cemeteries in Dubois County.
Photos by Delbert Himsel 1984 Before Restoration
Click Image To Enlarge
Photos by Charlie Tredway October 19,2009
Click Image To Enlarge
All burials listed below are taken from the memorial stone, with the exception of Nancy Moore. The Moore data is borrowed from
the Dubois County Genealogical Society Cemetery Inscription Book Volume 4, which gives credit to a reading taken 12/17/1934
Last Name
First Name
Born
Died
Other
Dillin
William Niblack
11/25/1831
9/2/1854
Son of Samuel & Elizabeth Dillin
Dillin
Joseph Asher
3/21/1839
10/3/1843
Son of Samuel & Jane McMahan Dillin
Dillin
Albert
3/15/1858
3/15/1858
Son of Samuel & Jane McMahan Dillin
Dillin
Alexander S
7/29/1849
9/17/1853
Son of Samuel & Jane Dillin
Dillin
John H
4/12/1841
11/5/1847
Son of Samuel & Jane Dillin
Glezen
Mary
1828
1855
Dillin
Elizabeth Niblack McMahan
1/13/1811
2/14/1835
First Wife of Samuel Dillin
Dillin
Elizabeth J
2/14/1835
2/14/1835
Daughter of Samuel & Elizabeth Dillin
McMahan
Mary
8/16/1807
10/26/1824
Daughter of William R & Nancy Niblack McMahan
McMahan
Nancy Niblack
8/22/1783
9/21/1828 or 1823
Wife of William R McMahan
McMahan
Emily
Dec 1809
Unknown
Daughter of William R & Nancy McMahan
Glezen
Susan McMahan
1855
1855
Daughter of Dr. E. A. Glezen
McMahan
William R
1781
1835
Moore
Nancy
11/2/1828
2/15/1855
Daughter of Samuel & Elizabeth Dillin
Wife of S. D. Moore
---