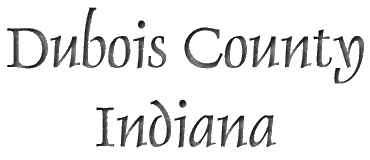 Lemmon Church Cemetery

Located on West Portersville Rd.
Lat. 38º 29' 28.2" N Long 87º 02' 29.2" W


Established 1860
Lemmon Church Photos / History
The first person buried in this cemetery was Zerrilda Lemmon, October 1860.
The funeral was held outdoors because the paint on the pews was not dry
Row designation as shown in Dubois County
Genealogical Society transcription May 27, 2005.
Rows begin at the west end and progress east.
View Map
List By Row
Photographed October 20, 2015. Copyright © Charlie Tredway and Dubois County INGenWeb.

All material contained on this page, including
photographs, may be freely copied for your personal use,

but may not be reproduced and publicly displayed in any public media without




written consent.
Row
Last Name
First Name
Born
Died
Other
Photo
18
Able
Henry H.
1/22/1861
Son of J. & S.

14y 7m 18d
Photo
18
Abel
John
9/2/1875
68y 4m
Photo
7
Arnold
Sanford Hume
2/26/1870
6/6/1946
Photo
7
Arnold
Clara Bush
1/17/1876
1/18/1954
Photo
18
Bacon
Mary M.
9/15/1864
Dau of J.P. & N.J. 1y 6m 15d
Photo
18

Baker
James D.
9/18/1939
Photo
18

Baker
Gloria M.
6/26/1943
Photo
2
Bauer
Jacob
1881
1940
Photo
2
Bauer
Ella M.
1884
1964
Photo
4
Bauer
Leland M.
6/17/1904
5/18/1970
Photo
16
Bauer
Rosannie E.
7/16/1880
10/10/1881
Dau of H. & Mary
Photo
15
Baugh
Margaret
3/20/1817
12/19/1887
No Photo
12
Beck
Ettie B.
9/4/4866
12/12/1899
Photo
11
Blackwell
John H.
10/9/1873
Son of J.W. & E.A. 10y 23d
Photo
11
Blackwell
Jane E.
9/25/1873
Dau of J.W. & E. A. 2y 8m 20d
Photo
11
Blackwell
Eliza A.
9/17/1873
Wife of J.W. 27y
Photo
11
Blackwell
Mary C.
8/24/1866
Dau of J.W. & E. A. 2y 8m 3d
Photo
11
Blackwell
Sarah E..
2/11/1869
Dau of J.W. & A.E.
Photo
3
Brittain
Earl Brock
7/28/1895
7/16/1959
Photo
3
Brittain
Susan Alta
8/31/1896
12/10/1957
Photo
3
Brittain
Alberta M.
10/31/1914
10/31/1914
Daughter of Earl & Alta
Photo
4
Brittain
Ralph C.
6/25/1890
2/16/1950
Photo
4
Brittain
Lizzie E.
20/7/1891
10/2/1910
Photo
4
Brittain
Clifton E.
4/20/1918
3/26/1953
Photo
4
Brittain
Sallie Ann
1/15/1878
12/12/1969
Photo
4
Brittain
Oliver P.
1/10/1863
3/27/1942
Photo
4
Brittain
Sarah E.
11/30/1866
4/9/1911
Wife of O. P.
Photo
7
Brittain
Pearly A.
1876
1943
Photo
7
Brittain
Maggie D.
1881
1945
Photo
7
Brittain
Helen J.
1916
1902
Photo
7
Brittain
Herbert A.
1919
1919
Photo
7
Brittain
Irene
1909
1910
Photo
7
Brittain
Edith M.
1900
1900
Photo
14
Brittain
Taylor D.
9/24/1847
4/11/1904
Photo
14
Brittain
Frances

3/30/1853
8/14/1932
Photo
14
Brittain
John A.
11/2/1859
12/20/1954
Photo
14
Brittain
Annie
4/14/1862
3/16/1922
Photo
14
Brittain
William L.
11/25/1826
3/4/1916
Photo
14
Brittain
Martha

8/9/1928
3/25/1916
Photo
14
Brittain
Elizabeth M.
8/30/1879
Wife of S.S. 26y 7m 13d
Photo
16
Brittain
Infant Son
7/12/186?
Son of J.C. & R.C.
Photo
16
Brittain
Infant Son
7/19/1878
7/19/1878
Son of J.C. & Rachel C.
Photo
16
Brittain
E. E.
1858
1938
Photo
16
Brittain
Della

1872
1947
Photo
16
Brittain
John C.
5/1/1831
4/15/1894
Photo
16
Brittain
Rachel C.
9/23/1837
1/27/1924
Photo
16
Brittain
James A.
1874
1934
Photo
16
Brittain
Estella
8/3/1870
12/11/1900
Photo
17
Brittain
John C.
3/3/1872
6/29/1943
Photo
17
Brittain
Alta M.
8/6/1876
5/21/1958
Photo
18
Brittain
John G.
Nov 1796
Aug 1853
Photo
18
Brittain
Sarah
3/20/1808
8/10/1889
Wife of J.G.
Photo
9
Burris
Nancy E.
7/19/1861
12/19/1944
Photo
7
Bush
Alonzo W.
3/12/1869
7/3/1922
Photo
7
Bush
Sarah Mabel
1900
1901
Dau of Alonzo & Clara
Photo
15
Campbell
Willie R.
8/23/1890
9/30/1891
Photo
6
Castrup
Geo. W.
4/27/1868
12/20/1907
Photo
9
Cavander
Tabytha
11/27/1844
3/4/1920
Photo
4
Chadd
Dow
1887
1958
Photo
3
Combs
Scott
1872
1925
Photo
3
Combs
Daisy
1881
1952
Photo
18
Condiff
Lavicy F.
9/11/1859
12/24/1861
Dau of L.& E.A.
Photo
18
Condiff
Josephine B.
1/31/1866
1/2/1878
Dau of L.& E.A.
Photo
18
Condiff
Levi
9/4/1822
5/17/1909
Photo
18
Condiff
Elizabeth
10/10/1824
6/20/1901
Wife of Levi
Photo
17
Cooper
Jemima A.
5/25/1828
7/5/1896
Wife of W.B.
Photo
17
Cooper
Alex B.
6/21/1885
10/25/1897
Photo
17
Cooper
Horace A.
9/19/1898
8/23/1900
Son of L.L. & J.G.
Photo
17
Cooper
Kate
3/17/1883
11/20/1905
Photo
17
Cooper
Lemuel L.
10/17/1851
4/24/1906
Photo
17
Cooper
Josephine
1/26/1858
3/1/1958
Photo
17
Cooper
Roy F.
1/8/1915
4/21/1915
Son of Leon & Estelle
Photo
10
Cox
Lesley Thomas
2/22/1890
6/24/1963
Photo
10
Cox
Lora Beatrice
4/23/1901
9/30/1975
Photo
4
Craig
Jonathan W.
7/13/1867
7/14/1950
Photo
4
Craig
Oma Rocket
9/1/1872
4/10/1942
Photo
10
Crandall
William P.
1833
1877
Photo
10
Crandall
Mary E.
1837
1907
Photo
10
Crandall
Carrie E.
1875
1892
Photo
10
Crandall
Lilly A.
12/19/1877
Dau of W.P. & M.E. 15y 10m 1d
Photo
10
Crandall
Hattie C.
3/15/1879
Dau of W.P. & M.E. 1y 11m 4d
Photo
15
Debruler
Emma Alta
5/17/1888
12/30/1968
Photo
8
Demsey
Sarah
12/4/`853
2/10/1874
Wife of Joseph
Photo
2
Dike
Conrad
3/6/1850
12/29/1930
Photo
2
Dike
Rosa
12/12/1854
4/3/1918
Photo
2
Dike
William H.
1883
1962
Photo
2
Dike
Effie A.
1885
1973
Photo
2
Dike
John T.
1878
1952
Photo
13
Dike
Linder F.
8/24/1897
5/26/1909
Son of C. & M.E.
Photo
4
Dooley
Frank
1865
1935
Photo
4
Dooley
Leona

1868
1949
Photo
8
Dooley
Raymond C.
8/8/1904
9/26/1904
Son of Ben W. & Clara
Photo
11
Edrington
Albert J.

8/25/1890
12/5/1948
Photo
11
Edrington
Zella Edna
8/10/1897
4/13/1985
Photo
11
Edrington
Mildred I.
1926
1928
Photo
10
Faris
Mary H.
8/27/1881
34y 10m 29d
Photo
10
Faris
Robert H.
4/8/1869
62 y 4m 3d
Photo
10
Faris
Paulina
7/25/1885
Wife of Robert 59y 9m 22d
Photo
13
Faris
James W.
5/14/1858
4/21/1894
Photo
13
Farris
Infant Son
1/23/1880
2/10/1880
Son of J.W. & S.E.
Photo
13
McRaney
Savina E. Farris
1862
1956
Photo
2
Foster
Maude M.
1896
1922
Photo
3
Godwin
George H
5/18/1889
4/26/1971
Photo
3
Godwin
Jessie Lou
7/6/1888
3/4/1969
Photo
3
Godwin
Morris D
10/9/1914
5/3/2001
Photo
5
Goslin
Alta

1888
19__
Photo
5
Goslin
Essie
1891
1963
Photo
5
Goslin
Cecil E.
12/18/1915
8/16/1917
Son of Alta - Essie
Photo
18
Goslin
Henry S.
9/9/1854
11/9/1890
No Photo
18
Goslin
Mary A.
6/3/1852
11/16/1890
Wife of H.S.
Photo
18
Goslin
Vinnie

1886
1921
Photo
14
Graham
Louisa
3/17/1851
3/21/1880
Wife of J.H.
Photo
18
Graham
R. M.
4/8/1858
8/12/1892
Husband of Eliza
Photo
18
Graham
Joseph F.
11/24/1860
12/24/1861
Son of D. & A.M. 1y 1m
No Photo
18
Graham
Sarah A.
1/17/1932
2/23/1894
Photo
18
Graham
David
2/17/1815
7/26/1877
62y 5m 9d
No Photo
9
Gray
Emma D.
3/16/1877
Dau of A.C. & M.E. 2y 1m 28d
Photo
9
Gray
Mary E.
6/14/1887
78y 10m 1d
Photo
9
Gray
Albert C.
1845
1928
Photo
13
Gray
Infant Son
8/30/1899
8/30/1899
Son of J.O. & L.B.
Photo
14
Gray
Wm. M. C.
9/13/1848
8/19/1872
Photo
14
Gray
John W.
1/26/1861
Son of Wm. & S.F.
Photo
14
Gray
Elizabeth
3/24/1876
51y 7m 2d
Photo
6
Green

P. B.
Co H. 23rd Ind Inf
Photo
9
Greene
Calie R.
11/28/1881
12/21/1881
Child of J.W. & Lizzie
No Photo
9
Greene

Freddie B.
1/2/1883
8/1/1893
Child of J.W. & Lizzie
No Photo
10
Gregory
Joseph Caroll
6/6/1924
1/31/2002
Photo
10
Gregory
Hazel Marie
7/17/1925
7/7/2013
Photo
13
Haddock
Alex

Co B. 1st Ind Cav
Photo
18
Hall
Clarence Michael
8/22/1938
2/17/2012
Photo
13
Harbison
Violet L.
10/22/1877
7/24/1878
Dau of R.C. & J.A. 8m 27d
Photo
2
Harker
Adam
1868
1946
Photo
7
Harker
Floyd Z.
6/6/1904
6/9/1911
Photo
10
Harker
Henry F.
7/23/1882
1/10/1959
Photo
10
Harker
Hilda A.
1882
1967
Photo
10
Harker
Stella
1874
1906
Photo
10
Harker
Wm.

1870
19__
Photo
3
Harris
John F
1852
1933
Photo
3
Harris
Minnie H
1853
1943
Photo
3
Harris
Carl
10/31/1898
9/12/1903
Son of Chas. & Mary

Photo
4
Harris
Isaac
12/25/1882
12/25/1882
Son of Wm. B. & S. E.
No Photo
4
Harris
Nora
9/6/1874
9/6/1874
Daughter of Wm. B. & S. E.
No Photo
9
Harris
Emma

4/28/1877
26y 3m 11d
Photo
16
Harris
Richard
9/16/1882
75y 7m 23d
Photo
16
Harris
Sarah
4/23/1816
1/3/1905
No Photo
16
Harris
Emmet N.
3/10/1891
1/25/1896
Son of N. & M.
Np Photo
16
Harris
Emma E.
5/13/1887
3/14/1891
Child of N. & M.
No Photo
16
Harris
Sarah V.
11/24/1878
6/19/1880
Child of N. & M.
No Photo
18
Harris
James
1848
1929
Photo
18
Harris
Lucy
1856
1941
Photo
18
Harris
Family Memorial
Photo
3
Hemmerlein
Alma Helen
9/30/1910
6/23/1995
Photo
16
Herod
Charles
10/4/1862
6/20/1924
Photo
3
Himsel
Martin
1889
1960
Photo
3
Himsel
Ella M.
1889
1952
Photo
3
Himsel
Wm. T.
1885
1943
Photo
3
Himsel
Helen F
1885
1945
Photo
9
Hoagland
Rachel D.
5/20/1853
11/15/1869
Photo
9
Hoagland
William H.
2/3/1855
6/11/1946
Photo
9
Hoagland
Sarah E.
9/27/1860
3/4/1945
Photo
9
Hoagland
Eliza Ann
7/20/1885
4/9/1886
Photo
9
Hoagland
Jessie

9/2/1889
9/15/1889
Photo
9
Hoagland
Ada

3/17/1893
10/30/1897
Photo
9
Hoagland
Orace Phlema
5/18/1899
2/17/1903
Photo
3
Holder
Margaret B
10/8/1854

Wife of G. R.
Photo
3
Holder
George R.
7/15/1845
9/8/1901
No Photo
9
Holder
Elizabeth E.
9/13/1857
2/25/1933
Photo
6
Horton
Hiram C.
5/15/1834
4/2/1915
Photo
6
Horton
Margaret G.
2/26/1840
12/10/1925
Photo
7
Horton
Edith M.
1903
1909
Photo
7
Horton
Romanus W.
1856
1913
Photo
7
Horton
Rachel E.
1859
1950
Photo
7
Horton
John C.
1892
1964
Photo
9
Horton
Edward A.
10/2/1870
Son of C. & M.I.
Photo
9
Horton
Charles W.
10/9/1871
Son of C. & M.I. 6y 1m 28d
Photo
9
Horton
Bazel L.
2/6/1879
Son of C. & M.I.
Photo
9
Horton
Alexander T.
10/31/1881
Son of C. & M.I. 18y 11m 9d
Photo
9
Horton
Charles

5/30/1827
3/23/1901
Photo
9
Horton
Indiana
3/1/11833
5/21/1917
No Photo
12
Horton
Mandie E.
8/3/1892
Dau of J.C. & C.E. 5y 3m 5d
Photo
12
Horton
John C.
6/19/1897
Husband of C.E. 26y 7m 8d
No Photo
12
Horton
Selbina I.
6/26/1878
Wife of R.W. 21y 9m 4d
Photo
12
Horton
Samuel A.
Son of T.C. & Isabel
Photo
12
Horton
David F.
11/7/1877
Son of B.W. & S. 10d
Photo
12
Horton
Mary E.
7/20/1853
2/8/1883
Dau of W.L. & Martha Brittain. Wife of R.W.
Photo
12
Horton
Raughley Sr.
3/28/1872
84y 8m 18d
Photo
14
Horton
Isabell
5/30/1872
Wife of Thomas G. 36y 5m 8d
Photo
14
Horton
Rollie N.
5/29/1862
1/5/1949
Photo
14
Horton
Olive S. Bissey
8/12/1869
9/10/1920
Photo
14
Horton
Alvin J.
12/4/1891
9.5.1895
Child of R.N. & O.S.
Photo
14
Horton
Violet F.
5/13/1904
10/5/1904
Child of R.N. & O.S.
Photo
15
Horton
Raughley E.
5/14/1890
68y 8m 13d
Photo
15
Horton
Isaac R.
8/29/1875
11/13/1895
Son of R.E. & B.
Photo
10
Inman
Mary J.
10/3/1861
4/27/1886
Dau of E.H. & M.J.
Photo
10
Inman
Herschel
1893
1894
Photo
11
Inman
Elijah H.
12/2/1937
2/17/1937
Photo
11
Inman
Missouri Jane
3/30/1841
12/15/1910
Photo
11
Inman
Cora M.
9/16/1881
4/2/1882
Child of E.H.& M.J. Inman
Photo
11
Inman
Della J.
1/3/1884
1/21/11884
Child of E.H.& M.J. Inman
Photo
11
Inman
Eliza E.
3/7/1874
4/7/1889
Child of E.H.& M.J. Inman
Photo
11
Inman
Montie J.
3/23/1891
4/17/1894
Dau of Wm S. & C.E.
Photo
11
Inman
Albert R.
1894
1920
Photo
11
Inman
Virgie
Photo
11
Inman
Franklin
6/18/1893
4/29/1894
Photo
11
Inman
Jessie May
11/9/1889
4/18/1909
Photo
11
Inman
Thomas H.
1863
1935
Photo
11
Inman
Margaret J.
1870
1931
Photo
5
Johnson
Michael E.
2/6/1887
1/10/1944
Photo
5
Johnson
Nora
10/29/1885
4/29/1963
Photo
16
Johnson
William M.
3/15/1888
Son of A.J. & S. 5y 7m 11d
Photo
16
Johnson
Ira

1896
1898
Son of Mr. & Mrs. F.H.
Photo
16
Johnson
A. J.
8/20/1835
2/2/1905
Photo
16
Johnson
Susan

3/27/1843
9/28/1905
Photo
13
Kelso
Bennett C.
10/15/1842
3/24/1880
Photo
13
Kelso
Mary E.
6/29/1847
4/25/1908
Photo
13
Kelso
Manora K.
5/23/1868
5/19/1896
Dau of Bennett C. Mary E.
Photo
14
Kelso
Margaret G.
9/28/1834
12/25/1901
67y 2m 27d
Photo
14
Kelso
Samuel L.
10/1/1809
2/15/1876
66y 4m 14d
Photo
16
Kelso
B. H.
7/11/1863
12/3/1891
Photo
16
Kelso
Vira B.
1889
1921
Photo
16
Kelso
Clara A.
2/5/1890
5/20/1890
Dau of L.L. & M.J. 3m 15d
Photo
16
Kelso
Infants
10/11/1888
10/11/1888
Infants of L.L. & M.J.
Photo
16
Kelso
Lemuel L.
7/7/1832
4/19/1919
Photo
16
Kelso
Sarah T.
7/24/1835
9/19/1878
Wife of L.L.
Photo
16
Kelso
Jemima
11/8/1864
7/22/1867
Dau of L.L. & S.T.
Photo
18
Kirkland
Demaris A.
5/5/1862
7/2/1947
Photo
18
Kirkland
Samuel
12/11/1886
66y 7m 16d
Photo
18
Kirkland
Nathan W.
9/19/1886
30y 11m 12d
No Photo
18
Kirkland
Emma
3/4/1859
7/5/1908
No Photo
7
Lansford
Ben U.
1875
1911
Photo
7
Lansford
Maude E.
1881
1906
Photo
10
Lansford
Charles O.
7/7/1876
12/15/1957
Photo
10
Lansford
Dora A.
6/13/1869
1/4/1882
Dau of B.F. & C.
Photo
10
Lansford
Bertha
10/8/1886
12/13/1908
Dau of B.F. & C.
Photo
10
Lansford
Benjamin F.
1845
1926
Photo
10
Lansford
Catherine
1848
1928
Photo
8
Lemmon
Infant Son
Son of W.S. & S.E.
Photo
8
Lemmon
Infant

2/14/1873
Son of W.S. & S.E.
Photo
8
Lemmon
Infant
3/17/1871
Son of W.S. & S.E.
Photo
8
Lemmon
Loretta
1/8/1870
Dau of W.S. & E. 27d
Photo
13
Lemmon
David
9/7/1873
76y 1m 2d
Photo
13
Lemmon
John P
Co. C. 5th Ill Cav
Photo
13
Lemmon
Asenath
11/2/1873
Wife of David Lemmon
Photo
13
Lemmon
Elizabeth B.
8/13/1868
56y 8m 2d
Photo
13
Lemmon
Ada Bell
5/2/1876
Dau of L.B. & Fannie 4m 5d
Photo
15
Lemmon
James H.
7/29/1881
40y 10m 18d
Photo
15
Lemmon
Ira C. Dr.
2/9/1879
1/8/1907
Photo
15
Lemmon
W. S.
3/19/1847
3/15/1924
Photo
15
Lemmon
Sarah E.
7/27/1849
6/14/1908
Photo
17
Lemmon
Jacob

3/25/1875
57y
Photo
17
Lemmon
Jennie
12/13/1874
21y
Photo
17
Lemmon
Emaline
8/5/1861
2y
Photo
17
Lemmon
Grant
7/27/1952
87y
Photo
17
Lemmon
Zerrilda
10/16/1860
Dau of John & Elizabeth
Photo
17
Lemmon
John
10/31/1872
70y 4m
Photo
17
Lemmon
Elijah Jr.
10/2/1876
44y 5m 22d
Photo
17
Lemmon
Columbus N.
9/10/1836
3/2/1880
43y 5m 22d
Photo
17
Lemmon
Wilson F.
6/25/1849
7/9/1885
No Photo
17
Lemmon
Sarah F.
10/3/1848
4/14/1880
Wife of W.F.
No Photo
17
Lemmon
Sena
2/22/1870
11/26/1880
Dau of W.F. & S.F.
No Photo
18
Lemmon
Ora B. Wilson
1862
1937
Photo
18
Lemmon
Infant Son
Son of J.W. & L. 2y
Photo
18
Lemmon
Eddie
Dau of W.W. & T. 27d
Photo
18
Lemmon
Isaac B.
11/20/1873
11/1/1888
Child of S.C. & L.A.
Photo
18
Lemmon
Willie
8/27/1881
9/8/1881
.
Photo
18
Lemmon
Elizabeth
9/22/1855
1/26/1856
Photo
18
Lemmon
Jacob H.
12/12/1844
6/12/1845
Photo
18
Lemmon
Isabell A.
1/27/1860
Wife of Elijah 37y 6d
Photo
18
Lemmon
Elijah Sr.
7/15/1876
61y 10m
Photo
18
Lindsey
Jesse
1823
1917
Photo
18
Lindsey
Mary J.
6/12/1837
11/19/1893
Photo
15
Love
Milly
8/27/1807
11/23/1886
No Photo
2
Mallory
William H.
1867
1958
Photo
2
Mallory
Elizabeth
1871
1945
Photo
10
Mallory
Henry C.
1872
1952
Photo
10
Mallory
Rosetta
1868
1957
Photo
10
Mallory
Susie Ethel
1/21/1897
10/26/1900
Photo
18
May
Willie Ann
8/28/1977
11/18/1888
Dau of W.H. & S.C. 1y 2m 20d
No Photo
18
May
Robert E.
3/2/1861
2/25/1892
No Photo
18
May
Iva E.
8/12/1889
11/14/1889
Photo
3
McCain
Ernest

1896
1967
Photo
3
McCain
Cyril O.
1914
1934
Photo
3
McCain
Ethel
1889
1981
Photo
9
McCain
Thomas Dean Jr.
1953
2004
Photo
9
McCain
Thomas Dean

3/10/1910
7/11/1994
Photo
9
McCain
Frances Flodene
9/26/1917
2/10/2010
Photo
9
McCain
Robert H.
1882
1963
Photo
9
McCain
Cora E.
1884
1946
Photo
10
McCain
Thomas H..
1854
1927
Photo
10
McCain
Sarah E.
1861
1937
Photo
13
McCain
George W.
1848
1919
Photo
13
McCain
Savina
1853
1879
Photo
13
McCain
Samuel

12/11/1878
34y 3m 12d
Photo
13
McCain
Hamilton
12/28/1815
1/23/1873
57y 27d
Photo
5
McCarty
Mary P.
8/26/1867
8/7/1901
Photo
5
McCarty
Joseph
1/3/1833
12/18/1902
Photo
5
McCarty
Sarah.
3/26/1874
Photo
5
McCarty
Callie
3/26/1874
40y
Photo
5
McCarty
Marion
4/24/1865
8/1880
Photo
8
McCraney
J. W.
1865
1962
Photo
8
McCraney
Katie Schnarr
1/11/1898
26y 1m 24d
Photo
8
McCraney
Alvin R.
12/17/1898
6/12/1899
Son of J.W. & Katie (Son's birth date after mother's death)
Photo
8
McCraney
Elza O.
10/11/1894
11/13/1933
Photo
8
McCraney
Little Jimmie
1930
1934
Photo
9
McDonald
Willie B.
3/17/1876
3/13/1877
Son of B. & N.
Photo
9
McDonald
Nannie T.
3/19/1876
Wife of B. B. 187 9m 3d
Photo
4
Meadors
Barbara L.
8/1/1934
Photo
4
Meadors
Jerrel E.
6/11/1934
Photo
4
Merder
Floyd F.
1909
1957
Photo
4
Merder
Gladys L.
1908
1954
Photo
12
Miley
Mary May
3/28/1880
Dau of V.B. & E.A. 2y 5m 2d
Photo
7
Miller
R. B.
11/6/1836
Photo
7
Miller
Nancy
6/1/1842
9/30/1893
Photo
7
Miller
Cornell
12/5/1875
3/8/1899
Dau of R.B. & N.
Photo
8
Miller
Bazil H.
4/2/1889
5/6/1890
Son of J.L. & E.
Photo
8
Miller
John L.
1860
1930
Photo
8
Miller
Elda I.
1864
1947
Photo
9
Miller
Alvin A.
3/25/1886
9/6/1957
Photo
9
Miller
Edith L.
10/9/1889
6/3/1958
Photo
9
Miller
James H.
1922
1957
Photo
9
Miller
Harry Ray
1911
Photo
9
Miller
Nellie Leora
1922
1924
Photo
9
Miller
Gilbert L.
3/30/1924
2/1/1945
PFC4 Regt USMC 4 Div WW II
Photo
9
Miller
Carl C.
1926
1955
Photo
9
Miller
John Lee
5/4/1938
Photo
9
Miller
Ralph A.
6/7/1917
5/24/1994
Tech 4 US Army World War II
Photo
9
Miller
Annabel
2/24/1920
Photo
9
Miller
Ray A.
1952
1973
Photo
9
Miller
Larry A.
1949
2015
Photo
12
Miller
Anna E.
7/5/1897
11/1/1897
Dau of L.L. & A.N.
Photo
14
Miller
Mary Ann
11/6/1835
9/14/1891
Photo
14
Miller
Adam

3/11/1863
Buried in Tennessee
No Photo
3
Morgan
Hilda Stradtner
1901
1998
Photo
3
Morton
David E.


11/6/1877
Son of R.W. & S. Morton
Photo
4
Morton
Donna Mae
1932
1936
Photo
4
Morton
Donald T.
1896
1943
Photo
4
Morton
Minne E.
1895
1993
Photo
2
Murry
Jay L
3/3/1893
8/3/1923
Photo
2
Murry
William C
5/30/1856
7/22/1939
Photo
2
Murry
Mary T.
2/13/186
7/6/2936
Photo
2
Murry
Ella E
1/29/1890
1/14/1949
Photo
2
Murry
Maudie I
3/31/1891
7/6/1949
Photo
2
Murry
Ray W
4/27/1897
7/30/1968
Photo
10
Murry
Russell R.
9/9/1901
3/26/1977
Photo
10
Murry
Jewel M.
2/9/1902
11/28/1956
Photo
11
Osborn
Alf
Photo
11
Osborn
Arthur
3/10/1863
8/20/1866
Son of A. & E.
Photo
11
Osborn
Florence S.
7/25/1866
9/11/1866
Dau of A. & E.
Photo
11
Osborn
Alfred
7/7/7875
57y
Photo
11
Osborn
Elizabeth
11/17/1836
12/10/1872
Wife of Alfred
No Photo
11
Osborn
F. S.
Photo
11
Osborn
A.
Photo
8
Padget
Luella
5/16/1875
8/12/1883
Dau of J. & W.
Photo
10
Padget
Mary J.
7/19/1866
Dau of W.& M.P. 3y 1m 14d
Photo
10
Padget
Infant Sons
5/3/1870
5/3/1870
Sons of W. & M.
Photo
18
Padget
Mary I.
11/9/1870
10/19/1888
Dau of E.T. & S.E.
Photo
8
Padgett
Joseph
3/24/1828
12/21/1897
Photo
8
Padgett
Virginia
3/31/1834
12/21/1916
No Photo
10
Padgett
Earl J.
1903
1964
Photo
10
Padgett
Richard
1873
1939
Photo
10
Padgett
Lucy
1877
1954
Photo
10
Padgett
William
12/7/1899
72y 11m 28d
Photo
10
Padgett
Martha P.
8/11/1882
43y 8m 11d
Photo
15
Padgett
William W.
6/5/1868
4/4/1947
Photo
15
Padgett
Jane R.
10/2/1867
4/26/1926
Photo
18
Padgett
Taylor E.
1/21/1850
No Photo
18
Padgett
Sarah E.
11/16/1849
1/25/1899
No Photo
9
Petery
John
3/27/1887
72y 6m 4d
Photo
2
Petry
John
1851
1939
Photo
2
Petry
Catherine
1859
1928
Photo
14
Pride
Mary A.
3/6/1847
1/27/1873
Wife of J.T.
No Photo
6
Priest
Jesse M.
12/25/1859
5/13/1920
Photo
6
Priest
Emma A.
12/5/1875
10/19/1930
Photo
11
Ragle
James William
5/25/1928
8/19/1967
Photo
11
Ragle
Lillie M.
1901
1974
Photo
11
Ragle
Cyrus Amos
9/4/1895
11/19/1964
Photo
11
Ragle
William J.
12/5/1857
12/18/1920
Photo
11
Ragle
Ellen O.
2/21/1861
12/7/1927
Photo
11
Ragle
Roy
9/25/1900
10/4/1900
Son of W.J. & E.O. 10d
Photo
6
Rock
John W.
10/22/1872
22y 7m 25d
No Photo
6
Rock
William H.
10/20/1872
2y 10m Son of J.W. & L.
Photo
8
Rocket
Nellie
461874
9/19/1895
21y 5m 13d
Photo
9
Rocket
Levi
No Photo
14
Rocket
Louis F.
1/31/1872
8/11/1872
Son of W.T. & M.L.
No Photo
13
Rogers
William
10/11/1825
5/5/1869
Photo
13
Rogers
Jeremiah
6/18/1795
10/10/1874
Photo
13
Rogers
Sabina
1/12/1795
8/28/1863
Wife of J. Rogers
Photo
10
Rose
Gladys M.
1/16/1895
8/8/1898
Dau of Wm S. & Daisy
Photo
18
Rudolph
Franklin O.
7/12/1875
7/14/1876
Son of C.H. & E.
Photo
18
Rudolph
Lewis
2/22/1864
Son of Henry & E.B. 1y 1m 6d
Photo
18
Rudolph
Elizabeth
6/13/1863
Dau of Henry & E.B. 13y 9m 25d
Photo
9
Schmitt
Marilyn J.
1946
2015
Photo
1
Schnarr
John T.
11/1/1875
6/23/1931
Photo
1
Schnarr
Lizzie Bell
12/9/1874
Photo
4
Schnarr
Perry L.
1890
1969
Photo
4
Schnarr
Eva Mae
1891
1941
Photo
4
Schnarr
Peter J.
11/15/1859
1/16/1920
Photo
4
Schnarr
Elizabeth
4/18/1866
4/8/1937
Photo
7
Schnarr
Morris E.
8/25/1916
9/12/1985
Photo
7
Schnarr
Edythe
10/27/1918
5/7/1983
Photo
7
Schnarr
Conrad
1873
1949
Photo
7
Schnarr
Michael

11/11/1844
2/26/1913
Photo
7
Schnarr
Catherine
5/1/1848
11/19/1904
No Photo
18
Schnarr
Floyd G.
5/3/1897
12/14/1994
Battery E 46th C.A.C. WW I
Photo
18
Schnarr
Robert A.
12/28/1891
3/28/1896
Son of J.M. & V.B.
Photo
18
Schnarr
John M.
4/26/1866
11/15/1907
Photo
18
Schnarr
Vinnie B.
5/15/1872
7/19/1954
Photo
11
Scott
Joseph
1873
1928
Photo
11
Scott
James M.
1846
1914
Photo
11
Scott
Debbie
1854
1932
Photo
14
Scott
Thomas
2/18/1822
9/25/1877
No Photo
14
Scott
Scyntha A.
1/10/1827
2/14/1886
No Photo
16
Shelton
John A.
8/29/1857
2/17/1898
No Photo
16
Shelton
Rachel O.
1/15/1854
3/7/1933
No Photo
11
Stewart
Susan E.
11/16/1836
8/17/1910
Photo
11
Stewart
Samuel T.
11/16/1864
3/13/1894
Photo
11
Stewart
George W.
2/27/1836
1/21/1890
Photo
3
Stradtner
Fred F.
1887
1963
Photo
3
Stradtner
Alta B.
1894
1984
Photo
3
Stradtner
John K.
1921
1962
Veteran WW II
Photo
3
Stradtner
John Kenneth
4/24/1921
10/13/1962
Indiana ARM2 USNR WWII
Photo
16
Suddeth
Wm.
Co K 27th Ind Inf
Photo
6
Taryler
William H.
6/20/1878
21y 9m 19d
No Photo
12
Thompson
John D.
11/28/1823
9/17/1900
76y 10m 19d
Photo
12
Thompson
Eliza J.
2/9/1839
6/16/1896
57y 4m 7d
No Photo
12
Thompson
Matilda Fields
8/21/1857
12/29/1944
Photo
12
Thompson
Richard E.
11/21/1886
6/19/1969
Photo
6
Thorn

James C.
5/15/1875
7/3/1876
Photo
5
Trayler
Alcano
12/26/1881
Son of V. O & G. W. 2y 10m 6d
Photo
5
Trayler
Iva A.
12/24/1881
6y 2m 28d
No Photo
6
Trayler
Andrew J.
12/22/1873
26y 1m 16d
Photo
6
Trayler
Lovina O.
5/28/1877
Wife of L.E. 24y
Photo
4
Traylor
Ernest
1888
1955
Photo
4
Traylor
Lela

1895
1981
Photo
14
Unidentified
Margaret
1866
Illegible
No Photo
13
Waggner
Willard A.
1/29/1893
9/16/1893
Son of J.W. & M.K.
Photo
1
Weathers
John H.
1918
Photo
1
Weathers
William
Photo
2
Weisheit
Ernest W.
1890
1947
Photo
2
Weisheit
Leora M.
1889
1958
Photo
3
Weisheit
Edgar
1895
1982
Photo
3
Weisheit
Carrie
1893
1980
Photo
13
Weisheit
Adam W.
1861
1937
Photo
13
Weisheit
Harriet M.
1860
1944
Photo
13
Weisheit
Elmer
9/29/1892
12/21/1892
Son of A.W. & H.M.
Photo
7
Welsh
Marilyn
8/26/1941
Photo
7
Welsh
Alan Bromley
1/14/1939
Photo
7
Welsh
Lenore
2/15/1902
10/15/1994
Photo
7
Welsh
J. Louis
7/6/1899
3/26/1990
Photo
7
Wilson
Ora B. Lemmon
1862
1957
Photo
11
Winegar
Charles D.
9/1/1853
6/22/1938
Photo
11
Winegar
Cordelia A.
12/5/1856
12/2/1902
Photo
8
Wineinger
John A.
1858
1943
Photo
8
Wineinger
Clara A.
1875
1957
Photo
15
Wineinger
Earl

7/26/1892
8/1/1892
Child of J.W. & M.E.
Photo
15
Wineinger
Edna
10/4/1896
10/23/1900
Child of J.W. & M.E.
No Photo
8
Wineinger
Alpheus
1/31/1898
8/12/1899
Child of John A. & Clara
Photo
8
Wininger
Johnnie
3/9/1900
3/10/1900
Child of John A. & Clara
Photo
16
Wiscarver
Corda V.
8/9/1868
10/5/1889
Photo
16
Wyscaver
William D.
10/11/1880
Photo
4
Wiseman
Alex
1881
1936
Photo
6
Woods

I. B.
1/19/1867
8/14/1902
Photo