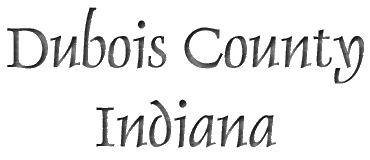 Located about a mile west of Haysville off West Haysville Road.

From West Haysville Road, take CR 150 W south. Continue onto gravel lane at the end of pavement.
At the end of the lane, the cemetery is about 150 feet to the south in trees. This cemetery was
termed "abandoned" by G. R. Wilson in 1932, but has now been restored as much as possible. Broken
stones have been repaired, but some markers no longer exist. Previous transcriptions are quoted where
stones no longer exist, or are not legible. Row progression begins on the west side of the site, and
runs north to south. Read and photographed November 5, 2008.

Copyright © 1997 - 2011 Dubois County INGenWeb, Charlie Tredway, and contributors.
All material, including photographs, contained on this page may be freely copied for your personal use, but
may not be reproduced
or publicly displayed in any format without written consent.
©
Charlie Tredway
and INGenWeb.
| | | | | | | |
| --- | --- | --- | --- | --- | --- | --- |
| Row | Last Name | First Name | Born | Died | Notes | View |
| 1 | Batie | James | | 8/2/1859 | 32y 1m 21d | Photo |
| 2 | Harbison | Rhoda E | 5/2/1843 | 4/16/1853 | | Photo |
| 2 | Harbison | Susannah | 5/20/1841 | 4/17/1842 | | Photo |
| 2 | Harbison | James | 2/12/1846 | 2/15/1846 | | Photo |
| 2 | Harbison | John | 1/31/1837 | 9/25/1841 | | Photo |
| 2 | Harbison | Samuel G | 9/18/1838 | 9/20/1840 | | Photo |
| 3 | Harbison | Thomas H | 5/13/1828 | 4/9/1856 | Consort of Nancy | Photo |
| 3 | Harbison | Harrison | 7/3/1815 | 1/15/1849 | | Photo |
| 3 | Space | | | | | None |
| 3 | Harbison | James | | 8/18/1841 | 39y 6m 6d | Photo |
| 3 | Harbison | John | | 10/16/1834 | Son of J & E | Photo |
| 3 | Harbison | Harrison | | 6/3/1851 | Son of J & E | Photo |
| 3 | Harbison | Aaron B | | 4/25/1842 | Son of J & E | Photo |
| 4 | Harbison | Elizabeth | | 3/15/1858 | Dau of Thos H & Nancy | Photo |
| 4 | Space | | | | | None |
| 4 | Blank | | | | | Photo |
| 4 | Blank | | | | | Photo |
| 4 | Blank | | | | | Photo |
| 4 | Cooper | William B | 12/1/1813 | 7/14/1864 | 50y 7m 13d | Photo |
| 5 | Cooper | John H | 12/4/1849 | 12/23/1852 | Son of W B & A | Photo |
| 5 | Cooper | Ovanda A | 5/30/1857 | 4/4/1860 | No Stone | None |
| 6 | Milburn | Infant | | 5/13/1856 | Son of R F & E J | Photo |
| 6 | Space | | | | | None |
| 6 | Milburn | John W | | 8/6/1863 | Son of R F & E J | Photo |
| 6 | Milburn | Sarah | | 1/12/1863 | Wife of Jona. Milburn | Photo |
| 6 | Milburn | Jonathan | | 10/26/1852 | 61y 8m 23d | Photo |
| 6 | Milburn | Sarah E | | 7/5/1853 | Dau of R F & E J | Photo |
| 6 | Space | | | | | None |
| 6 | Milburn | Robert | 11/30/1790 | 4/27/1860 | | Photo |
| 7 | Harbison | Infant | | | | Photo |
| 7 | Space | | | | | None |
| 7 | Milburn | Sarah E | | 5/24/1861 | Dau of R F & E J | Photo |
| 7 | Milburn | Francis | 2/10/1804 | 11/25/1861 | | Photo |
| 7 | Milburn | Mary | 12/9/1808 | 9/5/1866 | | Photo |
| 7 | Blank | Stone | | | | Photo |
| 7 | Blank | Stone | | | | Photo |
---