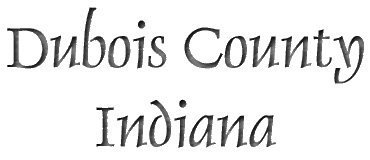 Dillin Cholera Cemetery
Located west of the intersection of Division Road and CR 400W
Jasper, Indiana


Click each image to enlarge

Dillin Cholera Cemetery October 2009

Dillin Cemetery Memorial Marker
Photo by Del Himsel October 1995

Memorial Marker placement
Photo by Del Himsel 1987
Grave Markers Photographed October 21, 2009 by Charlie Tredway
Copyright © 1997 - 2011 Dubois County INGenWeb, Charlie Tredway, and contributors.
All material, including photographs, contained on this page may be freely copied for your personal use, but
may not be reproduced
or publicly displayed in any format without written consent.
©
Charlie Tredway
and INGenWeb.
Dubois County Genealogical Society Cemetery Inscription Book 6 states that there are 4 additional graves with no marker.
| | | | | | |
| --- | --- | --- | --- | --- | --- |
| Last Name | First Name | Born | Died | Other | Photo |
| Dillin | Franklin | 1843 | 1849 | Son of James & Permelia Dillin. Died of Asiatic Cholera | |
| Dillin | Sousin | 1807 | 1849 | Wife of James Dillin. Died of Asiatic Cholera | |
| Dillin | James | 1800 | 1860 | | |
| Dillin | Permelia | 1802 | 1847 | Wife of James Dillin | |
| Infant | | | | Stillborn | |
| Infant | | | | Age 5 days | |
| Dillin | Tobitha Ann | 1839 | 1840 | Daughter of James & Permelia Dillin | |
| Dillin | Ashberry | 1830 | 1849 | Son of James & Permelia Dillin. Died of Asiatic Cholera | |
| Donall | Mary | | 1849 | Died of Asiatic Cholera | |
| Dillon | Lee Roy | 1859 | 1860 | Son of Matthew B & Mary A Dillon | |
---