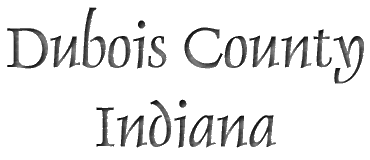 Bailey /
Brushy Pond Creek / Pinnick Cemetery
Lon 380 25' 33" N Lat -860 45' 27" W
This cemetery, located in Hall Twp, on the north side of SR 545, approximately 1-3/4 miles west of N Cuzco Rd S, was partially destroyed in 1974


Click image to enlarge
Pinnick photos by Sherrie Bouldin, all others by Charlie Tredway October 29, 2010
Copyright © 1997 - 2011 Dubois County INGenWeb, Charlie Tredway, and contributors.
All material, including photographs, contained on this page may be freely copied for your personal use, but
may not be reproduced
or publicly displayed in any format without written consent.
©
Charlie Tredway
, Sherrie Bouldin and INGenWeb.



| | | | | | |
| --- | --- | --- | --- | --- | --- |
| Last Name | First Name | Born | Died | Other | Photo |
| Bailey | Samuel D | 2/24/1873 | 7/23/1875 | Son of N & M A 2y 4m 9d | |
| Bailey | Nancy M | 1/23/1856 | 6/5/1872 | Daughter of Saml & Louiza Aged 16y 4m 12d | |
| Bailey | Mary E | 2/11/1854 | 10/13/1869 | Daughter of Saml & Louiza Aged 15y 8m 2d | |
| Bailey | Louisa | | 4/24/1882 | Wife of Samuel 61y 7m 2d | |
| Bailey | Samuel | 8/30/1813 | 12/8/1885 | 72y 3m 8d | |
| Bailey | Sarah A | 1/22/1856 | 6/5/1872 | Aged 16y 4m 12d | |
| B | R | | | | |
| B | S J | | | | |
| Burton | Fountaine | | 7/2/1878 | Son of M & M A 1y 6m 22d | |
| Burton | Sarah J | 5/23/1870 | 5/23/1870 | Daughter of M & M A | |
| Harbison | Eley | 11/18/1878 | 12/23/1878 | Daughter of W T & F D | |
| P | J | | | | |
| Parks | Minerva | | 2/25/1880 | Wife of T H 40y 4m 11d | |
| Pinnick | Ida Young | 8/30/1904 | 4/15/1945 | | |
| Pinnick | Earl Robert | 11/13/1899 | 6/12/1931 | | |
| Pinnick | Mary A | 1864 | 1937 | | |
| Pinnick | Frank | 1861 | 1931 | | |
| Pinnick | Thomas C | 2/9/1891 | 2/17/1918 | Son of F & M A | |
| Pinnick | John E | 10/22/1903 | 6/9/1905 | Son of F & M A "Johnie" | |
| Pinnick | James E | 11/8/1896 | 10/4/1899 | Son of F & M A "Jamie" | |
| Pinnick | William H H | 3/4/1821 | 5/18/1894 | Aged 73y 2m 14d | |
| Pinnick | Mary A | | 6/15/1891 | Wife of W H H 57y 7m 22d | |
| Pinnick | Sarah J | | 1/6/1872 | Daughter of W H H & M A 16y 3m 14d | |
| Pinnick | Nathan | 1/2/1860 | 1/2/1860 | Son of W H H & M A | |
| Pinnick | Rachel | 9/18/1865 | 8/1865 | Daughter of W H H & M A 16y 3m 14d | |
| Pinnick | James | | 12/22/1869 | 6y 4m 6d | |
| Pinnick | William | | 11/15/1871 | Son of W H H & M A Aged 18y 8m 9d | |
| Pinnick | Elizabeth A | | 10/2/1876 | Daughter of W H H & M A Aged 31y 1m 27d | |
| Zehr | Infant | 3/15/1885 | 3/16/1885 | Daughter of E & A M | |
| Illegible | | | | | |
| Illegible | | | | | |
| Illegible | | | | | |
| Bledsoe | Child | Burial from | other sources | quoted from Gen. Soc. Cemetery Inscriptions Vol 7 | N/A |
| Brown | Sarah J | Burial from | other sources | quoted from Gen. Soc. Cemetery Inscriptions Vol 7 | N/A |
| Burton | Elizabeth | Burial from | other sources | quoted from Gen. Soc. Cemetery Inscriptions Vol 7 | N/A |
| Burton | Child of Nathaniel | Burial from | other sources | quoted from Gen. Soc. Cemetery Inscriptions Vol 7 | N/A |
| Frome | Lilly Tabor | Burial from | other sources | quoted from Gen. Soc. Cemetery Inscriptions Vol 7 | N/A |
| Sanders | William M | Burial from | other sources | quoted from Gen. Soc. Cemetery Inscriptions Vol 7 | N/A |
| Sanders | E A | Burial from | other sources | quoted from Gen. Soc. Cemetery Inscriptions Vol 7 | N/A |
| Sanders | Umphry | Burial from | other sources | quoted from Gen. Soc. Cemetery Inscriptions Vol 7 | N/A |
| Tabor | Lonzo | Burial from | other sources | quoted from Gen. Soc. Cemetery Inscriptions Vol 7 | N/A |
| Tabor | Cecil | Burial from | other sources | quoted from Gen. Soc. Cemetery Inscriptions Vol 7 | N/A |
| Tabor | Sary J | Burial from | other sources | quoted from Gen. Soc. Cemetery Inscriptions Vol 7 | N/A |
| Tabor | Child | Burial from | other sources | quoted from Gen. Soc. Cemetery Inscriptions Vol 7 | N/A |
| Williams | Mary E | Burial from | other sources | quoted from Gen. Soc. Cemetery Inscriptions Vol 7 | N/A |
| Williams | Daniel Otto | Burial from | other sources | quoted from Gen. Soc. Cemetery Inscriptions Vol 7 | N/A |