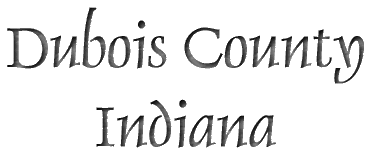 Armstrong Cemetery
Located west of Ireland, Indiana on CR W150N
38°24'1.4"N 87°00'25.0"W
Click photo for a larger image

Read and photographed April 19, 2010 by Charlie Tredway
To provide a more complete listing, some data is taken from the memorial marker placed by the Shiloh Cemetery Association.
Copyright © 1997 - 2011 Dubois County INGenWeb, Charlie Tredway, and contributors.
All material, including photographs, contained on this page may be freely copied for your personal use, but
may not be reproduced
or publicly displayed in any format without written consent.
©
Charlie Tredway
and INGenWeb.
Last Name
First Name
Born
Died
Other
Photo
Anderson
2 sons
stillborn
sons of John

& Elizabeth
N/A
Anderson
Margaret (Mary)
died small child
Anderson
George
died 5 months old
Anderson
William
1827
Small Child
Anderson Jr
John
8/11/1842
7/26/1856
Anderson Sr
John
10/6/1799
3/13/1860
Armstrong
Richard
1730
1787
N/A
Armstrong
Madison
6/20/1816
8/12/1858
Armstrong
Frances M
1/20/1841
11/19/1858
Son of M & J Armstrong
Armstrong
Nancy S
5/11/1817
6/20/1860
Armstrong
Nancy Corn
8/9/1814
1860
N/A
Armstrong
George W
4/9/1814
1/19/1860
Armstrong
George
1781
1844
63y
Armstrong
Elizabeth
1778
1844
66y
Armstrong Jr
George
N/A
Green
Davis
9/11/1858
Green
Harvie
Son of Addison Green
N/A
Green
Elizabeth Cartmill
1834
Wife of James Green , Rev War Veteran
Green
John
12/8/1818
10/15/1871
N/A
Green
William
6/11/1798
8/29/1854
Pvt Beck's Co. 5 Ind War of 1812
Green
Stilborn
2/7/1859
2/7/1859
Daughter of Robert & M
N/A
Green
John H
11/5/1891
Son of Davis & M Green
Harris
Margaret Green
N/A
Harris
Frederick
Son of J & M Harris
N/A
Harris Sr
James
1835
N/A
Hope
Adam
1st wife and child
N/A
Rodman Sr
Hugh
5/7/1815
Pennsylvania Frontier Rangers Rev War
Stewart
Mary Green
1776
N/A
Stewart
Infants
2 Infant children of Robert & Mary Stewart
N/A
Stewart
Jane Green
1842
Wife of John Stewart
Stewart
Robert (Robin)
1780
1842
N/A
Stewart
John
1842
Indiana Sgt Newmans Co 5 Indiana War of 1812
Stewart
Hilda
8/1871
10/18/1872
Daughter of James & Jane Stewart
N/A
Woods
Sarah Green Hope Crozier
1791
12/10/1847
Wife of Edward Woods
Woods
Edward
12/12/1780
12/17/1847
67y 55d