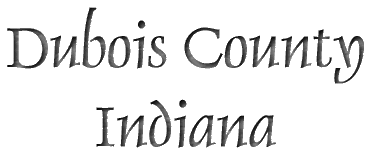 Wininger Cemetery
Located in Columbia Twp, off Hillham Road Northwest.
Lat 38º 31' 17.2"N Lon 86º 42' 53.7"W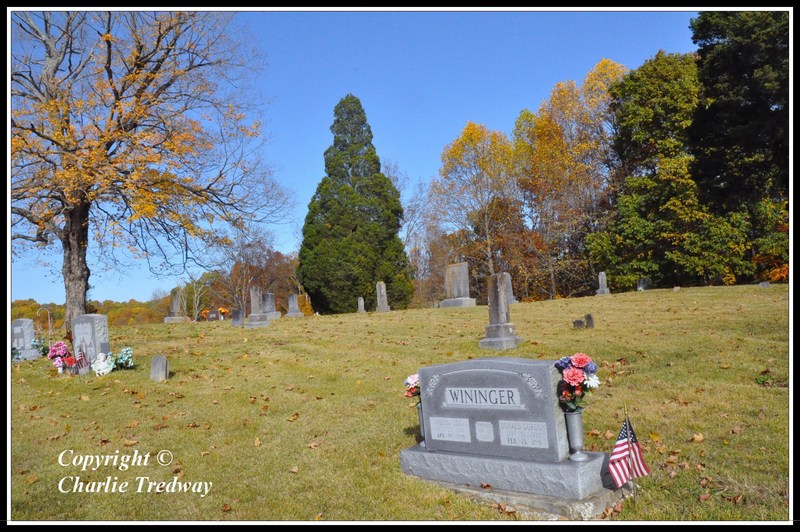 Copyright © Dubois County INGenWeb, Charlie Tredway, and contributors.
Photographed September 14, 2008; April 24, 2010; May 14, 2011, November 3, 2017 by Charlie Tredway.

All material contained on this page may be freely copied for your
personal use
, but may not be reproduced or publicly displayed on
another site or other media without written consent. All photographs and material on this page ©
Charlie Tredway
and USGenWeb.
Last Name
First Name
Born
Died
Other
Photo
Allen
Charles "Joe"
12/30/1956
3/12/2000
Allen
Clara Ruth
10/27/1927
1/18/2011
Allen
Clarence L
3/15/1928
8/12/1984
Ballard
Barbara E
2/15/1849
9/27/1902
Wife of James H Ballard
Ballard
Charles W
1869
1906
Ballard
James H
5/12/1849
11/5/1890
Ballard
Sarah A
4/19/1893
Wife of G W Ballard
Ballard
William T
12/3/1871
9/2/1895
Bledsoe
Lloyd D
1955
1976
Burress
L Gladys
1940
1968
Campbell
Betty J Quinn
4/19/1937
2/22/2014
Campbell
Ellis E "Bus""
10/19/1931
12/23/2004
Chastain

Elizabeth

4/15/1866

3/5/1914

Wife of Geo Chastain

Collins

Ida M

5/6/1896

1/15/1991



Collins

Chris

9/6/1893

6/19/1966



Collins

Marjorie

3/30/1926

11/27/1935



Collins

Nathan

1843

1862

Co E 18 Regt Ind Vol

Collins

William



1/30/1851
17y
Crook

Marlene H

4/20/1932

9/5/1992



Decker

Roma D

7/21/1905

12/14/1994



Decker

Arthur F

2/18/1898

8/30/1932



Decker

Helen B

1926





Emmons

Forrest D

9/17/1926

10/4/1982



Emmons

Ellen M

7/7/1937

1/18/2004



Emmons

Francis Marie

1/8/1928

3/9/2008



Emmons

Paris O

1925

1989



Emmons

Wilma J

1928

1998



Flick

Judy Lagenour

9/10/1944

11/30/1986



Gibbs

Alma Caroline

1936

1997



Hardesty

Lois Jean

1/17/1978

4/4/1978



Hendrix

Charles W

7/23/1877

7/3/1913



Hendrix

Raymond

1905

1905



Hendrix

Sarah Bell

1903

1905



Howe
Thomas W
1887
1951


N/A
Huff

Amanda S Lagenour

8/8/1943





Johnson

Dorothy L

11/30/1947

----



Johnson

"California" John

9/11/1941

2/21/2007



Hunter
Robert T.
6/29/1943
8/20/2013
Hunter
Georgeann Self
11/26/1944
----
Jones

Virlee

12/2/1931





Jones

Bill

11/7/1922

2/29/2008



Jones

Dennis V

6/2/1924

1/17/1960

TEC5 CO C 166 ENGR C BTN

Jones

Miles R

1880

1940



Jones

Eva B

1885

1955



Jones

Francis J



10/1/1943

Infant Son Of B J & R Jones

Jones

Gayle Moore

1920

1945



Jones

Henry H

1873

1942



Jones

Laura L

1882

1961



Jones

Roscoe

4/13/1914

4/19/1981



Jones

Lois M

11/8/1928

5/30/1974



L

G W







Lagenour

Alma A

1924

2015



Lagenour

Raymond E

1920

1980



Lagenour

Alton?

12/27/1942

1/31/1943



Lagenour

Elvan

12/22/1915

6/10/1962



Lagenour

Ruby Gladys

5/19/1918

5/26/1987



Lagenour

Lena E

1908

1997



Lagenour

George

1908

1969



Lagenour

Rosa E

1902

1984



Lagenour

John W

1900

1977



Lagenour

Kenneth Lee

9/1/6/1924

11/23/1970



Lagenour

Kathryn E

10/1/1926

8/17/1985



Lagenour

Larry Joe

1/10/1949

10/28/1972



Lagenour

Lena Ethel



4/7/1945

Daughter of George - Lena

Lagenour
Lonnie
3/6/1942


N/A
Lagenour

Ronald L

5/20/1947

4/15/2004



Lagenour

Marilyn R

10/26/1954





Lewis

John W

10/8/1886

11/6/1980



Lewis

Ada B

8/23/1891

2/9/1970



Lewis

George W

1903

1905



Lewis

Susie

1905

1908



Lewis

George W

5/1/1847

1/6/1907



Lewis

Nancy R

8/27/1853

No Date

Wife of George W Lewis

Lewis

John C

1854

1911



Lewis

Malinda R

1858

1938



Lewis

Lottie J

1875

1932



Lewis

Mellie Fern

1916

1921



Lewis


Simeon R




5/14/1887


Son of EU & S Lewis 1y 7m 16d
(Date and other taken from prev. transcription)

Lewis
Sarah
12/10/1819
9/9/1876
N/A
Lewis
Lucy A
4/13/1858
12/17/1870
(Dates taken from prev. transcription)
Lewis

Thomas H

2/9/1821

5/21/1890

Aged 69y 3m 12d

Long

Michael Wayne

1953





Long

Stephen Wade

1954





McCarty

John

2/14/1837

9/25/1916

CO K 65 IND VOLS CIVIL WAR

McCarty

Delpha A

12/16/1842

4/16/1916



McCarty

James Ellis

3/3/1967

7/26/1997

Son of Jesse and Judi

McCarty

Johnnie



4/11/1880

Son of John & Delpha A Aged 7y 11m 11d
McGuire

Louis J

1930

1963



McGuire
John Lewis
7/28/1981


McGuire

Richard S

1958

1987



Moore

B Jack

7/26/1929

5/23/1996



Moore

E Joy Self

10/18/1942





Moore

Janice Rose

8/15/1972

12/26/1988



Morrison

Haley N







Nicholson

Margarette

7/10/1886

11/29/1952



Nicholson

Harry M

7/3/1888

11/29/1952



Nicholson

Infant

10/6/1900



Infant of Mr. Mrs WW Nicholson

Nicholson

Sophia E

103/1901

6/9/1977



Nicholson

Jasper

2/16/1896

7/31/1979



Nicholson

Richard

1858

1922



Nicholson

Sarah

1859

1949



Nicholson

Walter D

8/10/1913

8/29/1995



Nicholson

Wesley H

5/23/1923





Nigg
Beverley
1944
2011
Peek

Louis E

8/25/1947

7/14/2004

US Air Force Vietnam

Pero

Gertrude Self

1910

1965



Phillips

Mary A







Qualkinbusch

Alaska

2/25/1911

8/16/1911

Daughter of Geo L & M C
Qualkinbush

Amanda

3/3/1888

3/3/888

Daughter of J H & S J

Qualkinbush
Jonnie
3/11/18??
Son of William & Sarah D Qualkinbush
Qualkinbush

Minnie A

9/20/1879



Dau of A & E Aged 4y 2m 26d

Qualkinbush

Pearl

12/3/1902

9/9/1904



Qualkinbush

Sarah D

3/3/1851

5/26/1901

Wife of William Qualkinbush

Qualkinbush

Clara

12/20/1894

3/6/1895

Age 2m 16d

Qualkinbush
Thomas H



5/21/1880


N/A

Quinn

Amos

4/28/1897

1/28/1970



Quinn
Betty Kathleen
8/4/1926
2/17/2015
Quinn
Infant


12/26/1948
Son of Ollis & Ruth WQuinn
N/A
Quinn
Ida
10/24/1919
12/17/2013
Quinn
Cecil
11/9/1917
5/26/2016
Quinn

Elza

1869

1964



Quinn

Ida

1875

1948



Quinn

Floyd E

1918

1921



Quinn

William D

1891

1960



Quinn

Jennie V

1895

1971



Rasche

Pamela Anne

1962

2001



Roberts

Aaron

1/29/1851

1/20/1924



Roberts

Amanda

10/4/1857

5/5/1891



Roberts

Laney A

8/20/1854

10/30/1921

Wife of Aaron Roberts

Salyers

Eliza J

4/4/1875

10/26/1902

Wife of U C Salyers

Salyers

Elved P

9/17/1902

3/2/1903

Son of U C & E J Salyers

Salyers

George W

3/10/1893

4/11/1893

Son of U C & E J Salyers

Self

Roy

10/14/1915

5/2/1996



Self

Alice M

6/19/1922

9/11/1998



Self
Alma Gean
1926
1926
Dau of Harry & Bessie Self
N/A
Self

Sarah E

1/29/1869

6/27/1869

Daughter of J T & M M Self

Self

Amanda Lewis

1841

1913

Wife of Thomas Self

Self
Harold Ben
1938
2016
Self

Harry F
1889

1953



Self

Bessie E

1893

1949



Self

Cynthia E

3/2/1879

4/21/1922

Wife of Geo F Self

Self

Edith

6/26/1921

11/23/2001



Self

Everett

7/24/1916

7/30/1996



Self

Edward Thomas

5/12/1862

Dec 1920

Married 8/8/1886

Self

Mary Frances Burton

1/16/1867

Dec 1919

Married 8/8/1886
Self

Ethel Mae

12/9/1917

6/16/1930

Dau of Harry & Bessie Self

Self

George F

6/4/1870

4/4/1934



Self
Harold Descoe

1913

1960



Self
Harry W

9/5/1913

1/22/1914



Self
J
Self
James T

5/20/1905

12/19/1906

Son of G F & C Self

Self
John Thomas



6/20/1881

CO D 44 IND VOLS CIVIL WAR

Self
Julia Jane

7/3/1940

10/6/1941



Self
Lura P

1925

1998



Self
Rollie G

1919

1975



Self
Mayme E

8/31/1905

8/19/1936



Self
Norman E

10/23/1937





Self
Orville D

1/29/1929

2/7/1929

Son of J F & M E Self

Self
Roberta Lee

1936

1938



Self
Rosa O

2/10/1911

3/15/1911

Dau of H F & B E Self

Self
Rose May

9/22/1912

10/1/1912

Dau of T & N Self

Self
Samuel T

4/18/1922

4/29/1922

Som of G F & C Self

Self
Shirley Ann

7/17/1938

5/23/1993



Spoonmore
Belle

1870

1895

Wife of J J Spoonmore

Unknown








W
C







W
J M







Walls
Joseph

1860

1940



Walls
Etta

1874

1933



Walls

Theodore C

2/24/1919

2/6/1999



Ward

Rachel T

4/22/2815

6/22/1895



Wininger

Angeline



11/7/1857

Wife of SML Wininger Aged 34y 1m 27d

Wininger

Araminta



1/9/1847
About 37 years of age

Wininger

Samuel



2/5/1899

In his 85y

Wininger

Robert S

3/3/1904

3/7/1995



Wininger
Blanche A

4/22/1916

7/25/2001



Wininger
Nellie F

3/28/1904

10/12/1977



Wininger
Cecil

6/1/1904

5/13/1976



Wininger
Wilford







Wininger
Della







Wininger
Wilma Jean

8/25/1934

4/10/2010



Wininger
Donald Gordon

9/30/1933

2/15/2010



Wininger
William

Feb 1844

Dec 1861