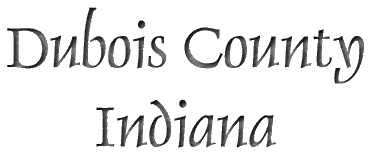 Old Mt. Zion Cemetery
38
º
28' 57.1" N 86º 48' 57.2" W
Approximately 1/4 mile west of Dubois Crossroads
and St. John 's Church on private lane
There are two Mt. Zion Cemeteries in Dubois County. This one is being termed "Old Mt. Zion" for identification only. The oldest known burial here is Edward Morgan, who died 1852. Few legible or intact markers remain. A 1996 transcription by the Dubois County Genealogical Society is used as a source to identify markers no longer present or legible. Therea are many unmarked graves.
Copyright Dubois County INGenWeb, Charlie Tredway, and contributors.

All material, including photographs, contained on this page may be freely copied for your personal use, but

may not be reproduced




or publicly displayed in any format without written consent

. Copyright © Charlie Tredway and INGenWeb.
Click Any Image To Enlarge
| Last Name | First Name | Born | Died | Other | Photo |
| --- | --- | --- | --- | --- | --- |
| Damewood | Elizabeth | 7/25/1807 | 2/14/1849 | Wife of H Damewood | |
| Damewood | Henderson | | | CO K 65th Ind Inf | |
| Damewood | Nathan | 1/23/1795 | 9/4/1851 | 66y 8m 11d | |
| Davis | William W | 9/14/1861 | 10/23/1861 | Son of M B & M M | |
| Graves | John | 10/31/1837 | 10/2/1867 | 29y 11m 1d | |
| Graves | Mary A | 5/28/1853 | 8/15/1874 | 41y 2m 17f | |
| Graves | William B | 11/5/1861 | 10/2/1869 | 7y 10m 27d | |
| Hankins | Kitty Ann | 4/30/1835 | 8/2/1853 | 18y 3m 2d | |
| Hankins | Kitty Ann | 7/24/1853 | 10/17/1853 | Dau of Harrison B & Kitty Ann 1m 24d | |
| Moore | Dorinda | | 1864 | | |
| Moore | Thos | 4/24/1795 | 9/17/1858 | 63y 4m 24d | |
| Morgan | Edward | 1848 | 1852 | Recorded by George R. Wilson 1928. No visible marker | |
| Vowell | John T | | April ? 1864 | 18y 3m 21d G 21 Ind Vols | |
| M | E T | | | Possibly Edward Morgan | |
| Marker Fragments | | | | | |