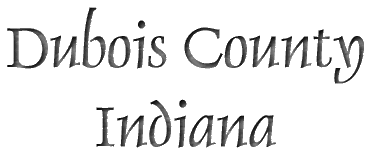 Butler Cemetery
Martin County, Indiana
Photos by Charlie Tredway. Click image to enlarge.


Cemetery is located off Rusk Road, approximately 4 miles from the intersection of Rusk Road and US 150, between Shoals and West Baden Springs, and approximately 1/4 mile south of the Lost River Bridge. Lat 38.594198 Long -86.755973. The cemetery is easily accessed, but is on private property, and permission is required. Read and photographed May 22, 2009 by
Charlie Tredway
. Previous transcriptions were referenced in an attempt to present as complete a list of burials as possible. In addition to the 108 burials listed here, there are about 17 illegible markers or marker remnants. The earliest burial I saw was 3 day old Susannah Walker, 11/16/1844.
Copyright © 1997 - 2011 Dubois County INGenWeb, Charlie Tredway, and contributors.
All material, including photographs, contained on this page may be freely copied for your personal use, but
may not be reproduced
or publicly displayed in any format without written consent
. ©
Charlie Tredway
and INGenWeb.
| Last Name | First Name | Born | Died | Other | Photo |
| --- | --- | --- | --- | --- | --- |
| Allbright | Thomas | | Sept 1923 | Age 20 (No legible marker) | N/A |
| Allen | Daniel | 7/30/1886 | 5/13/1910 | | |
| Allen | Edward P | 10/9/1881 | 11/15/1883 | | |
| Brown | Cecil P | 1/12/1900 | 5/9/1900 | Son of J E & R A | |
| Butler | Albert | 6/19/1925 | 9/9/1996 | US Army Korea | |
| Butler | Alfred G | 1876 | 1955 | | |
| Butler | Anna | 1879 | 1956 | | |
| Butler | Claence A | 1911 | 1986 | US Army Air Corps WW II | |
| Butler | Cleta A | 2/14/1909 | 11/15/1962 | US Forces Pacific WW II | |
| Butler | David | | | 6y 10m Son of T & S | |
| Butler | Elsie Mae | 2/12/1938 | 1/28/1994 | Dau of Viola & Roscoe | |
| Butler | Ethel | 1888 | 1967 | | |
| Butler | Henry | From Donna Gaglianol | 8/9/1846 | Son of T & S | |
| Butler | Henry Lloyd Rev | 1/15/1912 | 12/28/1992 | | |
| Butler | Isham G W | | 10/11/1857 | 20 d Son of H & M A | |
| Butler | James | | 2/5/1866 | Son of H & M A | |
| Butler | Joel G | 1875 | 4/24/1941 | | |
| Butler | John | 5/19/1839 | 4/23/1924 | | |
| Butler | John Garfield | 1878 | 4/20/1941 | 63y 4d | N/A |
| Butler | John Howard | 1928 | 1928 | Son of J & E Butler | |
| Butler | Leonard | | 12/10/1841 | Son of T & S Butler | |
| Butler | Lois Irene | 1/14/1923 | | | |
| Butler | Mabel | 9/24/1916 | 8/22/1993 | | |
| Butler | Mary | | 7/30 | 1 d Dau of H & M A | |
| Butler | Mary A | 12/6/1835 | 5/4/1871 | Wife of Hiram Butler | |
| Butler | Minnie Viola | 10/22/1922 | | | |
| Butler | Rachel | | 5/1/1877 | 8y 7m 9d Dau of J & S A Butler | |
| Butler | Robert L | 1920 | 1920 | Son of J & E Butler | |
| Butler | Russel H | 4/30/1919 | 8/16/1945 | Pvt US Army WW II | |
| Butler | Samuel Roscoe | 3/1/1915 | 10/3/1994 | US Navy WW II | |
| Butler | Susan A | | 4/10/1877 | 10y 5m 8d Dau of J & S A Butler | |
| Butler | Sarah Qualkenbush | 11/4/1839 | 8/6/1918 | Married to John Butler 3/6/1861 | |
| Butler | Susannah | | 8/26/1889 | 79y 9m 1d Wife of T Butler | |
| Butler | Thomas | | 5/6/1860 | Age 16d Son of H & M A Butler | |
| Butler | Thomas Rev | | 3/24/1886 | 91y 2d | |
| Butler | Tommy | | 4/16/1896 | | N/A |
| Butler | Willard Armon | 1921 | 1922 | | |
| Dye | Thelma R | 1920 | 1976 | | |
| Emmons | Cordie | | 9/26/1906 | Grave unmarked | N/A |
| Emmons | Della | | 9/8/1901 | Grave unmarked | N/A |
| Emmons | Family | | | | |
| Emmons | Oral R | 4/26/1897 | 2/15/1975 | | |
| Emmons | Stella | | 9/17/1901 | Grave unmarked | N/A |
| Emmons | Wm Mitchell | | 4/22/1939 | Grave unmarked | N/A |
| Ervin | Imogene Rose | 1921 | 1922 | | |
| Evans | Charles L | 1922 | 1922 | | |
| Evans | Flossie M | 1907 | 1928 | | |
| Gray | Clyde | 1898 | 1988 | | |
| Gray | Dora | 1904 | 1981 | | |
| Grisham | Maria | | 5/7/1912 | Grave unmarked | More |
| Grisham | James M | | 2/23/1913 | Grave unmarked | More |
| Harner | Marie M | 10/17/1914 | 11/30/1916 | Dau of L R & Alma A | |
| Hatfield | Herman E | 9/17/1921 | 9/16/1991 | US Army WW II | |
| Hatfield | Herman Lee | 8/10/1953 | 7/8/1999 | | |
| Hatfield | Ruby I | 7/10/1923 | | | |
| McDonald | Cornelius N | 1829 | 1892 | | |
| McDonald | Cynthia J | 1868 | 1868 | | |
| McDonald | Ida A | 1866 | 1868 | | |
| McDonald | J Benton | 1869 | 1957 | | |
| McDonald | Lily A | 1837 | 1923 | | |
| McDonald | Mary M | 1861 | 1880 | | |
| McDonald | Melinda M | 1987 | 1898 | | |
| McDonald | Flora C | 1860 | 1885 | | |
| McDonald | Willie H | 1872 | 1881 | | |
| Murray | Emma M | 1/21/1900 | 8/13/1969 | | |
| Murray | Minnie McDonald | 10/31/1864 | 2/14/1899 | Grave unmarked | N/A |
| Murray | Ruth | | 1921 | | |
| Murray | Victor V | 11/3/1898 | 11/4/1973 | | |
| Murray | William C | 10/26/1926 | 3/15/1995 | US Army WW II | |
| Probasco | Luther M | 5/19/1910 | 3/9/1988 | US Nave WW II | |
| Probasco | Margaret E | 1/29/1917 | | | |
| Quakenbush | Elizabeth | 1889 | | | |
| Quakenbush | Samuel W | 1890 | 1958 | | |
| Spurgeon | Clarence | | 7/13/1915 | 7m Son of Frank & Mary | N/A |
| Spurgeon | Edward Leo | | 2/3/1925 | 3w 2d | |
| Spurgeon | Francis M | 8/4/1893 | 4/25/1952 | | |
| Street | George W | 7/14/1920 | 5/5/1994 | US Army WW II | |
| Street | Georgie L | | 6/9/1973 | | |
| Street | Mary M | 1924 | 1972 | | |
| Street | Ronnie | 4/17/1945 | 4/19/1945 | | |
| Street | Tony G | 1947 | 1975 | US Army Veteran | |
| Tinkle | Daniel B | 7/21/1846 | 12/23/1940 | | |
| Tinkle | George D | 1873 | 1946 | | |
| Tinkle | Mary | 5/10/1846 | 5/29/1892 | | |
| Tinkle | Nellie | 1880 | 1964 | | |
| Waggoner | George G | 1858 | 1946 | | |
| Waggoner | Nancy A | 1857 | 1920 | | |
| Waggoner | Margaret A | | 5/17/1864 | Dau of W & G D Waggoner 6d | |
| Waggoner | Oakle | 1892 | | | |
| Walker | Hannah | 4/12/1825 | 9/16/1886 | | |
| Walker | Henry S | | 1/9/1865 | 5m 6d Son of A & M Walker | ` |
| Walker | Susannah | | 11/6/1844 | Aged 3d | |
| Walker | Thomas | | 10/15/1854 | 34y 11m 11d | |
| Wininger | Ezekiel | 1834 | 1925 | Husband of Margaret A | |
| Wininger | Hannah | | 8/20/1867 | 9m 9d Dau of E & R Wininger | |
| Wininger | Infant | 5/18/1899 | 5/18/1899 | Dau of Henry & Isola Wininger | |
| Wininger | Infant | 5/24/1831 | 5/24/1831 | Son of E & M A Winigner | |
| Wininger | Infant | | 5/24/1891 | Son of E & M A Wininger | |
| Wininger | Jacob | 10/21/1860 | 1/2/1889 | Son of E & R Wininger | N/A |
| Wininger | Josephine | | 9/21/1881 | Dau of E & M A Wininger | |
| Wininger | Margaret A | 1853 | 1925 | Wife of Ezekiel Wininger | |
| Wininger | Mary A | | 4/8/1864 | Wife of E Wininger | |
| Wininger | Nancy Ann | 9/11/1871 | 9/22/1889 | Dau of E & R Wininger | |
| Wininger | Rachel | | 2/13/1878 | 30y 11m Wife of Ezekiel Wininger | |
| Wininger | Rosa | | 9/29/1881 | Grave unmarked | N/A |
| Wininger | Thomas | | 5/18/1868 | Son of E & M A Wininger | N/A |
| Wininger | Zenus M | 9.10.1900 | 9/18/1901 | Son of E H & N A Wininger | |
| Woodall | Herbert | 4/8/1915 | 5/10/1915 | Son of Martin & Ella Woodall | N/A |
---