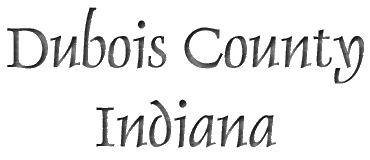 Click photo to enlarge

Read and photographed August 2, 2010 by Charlie Tredway.
Data enclosed in ( ) is taken from earlier transcriptions.
Copyright © 1997 - 2011 Dubois County INGenWeb, Charlie Tredway, and contributors.
All material, including photographs, contained on this page may be freely copied for your personal use, but
may not be reproduced
or publicly displayed in any format without written consent
. ©
Charlie Tredway
and INGenWeb.
Last Name
First Name
Born
Died
Other
Photo
Alexander
Charlotte

3/17/1856
Wife of I Alexander (77y)
Alexander
Isaac

2/24/1782
12/27/1851
Alexander
Nancy E

Oct 1843
Age 8y
Alexander
Eliza A

Oct 1842
Consort of A Alexander Age 19y 8m
Alexander
Charlotte

Dec 1835
Age 16y
Alexander
Thomas

Nov 1835
Age 20y
Alexander
Ashberry
9/8/1812
12/7/1876
Aged 64y 2m 29d
Alexander
Nancy C

8/10/1858
Consort of (Ashbury) Alexander 46y 8m 1d
Alexander
Joanna

12/5/1866
Daughter of A & M E Alexander 5y 2m 1d
Alexander
Thomas A
11/28/1859
2/22/1879
Son of A & M E Alexander
Alexander
Ashbery

(6/21/1874)

6/29/1874
Son of I & C Alexander Aged 8 days
Alexander
Oma M
2/1/1884
4/5/1884
Child of I & C Alexander
Alexander
Oliver T
10/28/1880
6/27/1887
Child of I & C Alexander
Alexander
Mary A

9/15/1893
9/7/1894
Child of I & C Alexander
Cook
T S
1824
1896
Leut. CO H 7th KY Inf
Cook
Mary E
4/27/1838
8/11/1905
Dillon
Brittania
1/3/1806
5/25/1889
Wife of John A Norman Aged 83y 5m 22d
Dillon
Zachariah
1802
1849
Dillon
Nancy

1859
(Dillon)
(Sarah)
(Daughter of Zachariah & Nancy Dillon)
N/A

Dillon
Taylor
2/9/1848
2/24/1908
Haskins
Polly Russell

1/10/1899
Haskins
William
3/4/1893
(Johnson)
Infant

(Daughter of T C & Sally Johnson)
N/A

(Johnson)
Infant

(Daughter of T C & Sally Johnson)
N/A

Lewis
John W

7/4/1843
Lewis
Louisa

(2/17/1840)
Wife of J W Lewis
Norman
Mary C

11/1/1882
Daughter of JP & H Norman Aged 17y 2m 23d
Norman
Louisa A
10/31/1867
1/9/1872
Daughter of JP & H Norman
Norman
Infant
1/30/1877
1/30/1877
Daughter of JP & H Norman
Norman
Louisa A
10/11/1842
4/5/1862
Daughter of John A & B Norman
Norman
Isaac A
7/24/1832
10/18/1864
Aged 32y 2m 4d
Norman
Samuel S
10/17/1855
1/20/1860
Child of JA

& MF Norman
Norman
Volney O
12/13/1857
1/21/1860
Child of JA

& MF Norman
Norman
Ashbury A

10/10/1857
Son of JA & B Norman

Aged 1y 4m 8d
Norman
Charlotte
5/3/1834
3/31/1855
Daughter of John A & Brittania (20y 8m 28d)
Norman
Samuel D
11/28/1853
Son of JA & Brittania

Nornam Aged

9y 3m 1d
Norman
John A
5/13/1809
6/29/1849
Aged 40y 1m 6d
(Radke)
(Kathrin Alatha)
(1914)
(1915)
N/A
Unknown