Smithfield Cemetery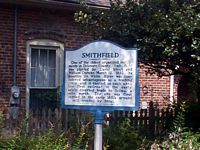 Smithfield Sign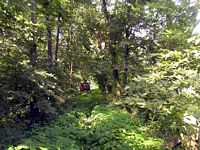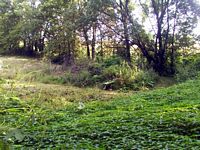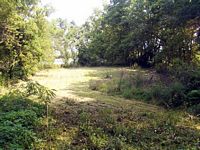 Path back to Smithfield Cemetery after turning into driveway.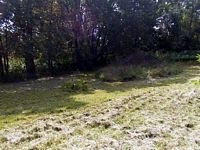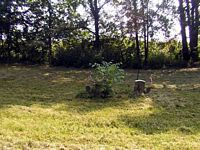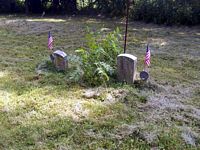 Click on photos to view larger image.
Smithfield Cemetery was also known as Dunkin Cemetery. William Dunkin was one of the original proprietors of Smithfield. The cemetery is located off of County Road 625 East north of County Road 170 South. Smithfield Cemetery is listed on the 1887 Smithfield town Plat in Block 1 Lot 1.

Travel Indiana State Road 32 East to County Road 600 East, turn right and travel south to County Road 138 South. Turn left and travel east to County Road 625 East. Turn right and travel south into Smithfield. The cemetery is on the east side of County Road 625 before you come to the T intersection of County Road 170 South. (The last driveway on the left, before the intersection will take you back to the entrance to the cemetery on the north side.) Two Wasson military tombstones were the only visible markers still standing when we visited the cemetery in 2006.



Andrew Wasson - Co. G. 9th Reg. Ind Cav.





John H. Wasson - Bugler Co. G. 9th Reg. Ind Cav.





The following is a list of burials from an earlier reading of the cemetery.
Note: I found Mary Carmichael and Homer L. Dunkin listed in readings for Smithfield & Friedline Cemeteries.
Wasson information was taken from military records and tombstones.




Last Name
First Name
Death Date
Age
CARMICHAEL
Mary
June 6, 1879
w/Charles d/M. & G. Dunkin 24y 7m 29d
md. Charles May 5, 1875
DAVIS
James
February 2, 1854
95y 9m 29d
DUNKIN
Homer L.
August 17, 1876
s/Taylor & Marg 8m 3d
DUNKIN
William P.
August 22, 1849
s/ ? & H. Dunkin 9m 8d
IRWIN
Charlotte
May 27, 1847
w/Wm. 36y 1m 22d
IRWIN
William
January 9, 1853
55y
WASSON
Andrew
July 1, 1865
Enlisted 1/21/1864 Co G 9th Ind Cav.
Died Co G. 9th Cav 7/1/1865 at Selma, IN
WASSON
John H.
abt February 6, 1885
Enlisted 1/21/1864 Bugler Co G 9th Ind Cav
w/Mary E. filed widows pension 2/6/1885




Smithfield Cemetery Map





Smithfield History By ~ Scot Shively





Photos Contributed By: Gina Richardson

---

---

Delaware County INGenWeb © 2006 - 2009 by Gina Richardson

---

USGENWEB NOTICE: In keeping with our policy of providing free information on the Internet, data may be used by non-commercial entities, as long as this message remains on all copied material. These electronic pages cannot be reproduced in any format for profit or other presentation.