McCormick Cemetery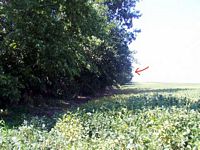 Red Arrow above shows the Path Back to McCormick Cemetery.
Photos below show path back starting from the road.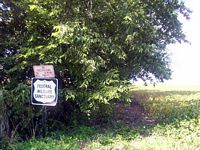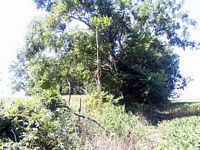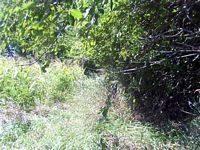 Click on photos to view larger image.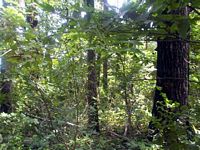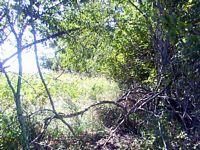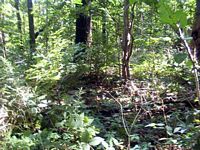 The tombstones were found in a pile, some covered in mud and weeds.
Photo on right is the path back to the road.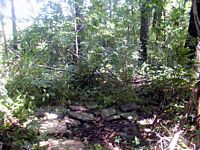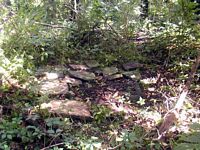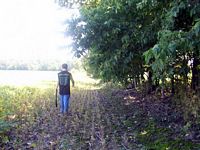 McCormick Cemetery was also known as Dean or Hughes Cemetery. It is located in Hamilton Township near County Roads 600 North and 300 East.

There is NO public road to this cemetery. If you plan on visiting this cemetery you will need to hike back through a field and into the woods.

Travel State Road 28 west to County Road 300 East. Turn and go north on 300 East about 300 yards. On the West side of the road between two fields there is a fence line. Follow the path beside the fence back to the patch of woods. McCormick cemetery is located at the back of the woods on high ground. According to DAR records in 1961 five tombstones were located, in 2005 only a pile of broken stones were found.

The cemetery is overgrown and the tombstones are broken and lying on the ground.
There is a sign located at the road before the path back to the cemetery stating it is a Federal Wildlife Sanctuary and a "No Trespassing"sign.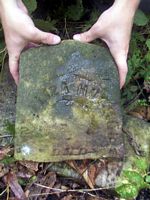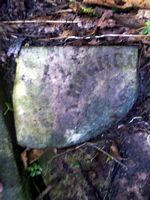 Anne Eliza & James A. Hughes Tombstone Fragments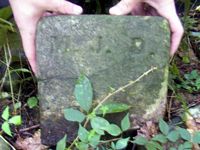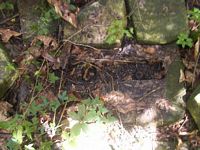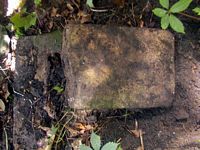 Mary Jane Dean footstone? and slotted bases

Miscellaneous Tombstone Fragments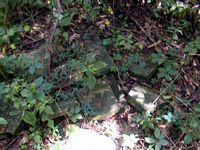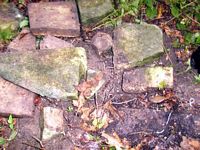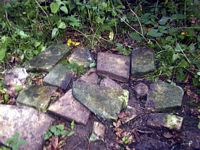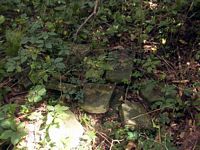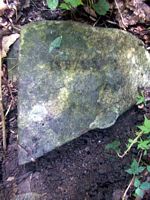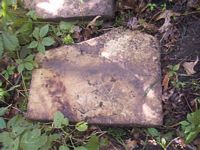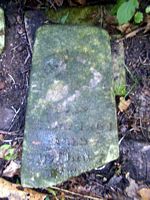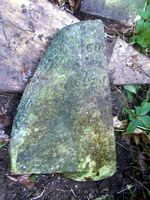 The following is a list of burials from the 1961 reading of the cemetery.
| | | | |
| --- | --- | --- | --- |
| Last Name | First Name | Death Date | Age |
| LYTLE | Mary Jane | May 13, 1863 | B. Dec 13, 1824 Age 38y 5m Wife of Nathan Dean |
| DEAN | Nathan | December 11, 1857 | B.Sept. 25, 1808 Age 49y 7m 28d |
| HUGHES | Ann Eliza | August 7, 1860 | Age 2y 5m 12d |
| HUGHES | James A. | July 27, 1860 | 2y 9m 27d |
| YOUNGE | Oliver W. | May 5, 1864 | 2y 4m 4d |
McCormick Cemetery Map
Photos Contributed By: Gina Richardson
---
---
Delaware County INGenWeb © 2006-2011 by Gina Richardson
---
USGENWEB NOTICE: In keeping with our policy of providing free information on the Internet, data may be used by non-commercial entities, as long as this message remains on all copied material. These electronic pages cannot be reproduced in any format for profit or other presentation.