ELM RIDGE MEMORIAL PARK
Muncie, Indiana

Elm Ridge Entrance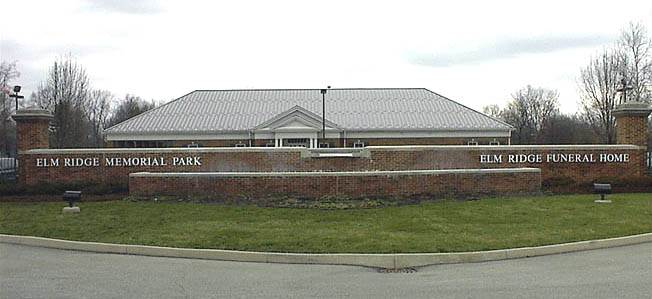 Elm Ridge Mausoleum

Photographs and background information submitted by Col. Carlis B. Wilson
Elm Ridge Memorial Park ~ Items of Historical Interest
By 1926, Muncie had clearly surpassed the gas boom era and entered more orderly but still dynamic growth. Convinced that continued expansion would cause the existing city cemetery to run out of space, the founders of Elm Ridge Memorial Park, D. O. and Effie Skillen and others, started by developing 20 acres of an 80-acre tract between Kilgore Avenue and White River. The new cemetery officially opened in 1927.



A focal point at Elm Ridge is its mausoleum. Construction was initially completed in 1930 with 888 crypts. Over the past 62 years, this nationally renowned structure has been expanded to more than 4,300 crpts, making it an exceptional landmark for a city of Muncie's size, ranking it among the largest mausoleums in the Midwest.

By late 1983, Elm Ridge had expanded to more than 105 acres and pioneered the development of garden-type sections. Currently about 16,000 interments have been made. Due to the size of this cemetery, burial information will not be included in the Delaware County Burial Index. Please contact the cemetery for burial information.
Source: Elm Ridge Memorial Park information sheet.

Please contact the cemetery for more information.
4600 W. Kilgore Avenue, Muncie, IN 47304
(765) 288-5061

Elm Ridge Cemetery



Return To Delaware County Cemeteries
Return to Delaware County INGenWeb